Every day we speak with MapBusinessOnline users about how they solve business problems with our business mapping software. Below are some common and interesting applications of the tool.
My Company Needs to be More Aware of Our Competition
A simple import of a location-based spreadsheet will provide a map visualization of your competitors which you can share with your constituents as required. You can compile that address list of competitors in several ways:
Have an associate go online and collect all the addresses of major competitor locations into a spreadsheet. Be sure to have a column for Name | Address | City | State | ZIP | Other. Import that spreadsheet into MapBusinessOnline and view the arrangement of competitor locations symbolized to stand out from your location(s). Include home location for traveling salespeople, major customer locations, and any other critical resource locations
Search for the competitor in the MapBusinessOnline Business Listing service. Business Listings search is included in MapBusinessOnline but the data download of listings is paid for at $0.15 each. These listing include contact info and some basic sales and employee data for each company.
Travel to each competitor's location and collect latitude/longitude points. Pull that data into MapBusinessOnline. Be sure to dress incognito and if questioned, speak with a heavy Romanian accent
With your competitor map published, you can share the map with your associates.  Have your associates download the free Map App which now includes a Map Viewer App for non-subscribing Windows or Mac map viewers.
Our Traveling Nurses are Crisscrossing Paths During the Day
Sales territory assignments clarify account or client responsibility, reducing inadvertent crisscrossing of paths, and allowing for 25% more face-time per client.
Travel efficiency is a major problem for companies that service people in the home or require salespeople to travel from account to account. Travel costs and traveling clinician time drive expenses up. It's important that nurses, salespeople, or service techs are not crossing and recrossing paths all the time. That sort of redundant travel expense can put a company out of business, fast.
Use MapBusinessOnline territory management tools to assign clear accountability for clients and account based on ZIP code or County territories. MapBusinessOnline territory management software addresses common challenges like overlapping territories, aggregated sales totals, travel metrics by territory, and demographic analysis by territory for workload balancing.
The tools come complete with editing capabilities for easy and fast territory adjustments to accommodate business changes. Access optimized routing for efficient sales planning. MapBusinessOnline is easily shared through a free downloadable Map Viewer App – one of several apps available through the Map App. Shared maps include the ability to route for Map Viewers.
I Need a Map Displaying all our Customers for a Strategic Planning Session
Probably the most common applications of business mapping are related to customer visualizations. Import your customer address list and view plotted points on the map with assigned symbology. Adjust symbols as required and consider color-coding symbols based on sales, client status, or some other value metric.
Importing an Excel spreadsheet of customer addresses requires no more computer experience than working with spreadsheet software or using and Internet web browser applications like Chrome or Firefox.
We're Planning on Expanding. What Cities are our Best Options?
Market Analysis is a more advanced use of business mapping software. MapBusinessOnline Standard or Pro editions provide excellent map-based market analysis tools for defining current markets and extrapolating the success gained in a known market towards the best options for success in new areas.
The first thing I would do is create a territory around a current known business location. Add key demographic data categories to the territory analysis view that you know best defines your current sales success. These demographic categories could be population, income, ethnicity, or gender-based. You choose.  Try different demographic subjects. Import many of them and then view the Data Window analysis in MapBusinessOnline, adjusting the view for different layers arranged from largest to smallest values. Some of these demographic options can be combined using MapBusinessOnline's Calculated Data Columns. This will stimulate discussion of your market and help to define what makes your current business successful or not.
With all this information now at your disposal, add the City Limits layer to your map. Assign the winning demographic categories to your city limits layers view to find the optimum cities. Duplicate your home-based analysis over the target cities. Or, if you already have a list of possible cities, focus on that list and choose the top three.
I Need to Share Sales Results by Salesperson
Building on the territory mapping tools outlined above, MapBusinessOnline sales territory mapping provides a sharing platform within which a map creator can upload sales results by account and then aggregate results by territory for display.  Map viewers have access to the Map App which includes the Map Viewer App.
By merging periodic sales reporting with sales territory maps, the entire sales team is informed about goals, progress towards goals, and has access to account information.  The sales territory mapping platform of MapBusinessOnline offers a chance to focus a sales team on a shared view of the business, defining accountability, comparing results, and sharing success and failure experiences.
We Need to Select a Group of ZIP Codes and Export the List with Population Data
Selecting a group of ZIP codes is easy in MapBusinessOnline. It can be achieved in multiple ways:
Create a radius map using the Search Tool – a Circle Button on the Master Toolbar. Grab that circle and drop a point on the map, set a radius, and Go! Choose the ZIP code layer to search and name that resultant marketing list
Input an Address into Address Bar (blank white space) in the upper left-hand corner of the application. Click the Binocular button to the right. Note the Map Point on the map, choose the Circle button in the mini toolbar presented
Import a list of ZIP codes and then Color Code the ZIP Codes based on your imported data
Import a list of ZIP codes as a territory import
There are many ways to group ZIP codes. Once you have them grouped, select the group and from the associated mini toolbar choose the Summary Button, better known as the Greek letter Sigma (a sideways M.) This lets you select any Demographic Data Category with population at the top of the list. Export the resultant data as required.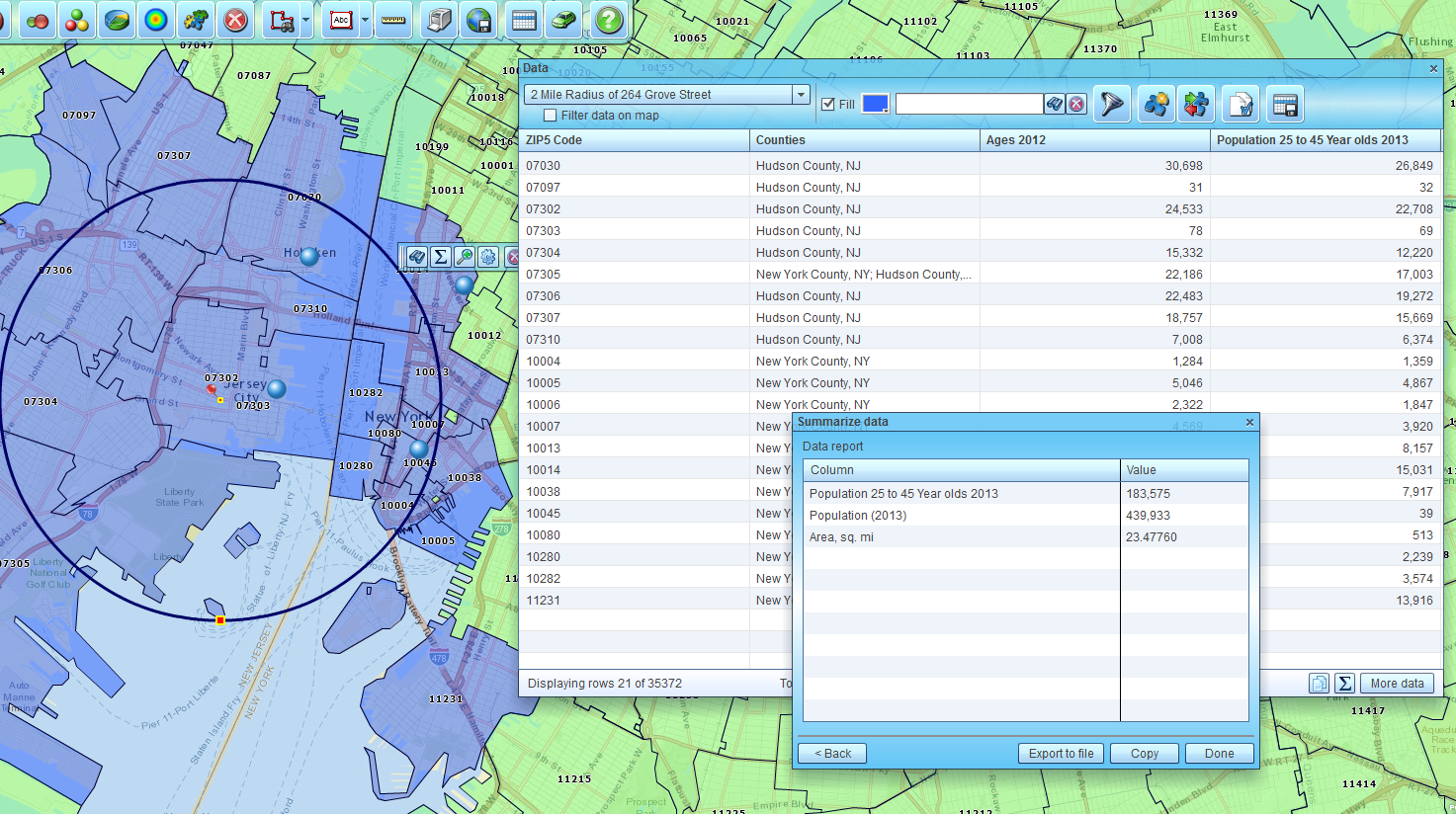 If you created a territory out of your ZIP code list, go to the detailed territory view and use the Choose Column button in the lower-left to launch a simple but powerful Database Management tool.  Grab Demographic Data in the left-side dropdown and push that Data to the right to load up your territory analysis with population, income, ethnicity, or other demographic categories. Once again, export as necessary. Read more about Radius Maps for Population Data.
My In-laws are Coming to Visit – I Need a Quiet Places to Hide
Whenever my in-laws threaten to visit, I pull up a MapBusinessOnline map and change the base map layer to National Geographic.  This layer outlines rural and urban park areas. These tend to be places where wild animals lurk. Mothers-in-law are generally frightened of wild animals and thus they avoid regional and national parks. These areas have quiet pine needle strewn walking paths, perfect for quiet reflection about why it was you got married in the first place.
Forested paths are often unmarked or unclearly marked. It's easy for older folks to lose their way. There are often large roots across the walkways that are easy to trip on. These trails can be slippery when wet. It could be dangerous for in-laws to travel on these nature trails. So, be sure to warn them away.
Or maybe not.
My Boss Wants a Coverage Area Map Describing Our Two-State Service Area
Coverage maps are used to communicate the areas covered by a business service such as:
A sales organization
Traveling medical practices
Delivery services
Rental agencies
Mobile marriage counseling
In MapBusinessOnline, a coverage map could be established by ZIP code, county, state, or city limit. Coverage area maps tend to be ZIP code maps, but a state map is easily done.  MapBusinessOnline offers a State Filter button in the Map and Data box. Simply select the Filter button on the Map and Data toolbar and choose the states you need. In that way, you've limited the scope of the coverage area map to your selected states and you could still overlay ZIP codes or other map layers by manipulating the transparency and boundary options for each layer in Map and Data.
Coverage maps can be shared through the new Viewer App for non-subscribers to view. The Viewer App is included for free with the Map App download.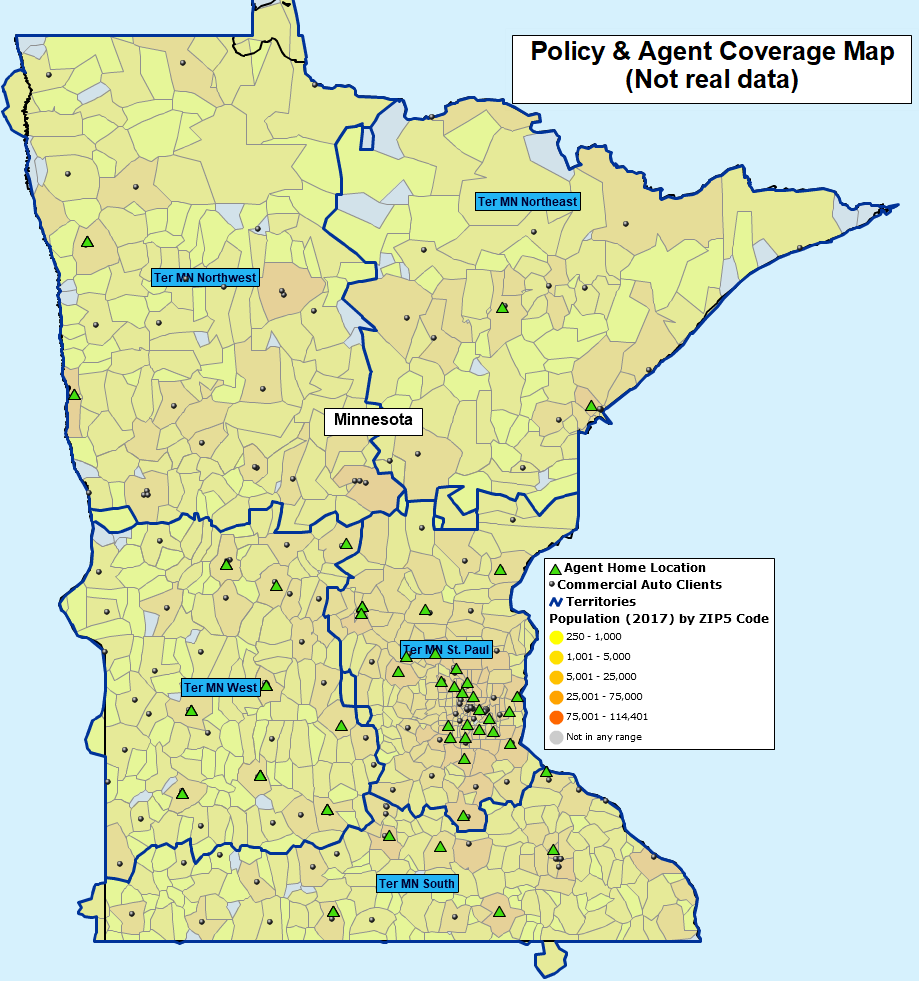 How Can I set up a Variable, Shared Data Record in MapBusinessOnline?
This workflow is designed to allow an A or B input, adjustable by a set of map users.  It would require a shared MapBusinessOnline Team Subscription.  In this example, the map user client is a mobile healthcare organization. They want to confirm a visit has taken place by looking at a recent map view. See  the video to visualize the workflow.
Create an Excel address spreadsheet of Clients/Patients.
Include a column for Visit Status. Prefill a Column of Status records as required. Have at least one record of each possible response in the column. In this example: Required or Visited.
Color code the Point Layer by the two record status options for the variable data column.
Make sure teams members  are set up in a shared MapBusinessOnline subscription and with access to the shared map
Team members access the map after Visiting the client. They select the address record and in the Data Window view, edit the Properties and Data of the record to now read Visited as opposed to Required
The required Variable text is user-defined. Use Yes or No or some other convenient descriptor appropriate to your business operation.
Send us your cool applications of MapBusinessOnline.
______________________________
Are you using the MapBusinessOnline Desktop App for MAC or PC? It's hipper than Instagram and it comes with your subscription. Dump Adobe Flash Player!
Value-Added Resellers – Offer the tool to your customers as a reseller. Make money on training and consulting. Contact us with further interest in reselling MapBusinessOnline.
Win a $20 Gift Card! Refer a business associate to MapBusinessOnline or contact us with an interesting use case, in exchange for a $20 Amazon Gift Card!