MapBusinessOnline Pro offers a territory alignment benefits you won't find in other online business mapping software titles.
Both MapBusinessOnline Standard and Pro versions share standard territory creation features such:
MapBusinessOnline Pro, as an advanced spatial analysis tool, provides a set of territory related features that are both unique and valuable.  Here are four capabilities of advanced territory management that can help your business grow.
Simultaneous Creation of Multiple Territories
While MapBusinessOnline Standard makes it easy to create multiple territories all at one time, by Radius Search, MapBusinessOnline Pro enables multiple territory creation based on drive time searches. The process is easy and fast.
Click the Market Analysis button along the master toolbar. Choose the first operation option called Search and Segment Data. This operation opens the dialogue wizard that walks you through the process:
Either select a dataset already imported or import a dataset of multiple address locations from your desktop and walk through the Wizard
In Pro, choose from driving time or driving distance. If you've only got Standard, select the radius for the multiple circle query or radius search
Select whether or not you'd like to place a map object (polygon or circle) around your selected points.
Click Next and Select a Map Layer to query for territory creation. The map layer most often selected is the ZIP code layer
Be sure to check the box that indicates your desire to create multiple territories – as opposed to one single territory. (Please note – If you select a Map Layer the Checkbox defaults to territory creation. If you select a dataset the Checkbox defaults to marketing list creation)
Process by clicking the Create button in the lower right
Territory Solutions for Many Industries
The auto-creation of multiple driving time or distance territories, and/or marketing lists, is a marketing solution for chain retail store analysis, hospital system expansion planning, multiple restaurant businesses, and field service tech management. To name just a few applications that benefit from this geospatial solution. The process is a one-pass operation and takes about five minutes overall, versus a territory-by-territory approach that could take an afternoon.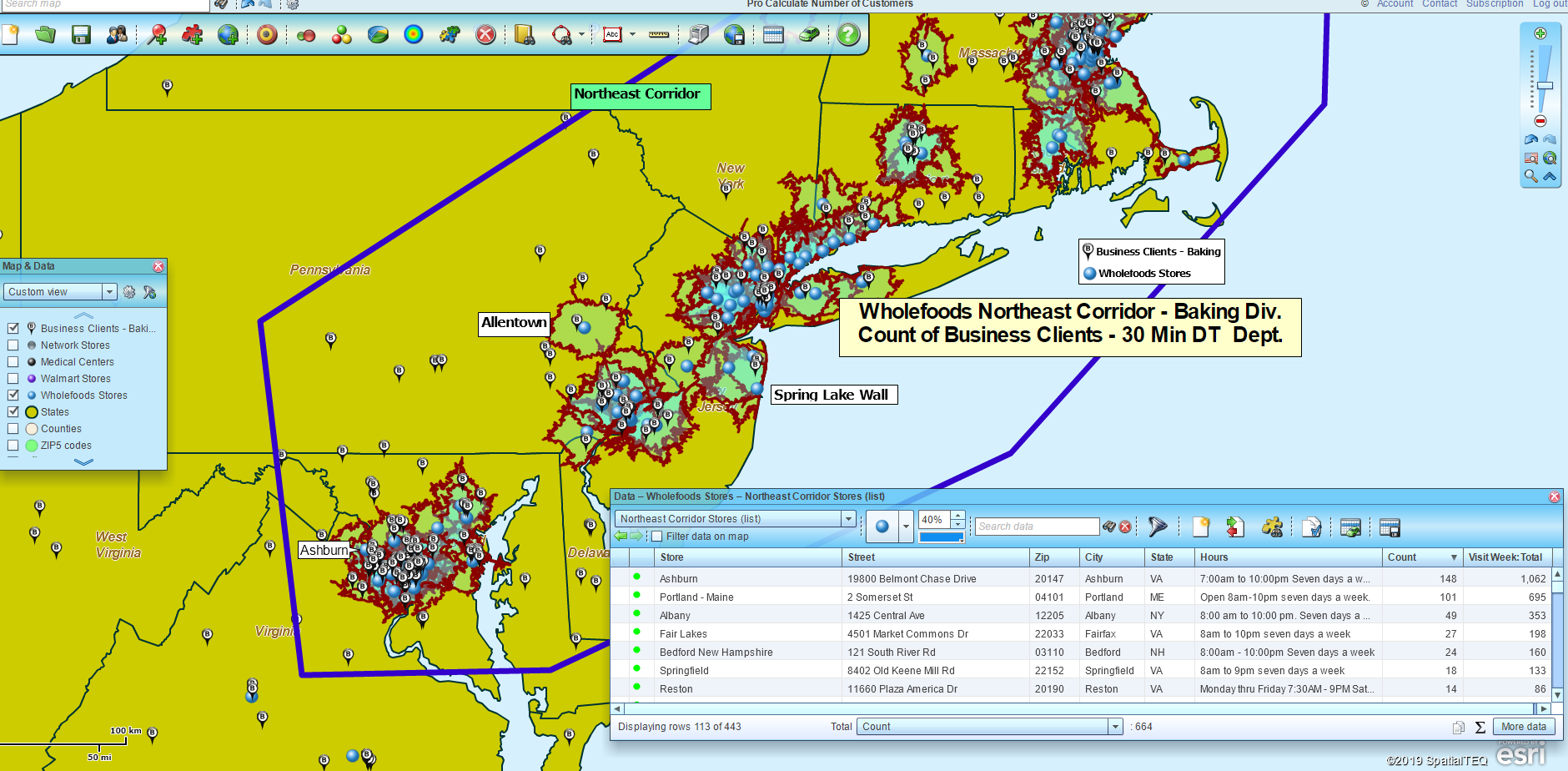 Bring an Understanding of Your Business to Your Map
Simultaneous territory alignment requires that the territory creator understand a few things about the areas of interest they plan to turn into territories.  Try to understand the most impactful market forces affecting your business:
In the case of MapBusinessOnline Standard, you can approximate a driving time or driving distance by setting a radius distance. You don't require Pro to do that. Build a couple of manual driving time and distance polygons from a center point and determine a time estimates that roughly matches a radius search. Experiment. Tweak the distance until you've got a circle estimate that fits within your business model. Use that radius to generate your simultaneous territories using MapBusinessOnline Standard's limited Market Analysis capabilities, as noted here.
When using MapBusinessOnline Pro or Standard, with multiple driving time (or radius) territories established, assess the analysis presented in your Data Window territory datasheet view. Using the Choose Columns button, import your numeric business datasets, add demographic data to flesh out critical impacting elements. Read more about territory analysis.
Easy Region and Division Support
MapBusinessOnline Pro provides the means for the advanced sales territory manager to create regions out of territories and divisions out of regions. Incrementally select the territories you'd like to include in a region with your mouse cursor, holding down the shift key, or through a polygon search tool. Save that Region using a name of your choosing. Do the same selection operation combining Regions and, once again, save that selection as a Division.
The Territory, Region, and Division name assignments, can be adjust in Map & Data or in the Data Window. For instance, a user could change 'Zones,' or 'Areas,' or even 'Ducks.' In Map and Data, target the layer, click the Edit Gear and then click the Edit Pencil associated with the layer and edit the label name. ("Remember Geoff's last day? Ducks for divisions? What was he thinking?")
Region and Division support is useful for national sales organizations when developing classic large territory management tiers. Still, other non-sales organizations often apply these tiered territory layers to non-sales applications. Healthcare systems must manage tiered staff such as healthcare aides, clinicians, and doctors. Insurance territories manage  tiers by claims,  finance, in addition to sales.
MapBusinessOnline provides three tiers – territories, regions, and divisions. Additional tiers may warrant a new map if your system is that complex. And frankly, if it is that complex, give some thought to simplifying your model.
Create Fast Markets Analysis Across Multiple Locations
MapBusinessOnline Pro provide efficient market assessments across multiple brick and mortar address locations. This analysis is called Aggregate Customer Data. A market study using Aggregate Customer Data can quickly compare a list of storefronts or warehouse locations to an existing or prospective customer list.
Customer and prospect statistics are selectable as part of the Aggregate Customer Data query, resulting in an expanded analysis spreadsheet linking customers with stores and displaying relevant marketing data.
In the Market Analysis button, select the Aggregate Customer Data option, which you'll see listed under the Summarize or Enrich section of Market Analysis.
These three territory mapping program processes available exclusively in MapBusinessOnline Pro, are designed to support organizations that require more advanced territory mapping.
Changes in the marketplace due to the Pandemic or Climate change are going to be drivers of market shifts for the foreseeable future. Invest in business tools that help you develop a flexible company vision that can help respond to what's to come. Location-based sales territory tools in MapBusinessOnline Pro help us understand the future by showing us what's happening now and yesterday.
Replace Microsoft MapPoint with MapBusinessOnline Standard. The industry's best MapPoint Replacement.  Try MapBusinessOnline – business mapping software for PC or Mac.
______________________________________________
Find out why over 25,000 business users log into www.MapBusinessOnline.com for their business mapping software and advanced sales territory mapping solution. The best replacement for Microsoft MapPoint happens to be the most affordable.
To access MapBusinessOnline, please register and then download the Map App from the website – https://www.mapbusinessonline.com/App-Download.aspx.
After installing the Map App, the MapBusinessOnline launch button will be in the Windows' Start Menu or Mac Application folder. Find the MapBusinessOnline folder in the Start Menu scrollbar. Click the folder's dropdown arrow and choose the MapBusinessOnline option.
The Map App includes the Map Viewer app for free non-subscriber map sharing.
Please read customer reviews or review us at Capterra, or g2crowd
Contact: Geoffrey Ives geoffives@spatialteq.com or Jason Henderson jhenderson@spatialteq.com