Following the demise of Microsoft MapPoint, here at MapBusinessOnline, we began to receive more frequent calls, chats, and emails from people seeking optimized vehicle routing.
MapPoint gave away some powerful routing functionality, leaving many users at a loss for where they could go for efficient routing services, driving time and distance queries, and vehicle tracking services.
While MapBusinessOnline Standard and Pro do not offer vehicle tracking, they offer vehicle routing tools and the ability to generate powerful driving time and distance queries. MapBusinessOnline Pro offers advanced driving time and distance analysis at an very affordable price compared to other solutions in the marketplace.  MapBusinessOnline Standard provides one address point driving time analysis as a search tool option.
But taking a few steps back, I thought it might be helpful if I wrote about some of the parameters MapBusinessOnline has regarding vehicle routing and route analysis.  As I mentioned above, MapPoint gave away features by including them in the overall cost of a MapPoint license, roughly $350.00. After MapPoint's business mapping software was canceled, systems built on those tools had no place to go for tracking and routing services.
To route many stops in MapBusinessOnline, it is best to import a list of addresses.  Import your spreadsheet using the Dataset button under Adding to Map on the Master Toolbar. The Datasets button offers an import wizard to help you through the process of importing data.  Read more here.
You could also place incremental stop points on the map, one location point at a time, by using the Address Bar in the upper left of the application. Make sure to use this format: Address, City, St, ZIP Code. The incremental data plotting process lets users create a dataset and name each address location as they import data.
Once address datasets are imported or created in MapBusinessOnline, a route user can build an optimized route, one route at a time, with up to 150 stops per route. There are three approaches to routing:
Map Centric – On the map, use your cursor to hover over a point, or click into the Callout label, and click the green Car icon to select a point for route inclusion. The Routing application lets the user choose the address location's Route role – Start, Finish, or Stop.
Data Window – Tabular views of imported address data let the user hover their cursor over the far-left columns of data exposing that same green Car icon, enabling Routing.
Add to Route – In the Data Window view, with your imported data layer selected, select or filter to develop a group of data records in the Data Window, then click the Add to Route button on the Data Window toolbar.
Any of these approaches launches the Route window. Once the route stops are selected, and the Route window is open, MapBusinessOnline provides the following capabilities:
Optimize the route for the most efficient travel time or route in stop dataset presentation order.
Adjust route stop order Manually by moving the stops up or down in the route list with your cursor.
Create a one-way route or a round trip Route.
Time windows are supported – you'll need arrival and stop duration times in your spreadsheet.
Generate turn-by-turn directions – Create a PDF file with detailed directions or just a trip plan with a list of stops.
Export route files in CSV, GPX, HTML, ITN, and PDF file formats
Share Map routing capabilities with non-subscribers using the Map Share button on the master toolbar. Non-subscribers can create incremental routes using those shared web maps.
Lat/Long Support – Imported data records can be geocoded by latitude/longitude coordinates. Export options include GPX files that contain latitude and longitude coordinates, but the tool does not support lat/long generation.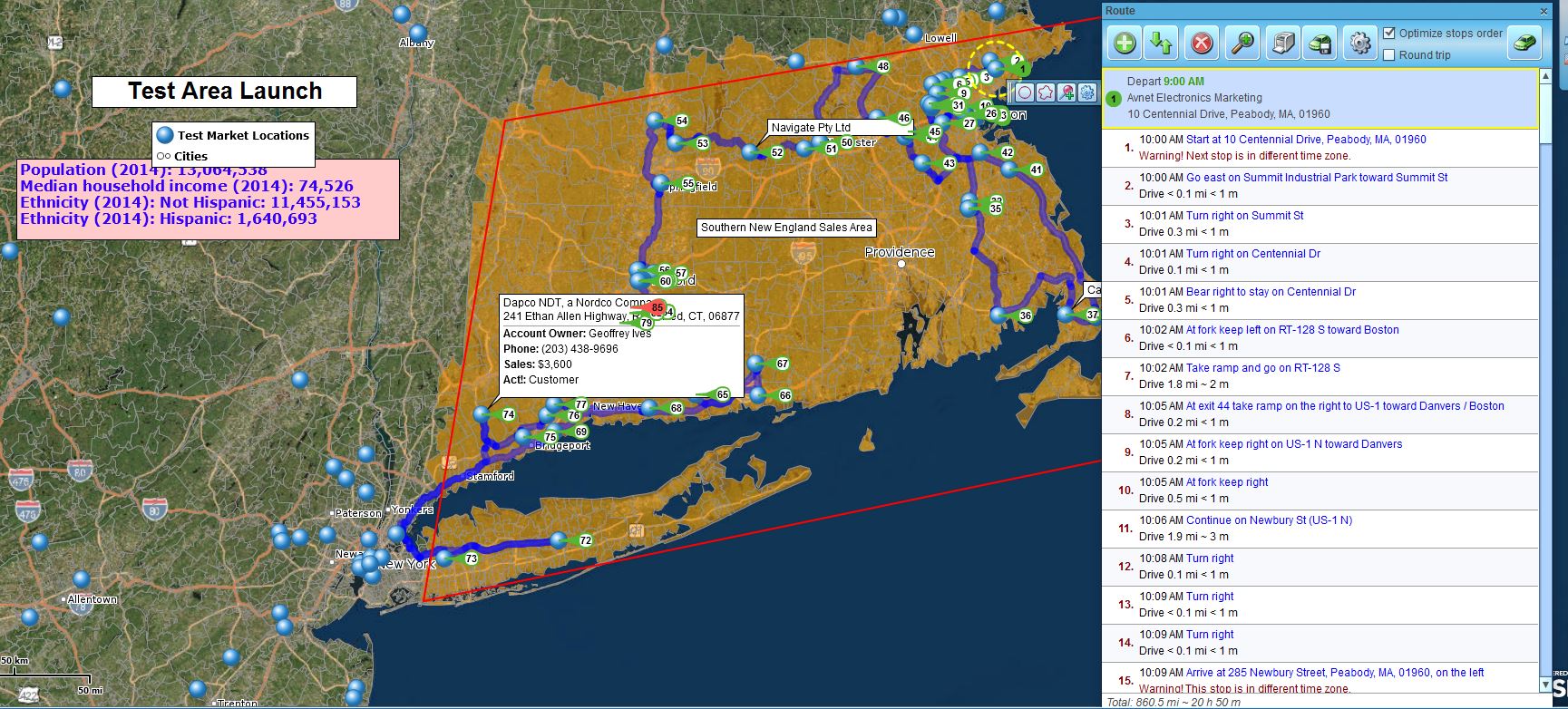 MapBusinessOnline Routing Limitations
MapBusinessOnline routes support up to 150 stop-off locations per route.
MapBusinessOnline only presents one route at a time. A user cannot generate multiple routes at the same time on one map. You could, however, generate multiple maps, each with one route displayed at a time.
MapBusinessOnline route stops do not include data fields to support extra data. The data fields allowed include Name, Street address, City, State, and ZIP code. If you require additional label data, we recommend adding it to your name field in the original dataset upload. Use MapBusinessOnline marketing lists in the Data Window to show points on the map with additional data columns.
MapBusinessOnline does not track vehicles.
MapBusinessOnline offers routing services to each subscriber and provides a shared map routing tool with incremental routing for non-subscribers.
Popular MapBusinessOnline routing applications include:
Outside salespeople and traveling technicians routing to customer calls
Sales admins tasked with map sharing and route generation for traveling salespeople
Home care and traveling medical professionals
Retail merchandisers maintaining regional and national store displays
Long haul freight routing for furniture and LDL hauling (MapBusinessOnline does not include trucker routing data)
MapBusinessOnline routing is affordable and easy to process. The tool provides excellent sales territory mapping tools. Ex-MapPoint users will be glad to find an online routing service with up-to-date street data and ZIP codes.
_______________________________________________
Find out why over 25,000 business users log into www.MapBusinessOnline.com for their business mapping software and advanced sales territory mapping solution. The best replacement for Microsoft MapPoint happens to be the most affordable.
To access MapBusinessOnline, please register and then download the Map App from the website – https://www.mapbusinessonline.com/App-Download.aspx.
After installing the Map App, the MapBusinessOnline launch button will be in the Windows' Start Menu or Mac Application folder. Find the MapBusinessOnline folder in the Start Menu scrollbar. Click the folder's dropdown arrow and choose the MapBusinessOnline option.
The Map App includes the Map Viewer app for free non-subscriber map sharing.
Please read customer reviews or review us at Capterra, or g2crowd
Contact: Geoffrey Ives geoffives@spatialteq.com or Jason Henderson jhenderson@spatialteq.com