Perhaps you require business mapping software to complete a project, or a small map requirement at the office is just aching for a tool like MapBusinessOnline to pull it together. But you've got to justify the investment in mapping software to management.
The merits of completing your mapping project should stand on their own, but the value of adding MapBusinessOnline to your business's set of software tools is exceptionally high.
"As a United States Deputy Marshall, I always imported my crime scene location data onto a MapBusinessOnline business map. The map-based perspective always gave me ideas on what the Crowder family or Dewey Crow was up to this time." – Raylan Givens US Deputy (TV) Marshall.
MapBusinessOnline is regularly applied to a variety of business disciplines around any office, including:
Customer Service
Field Staff Management
Finance
Logistics
Marketing
Sales
Strategic Planning
Common industries invested in MapBusinessOnline for their location-based business challenges are:
Banking
Construction
Food Services
Franchise Business
Government
Insurance
Manufacturing
Healthcare & Dentistry
Public Safety
Retail
Sales & Marketing
Service Businesses
Transportation & Logistics
Logistics & Construction Applications
Businesses that are all about storage and trucking turn to MapBusinessOnline for affordable solutions to reoccurring challenges.  Affordable optimized routing and turn-by-turn directions come in handy for truck drivers seeking accurate routes that incorporate time windows. Sometimes these hauling/logistics requirements belong to national firms, and at other times more regional companies use MapBusinessOnline routing tools.  Read more about MapBusinessOnline vehicle routing here.
The warehousing industry benefits from MapBusinessOnline's map visualization capabilities. A business map can incorporate address spreadsheets of storage locations, repeat customer drop-off points, and business-related resources.  These transportation map visualizations accurately represent business systems supporting any number of industries with unique processes requiring the scheduled movement of raw materials, finished goods, and equipment within a region.  Use MapBusinessOnline to develop your business system visualization.
Business mapping organizes transportation workflows, driving down costs, improving efficiencies, and assuring timely deliveries.  LTL companies appreciate the combination of efficient route tools with business analysis that helps them compete because maps organize reality. Always keeping in mind that reality is a mess.  Any location intelligence dataset imported into a business mapping analysis can include 64 additional columns of data beyond name and address. Data such as:
Date codes
Weights and measures
Work orders & Purchase orders
Part numbers
Likewise, the construction industry leverages business map visualizations of construction sites for materials management and critical resources. Jobsites require monitoring of materials, labor, compliance with municipal codes, and delivery commitments. Having a business map overlaid with all relevant resources at critical locations keeps projects moving and helps identify bottlenecks in the supply chain or building process.
Business mapping offers at-a-glance visualizations of a business system that are easy to comprehend while providing the ability to drill down into greater detail.
Financial Services Industry
An industry buzz phrase, often thrown around by self-appointed industry gurus, is 'situational awareness.'  Situational awareness happens when one uses location-based tools like geographic software, GPS tracking devices, and remote cameras and sensors to understand all you can about the area around your business or a critical asset in your charge.
Banks and lending institutions are responsible for many critical assets. Business mapping software is an easy and affordable way to track assets in the field geographically.  Map-based analysis of those assets can provide peace of mind for lenders and owners of homes, businesses, and expensive field assets like vending machines, ATMs, and video dispensing POS machines.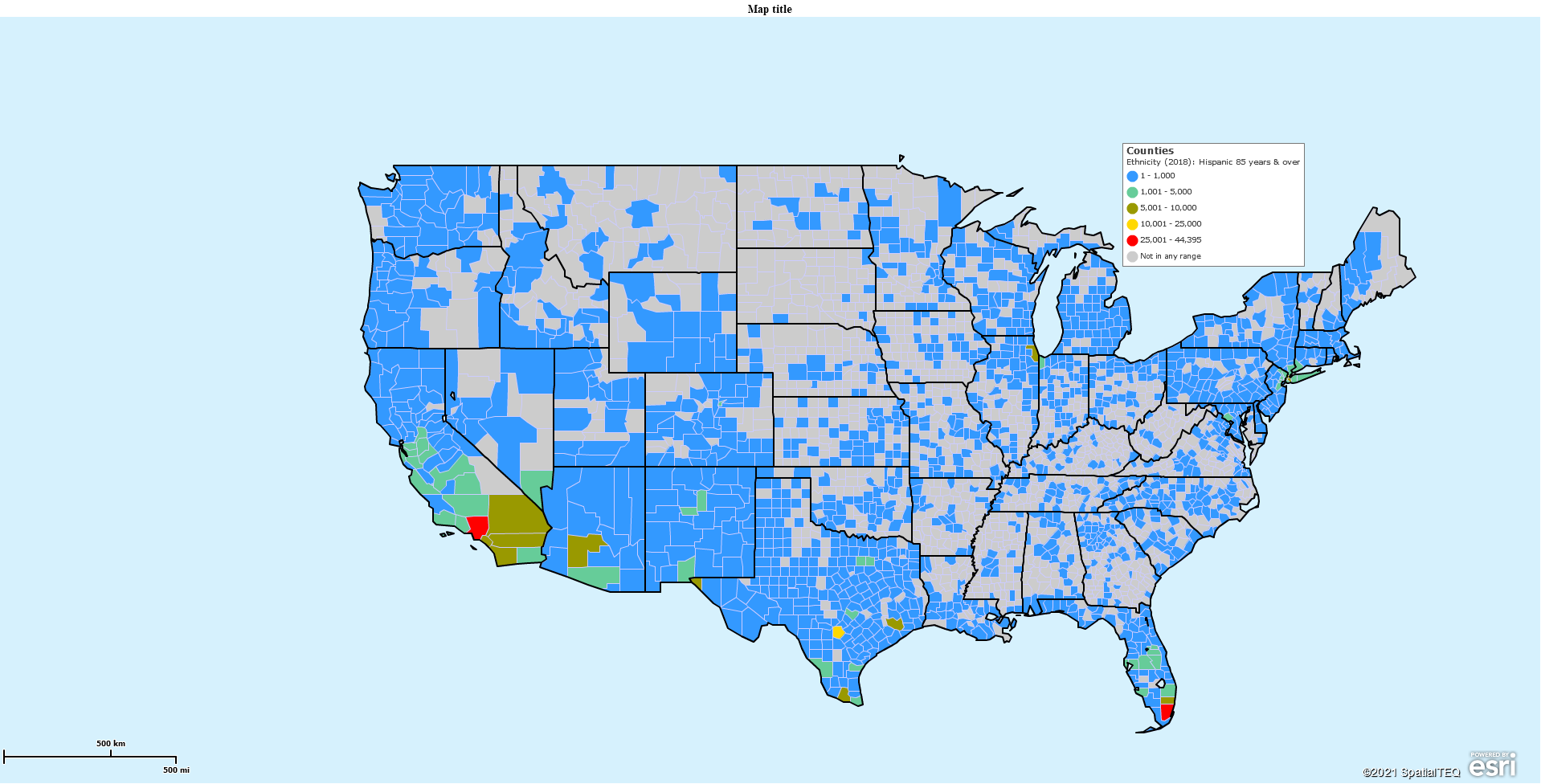 Demographic analysis by ZIP code exposes risks and opportunities for asset managers. Home prices in some areas maybe are due to a rise in values related to COVID-19 rural versus urban living preferences. Yesterday's back-woods ranch becomes a safe, work-from-home paradise. Lenders compete to support this unexpected and lucrative real-estate boom.
Situational awareness can be more immediate requirement, as law enforcement pros know so well. Read more here. The situation a business map is exposing may be a broader, basic municipal awareness. Recent aerial and drone imagery are used to search for homes with swimming pools, a tax revenue generator, or monitor how road projects are faring. "How many trucks were in the parking lot on Friday, Janet?"
A little less sexy, but just as important, business mapping tools allow financial pros to analyze trends in location-based data. Color-coding ZIP codes by housing values, vaccination rates, and COVID-19 fatalities exposes risks by area while guiding families making big decisions in the face of rapid change.
Sales & Marketing
We talk a lot about sales and marketing in this blog, but that's because sales and marketing as a business function are ubiquitous and fundamental. What company doesn't support a sales and marketing department?
MapBusinessOnline is a primary software tool for thousands of sales and marketing departments across North America. Primary use cases include:
Sales Territory Management
Map-based Market Analysis
Sales Planning and Routing
Sales Forecasting
Sales Goal Development and Sharing
Business mapping software provides geographic perspectives of business systems. Never underestimate the power of a map view. Maps transform spreadsheet data into a comprehensive analysis of an overall territory, complete with goals, sales totals by month, areas of overlap, and account-by-account critical data. Leverage your sales territory map visualization into a comprehensive analysis of sales activity for the year.
Achieve powerful and inciteful assessments of your business through the power of location-based analysis:
Business listings search
Competitor maps
Customer Map
Demographic analysis
Dot density maps
Heat maps
Sales territory maps
ZIP-code maps
Justified
MapBusinessOnline is your jumping-off point for a fuller perspective of your business systems, regardless of the discipline or the industry. Applications for business mapping are so horizontal, justification for the expense practically writes itself. Compared to other sales, marketing, and operational software expenses, business mapping software is a bargain.
Ask your boss, "Is it worth $500 to get a detailed visualization of your entire business system?"  If the answer is, "No," then it may be time for a new boss.
When your business discovers a need for a map that supports a business process, realize that your immediate map requirement is just the beginning. Business mapping opens up a world of new perspectives and penetrations that drive a business forward through situational awareness and comparative insights.  Justification of business mapping starts the first time you realize a map would help.
_______________________________________________
Find out why over 25,000 business users log into www.MapBusinessOnline.com for their business mapping software and advanced sales territory mapping solution. The best replacement for Microsoft MapPoint happens to be the most affordable.
To access MapBusinessOnline, please register and then download the Map App from the website – https://www.mapbusinessonline.com/App-Download.aspx.
After installing the Map App, the MapBusinessOnline launch button will be in the Windows' Start Menu or Mac Application folder. Find the MapBusinessOnline folder in the Start Menu scrollbar. Click the folder's dropdown arrow and choose the MapBusinessOnline option.
The Map App includes the Map Viewer app for free non-subscriber map sharing.
Please read customer reviews or review us at Capterra, or g2crowd
Contact: Geoffrey Ives geoffives@spatialteq.com or Jason Henderson jhenderson@spatialteq.com