MapBusinessOnline provides business mapping tools for map creation. What type of map you create is up to you – the MapBusinessOnline user. Listed below are examples of common map types.
Dot density maps display geolocated address points as small dots on the map.  Imported data with more than 1,000 records tend to cluster in urban pockets. Dot density maps show where clusters of activity occur in your theater of operation. These maps are great for customer analysis, demographic analysis, and, of course, pandemic analysis.
Dot density maps are a great way to view business activity at a glance.  But don't confuse dot density activity maps with Family Circus maps: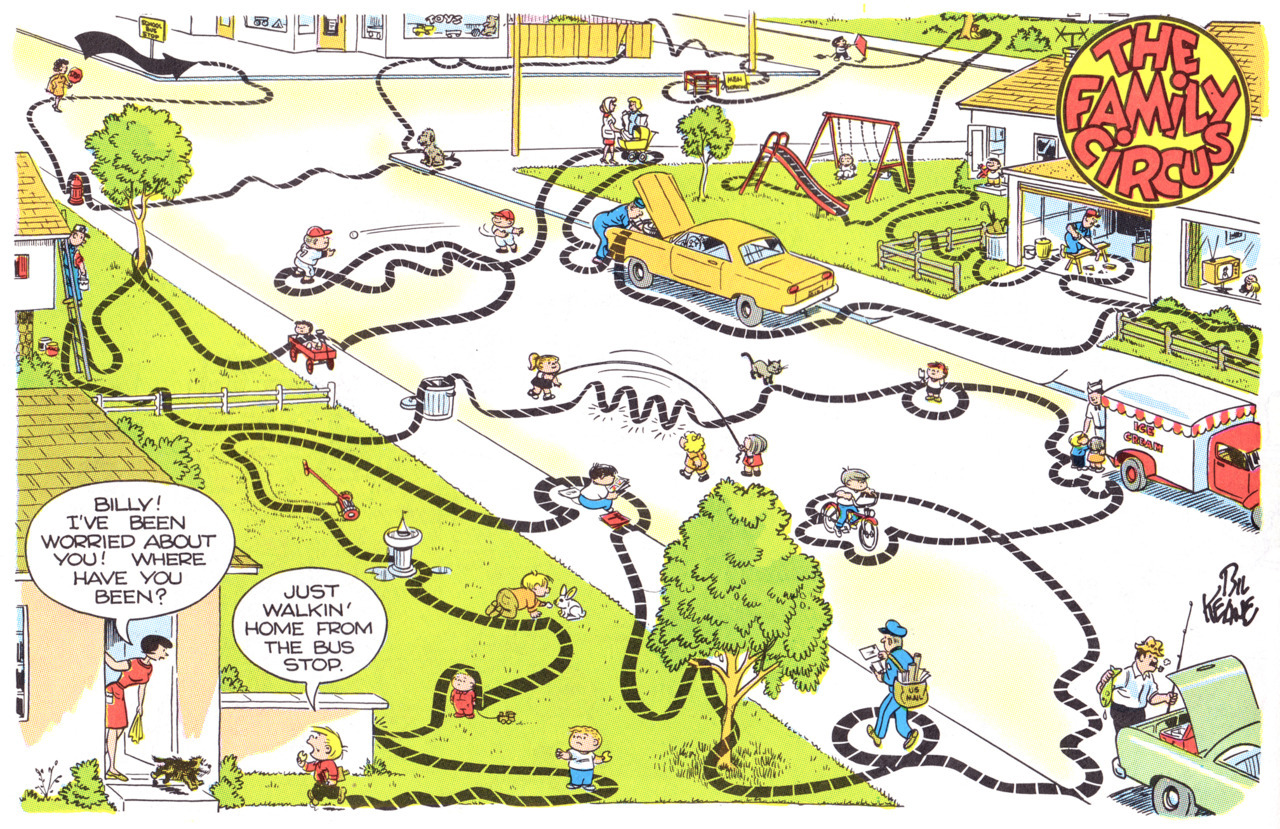 Customer Maps
Customer maps show where all customers or all customers of specific types, are located. MapBusinessOnline provides label flexibility, including the ability to color-code by type. Labels can also include important data about each customer – sales, contact info, birthdays. Because virtually every business has customers, customer maps are trendy business maps today.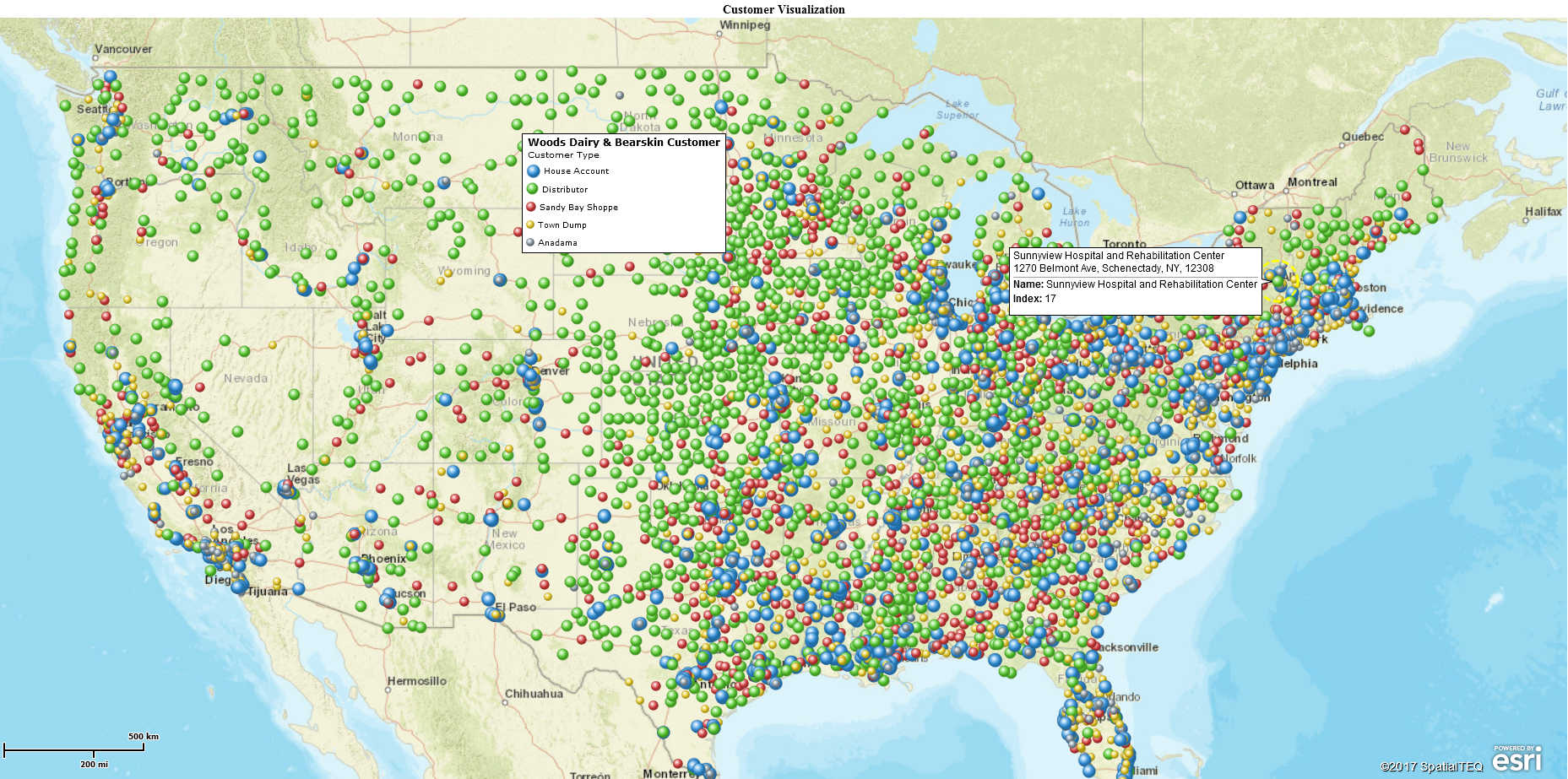 Back in the early 17th century, it took Magellan years to get a map of his exploration business. But today's digital customer maps are generated every day in a matter of minutes, and they are much more accurate. Very rarely do today's explorers get lost on the Pacific Ocean and end up decapitated. It happens, but it's rare.
Radius maps are maps based on a circle. They call them radius maps because a circle shape on a map is constructed from the radius distance of the resultant map object. Click the Radius or Circle option and input the desired radius. Et voila! A circle appears on the map.
Once a circle is placed on the map, lots of information can be associated with that shape:
A map user can develop lists of customers within or outside of the circle.
Demographic data can be associated with the circle area.
Imported business data can be related to the circle. Data such as annual sales, energy consumed, or products sold.
The number of COVID-19 cases within the circle.
The number of vaccinated citizens within the circle. (Did I say that out loud? Heaven forbid.)
Speaking of circles, MapBusinessOnline Standard and Pro versions both enable the creation of concentric circle maps.  Concentric circles are multiple circles of varying radii generated from the same center point. MapBusinessOnline Pro lets you create them a little more automatically, and it allows you to assign demographic data to the various circle areas as constructed.
Select the Summarize Demographic Data option in the MapBusinessOnline Pro set of market analysis options. Read the details on concentric circle demographic data mapping here.
Territory Mapping
I write about territory mapping all the time. MapBusinessOnline does provide easy-to-use territory and sales territory map solutions. Of course, there are many different takes on territory maps.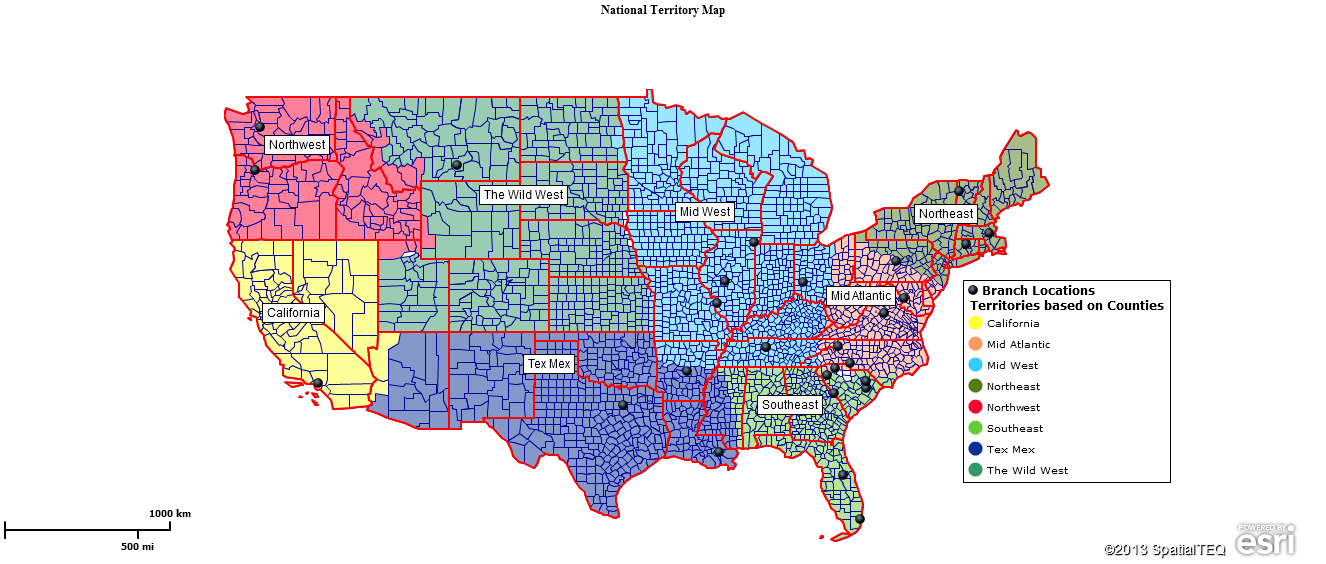 The most common territory map is a sales territory map. But even a sales territory map comes in different flavors:
Field sales map – Field Sales maps include all sales rep home locations and territories, customers, and possibly prospect accounts and resource locations. Field inspectors, technicians, and clinicians would all use the same map formation. Read more about why businesses choose MapBusinessOnline for sales territory mapping.
Sales planning map – Usually used by a field sales rep to route to customer locations and manage customer visits. Territories provide guidelines for areas of responsibility.
Franchise business map – Franchise territory maps often present open and sold territories. Usually, franchise maps are based on ZIP codes, but other map alignment layers could be applied. Demographic analysis is often used to justify markets in franchise business territory maps.
Regional sales territory map – Sales teams view their sales territories, rep home locations, and customers within a specified region of activity but not the whole nation.
National sales territory map – Same as above but at a national level. National sales territory maps encompass the whole USA. National territory maps can get quite complex. Their complexity is related to the number of sales reps, the products and services offered, and the various ways the business goes to market.
Hierarchical sales territory map – Hierarchies define levels of sales responsibility usually associated with tiers of sales management. Sales hierarchies often support three levels of territory management – ZIP code layer territories, regional territories, and territory divisions. Hierarchical territory maps are supported by MapBusinessOnline Pro.
Sales & Marketing Maps
In addition to field maps and territory maps, sales and marketing professionals require business maps that inform them about market potential, competitor activity, and forecasting.
Understanding where competitors have opened competing stores and branches is, at times, critical to developing the correct sales plan.
Market Analysis Map
Market analysis maps take a hard look at existing business activity, customer locations, required resource locations, labor statistics, demographics, and other critical business elements.  By compiling all of the data into complete market analysis, a business map can then develop expansion planning maps that expose the most lucrative markets for growth across the nation based on the critical business elements.
Read about market analysis examples in our Customer Case Studies page.
Now, Enough About Maps!
All the above-listed business maps ingest data to present new perspectives on operations, sales, expansion possibilities, and strategic directions. A geographic perspective helps inquisitive minds figure out new approaches to follow and untilled ground to furrow.
Now enough about maps. I can write about maps all day. It's summer. Get outside and enjoy the ongoing pandemic. It won't be here forever, you know.
Find out why over 25,000 business users log into www.MapBusinessOnline.com for their business mapping software and advanced sales territory mapping solution. The best replacement for Microsoft MapPoint happens to be the most affordable.
To access MapBusinessOnline, please register and then download the Map App from the website – https://www.mapbusinessonline.com/App-Download.aspx.
After installing the Map App, the MapBusinessOnline launch button will be in the Windows' Start Menu or Mac Application folder. Find the MapBusinessOnline folder in the Start Menu scrollbar. Click the folder's dropdown arrow and choose the MapBusinessOnline option.
The Map App includes the Map Viewer app for free non-subscriber map sharing.
Please read customer reviews or review us at Capterra, or g2crowd
Contact: Geoffrey Ives geoffives@spatialteq.com or Jason Henderson jhenderson@spatialteq.com