Most MapBusinessOnline users come to the application searching for sales territory mapping software. Sales territory maps help organize sales teams, focusing the team on sales goals, assigning accountability, and driving results.
Read on to get a sense of how these sales territory tools work.
MapBusinessOnline sales territories use one base map alignment layer, usually ZIP codes, Census tracts, counties, or state layers. This geographic territory structure rule enables the database/analysis view for all territories, regions, and divisions. It provides the basis for a territory database management system that provides:
Demographic analysis by territory.
The ability to add additional data columns to the analysis, including imported business data.
The ability to sum across all territory columns for analysis purposes.
The ability to filter territory data by a variety of modifiers.
Report generation for export as CSV files.
The sales territory color-shaded areas created using MapBusinessOnline are the geographic map visualization component of territory mapping. The user and map viewer see groupings of ZIP codes, Counties, or States arranged in territories and color-shaded for differentiation based on sales assignment or associated data.
Map creators can only use one territory alignment layer for each territory – You cannot combine ZIP codes and counties in one territory. This fundamental rule in MapBusinessOnline sales territory mapping implies the following:
To split a one-state territory into smaller segments, the territory must be based on a ZIP code or county alignment layer. For split counties, revert to a ZIP code territory alignment layer.
ZIP codes are the preferred territory base map layer for 90% of our customers.
Users can create separate territories on varying alignment layers. For example, you could have a ZIP code-based territory and a county-based territory in your territory project.
Creating Territories
Territory maps are created manually  in MapBusinessOnline by:
Gathering map layer objects like ZIP codes with a polygon or freeform search tool.
Clicking on an alignment layer object (like a ZIP code) and holding down the shift key to select more than one.
Territories can be more automatically created by:
Importing a prearranged list of sales territories from an Excel spreadsheet.
Creating multiple territories through drive time queries across numerous center points.
Read more about territory creation here.
Step-by-step instructions are in the help documentation.
While MapBusinessOnline supports freeform drawn map objects using draw tools, these drawn areas do not support a database of location data. We recommend that all business mapping software users stick with the map layer-based territory construction.
Overlapping territory areas can be visually highlighted by turning on the Intersect Options in the Map and Data Territory Options Tab. Choose a color that indicates territory overlap. Most people use bright red or black.
Editing Sales Territories
Once created, the Map Creator can edit territories to reflect changes in sales coverage, territory naming, color-coding scheme, and general updates for balancing workloads and account assignments.
Select the ZIP code (or other map alignment layer objects) for geographic territory assignment adjustments to be edited, added, or removed. A pop-up menu will appear with options listed. Choose the Edit Territory option and then proceed with the operation option desired. To select more than one ZIP code for editing, hold down the shift key and click Edit Territory.
Your operation options include the following:
Create new
Merge
Add to
Remove from
Update
Intersect with
Remove from all except
In the case of Merge territories (a new feature), select one territory targeted for merging. Hold down the shift key and select the second merger candidate. Click the Merge button on the pop-up dialogue. Next, choose which operation you prefer in the Dropdown provided – deleting old territories or preserving empty territories. Click Merge.
Read more detail about how to edit sales territory maps here.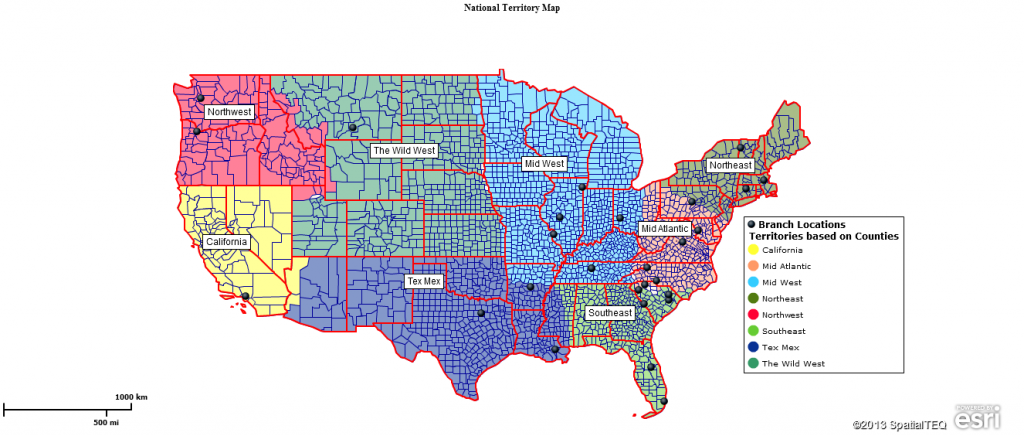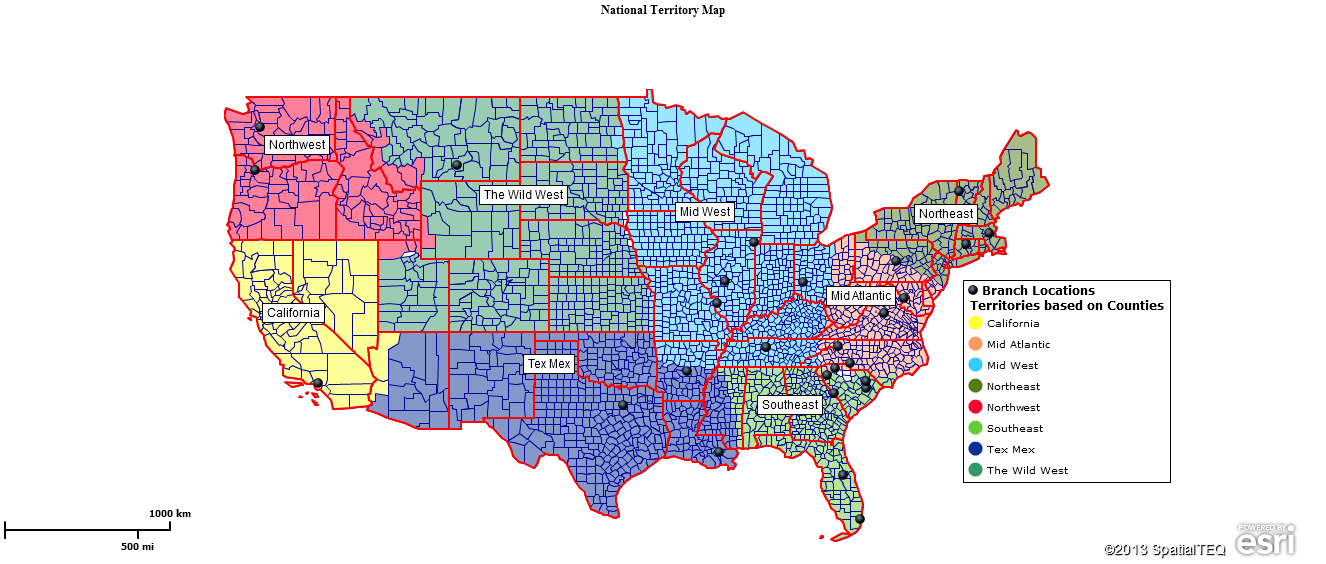 The Data Window – MapBuisnessOnline's Territory Analysis Panel
The Data Window is always accessible from the Master Toolbar by clicking the second button from the right. That Data Window button is a spreadsheet icon. Click the button, and a tabular data view of all the map layer data, any imported data layers, and territories, regions, and divisions you've created.
Any created Territory in MapBusinessOnline gets a Data Window data analysis view. That tabular view of any territory will include the following:
The map assignment layer. In the case of ZIP codes, the layer will display all the boundary ZIP codes contained within the territory's geography.
MapBusinessOnline automatically assigns some columns – Primary State, Primary County, Place Name, States, Counties, and Filler. I typically remove (move to the left) the Primary map layers and the fillers. Place Names are town names, and they can come in handy.
By clicking the Choose Columns button in the lower right, the map creator can select these columns to move them out to the left or choose additional columns of data from the left to move to the right and into the analysis. In this way, territory analysis gets populated with critical relevant data. Available data includes:
Demographic data.
Imported business data.
Business listing data with firmographics.
Counts per ZIP or Territory.
The map creator establishes a market analysis view of the territory map by carefully selecting and deselecting data layers in the territory analysis Data Window view. This market analysis view is compelling. Thousands of customers use MapBusinessOnline territory analysis views:
All kinds of market analysis.
Customer and lead assignment.
Expansion planning.
Sales and marketing campaign planning and reporting.
Sales territory balancing.
Site assessment.
Strategic planning.
Professional Tips on Sales Territory Mapping
Here's a list of the best approaches based on a few years of experience with Sales Territory Mapping:
Try the ZIP Code Alignment Layer First – Most users use ZIP codes as the base alignment map layer. New users sometimes avoid ZIPs because they figure it would be more of a burden due to the high volume of map objects. Try ZIPs.
Most users find they are more comfortable with ZIP codes.
Because ZIP codes have smaller areas, they provide more flexibility.
ZIPs and demographic data are made for each other. ZIP code demographic love is especially true for retailers who should want to understand their neighborhoods.
Avoid Territory Overlap – While MapBusinessOnline does provide overlap controls, seek to avoid territory overlap.
It muddies account responsibility.
The more overlap you allow, the harder it is to display.
Overlapping coverages tend to generate animosity between reps and eventually between reps and customers.
Save Your Territory Maps as a Map Template – You or your people put a lot of company time and effort into creating your sales territory mapping. Don't risk losing the maps. Save all territory work as a Map Template in the My Templates folder.
Click Save.
In the Dropdown, select the My Template folder.
When developing new maps from territory templates, save them as My Maps.
Replace Microsoft MapPoint with MapBusinessOnline – MapBusinessOnline territory mapping software is an easy replacement for MapPoint. Just remember, Microsoft MapPoint was a giveaway by Microsoft. Decent territory mapping is going to cost a little more.
If you still have your most recent MapPoint version, we may be able to convert your territories to MapBusinessOnline.
MapBusinessOnline is a better territory mapping software.
MapPoint was canceled by Microsoft 6 years ago. Yikes! Get with a program.
MapBusinessOnline has thousands of users happily creating sales territories using the tool. Don't languish on the sidelines pining for a territory system. Get with our program – MapBusinessOnline – today!
_______________________________________________
Discover why over 25,000 business users log into www.MapBusinessOnline.com for their business mapping software and advanced sales territory mapping solution. The best replacement for Microsoft MapPoint happens to be the most affordable.
To access MapBusinessOnline, please register and download the Map App from the website – https://www.mapbusinessonline.com/App-Download.aspx.
After installing the Map App, the MapBusinessOnline launch button will be in the Windows Start Menu or Mac Application folder. Find the MapBusinessOnline folder in the Start Menu scrollbar. Click the folder's dropdown arrow and choose the MapBusinessOnline option.
The Map App includes the Map Viewer app for free non-subscriber map sharing.
Please read customer reviews or review us at Capterra or g2crowd.
Contact: Geoffrey Ives at geoffives@spatialteq.com or Jason Henderson at jhenderson@spatialteq.com.