MapBusinessOnline Standard and MapBusinessOnline Pro provide access to the same extensive library of U.S. Census Bureau demographic data by category.
Here's a link to an article describing creating a demographic map using MapBusinessOnline.
A MapBusinessOnline business map subscribing user can quickly view segments of demographic data and review it for usability for your purposes by selecting a ZIP code in MapBusinessOnline and clicking the presented Summary button. The Summary button is the gateway to a quick and exportable mini spreadsheet of demographic data for your use, even outside of the application.
You will note, for example, that a Summary button selection of Population, Population Female, and Population Male shows the total population value and the two-component gender populations.  A quick summation analysis (eyeballing the three figures presented) shows that the number of females plus the number of males estimated by the Census Bureau does add up to the total population presented. Pretty neat.
Similarly, suppose I select a ZIP code-based territory by clicking on the territory label and choosing the Summary button again. In that case, I can create a similar mini spreadsheet showing:
Total Population 3,402,530
Not-Hispanic Population 3,324,158
Hispanic Population 78,372
Once again, these numbers add up.
The above example territory is a random selection of ZIP codes spanning sections of Missouri and Illinois. So, the ratio of Hispanic to Not-Hispanic makes some sense. It's not New Mexico.
This summation comparison suggests that a lot of thought and work goes into the compilation and presentation of the Census Bureau's demographic data. This data contains hundreds of subject categories generally organized by population and consumer expenditures.
A subscriber accessing MapBusinessOnline demographic data will have multiple-year options. The two most recent years are projections for Census data. The most recent Census release in MapBusinessOnline is listed as 2019 data. This arrangement of Census and projection data moves forward with each data release. The two most recent years are always projections.
Projection data providers estimate the demographic data based on trends and an understanding of current events and how they may impact population, income, and other demographic categories.
Demographic Data by Map Layer
MapBusinessOnline provides a set of nine visual geographic map layers or jurisdiction segments that enable the visualization of demographic data by defined areas like ZIP codes and counties.
The ZIP code you grew up in is very familiar to you as a place on Earth with rough boundaries. The addition of demographic data to your view of that section of the Earth adds interesting information you may not have had before – or perhaps never knew you needed! From a business perspective, demographic data can turn an interesting perspective on your hometown into a pallet of marketing potential.
Taken a step or two further, MapBusinessOnline Pro can provide driving time and distance polygons that could represent on a map. For example:
Construction sites by urban area.
Financial institution ZIP code areas of interest for investment.
Insurance claim locations related to a weather disaster.
Healthcare system network analysis by metropolitan area.
Marketing campaign analysis results using Census MSA districts.
Professional sports team media network analysis by urban area.
Restaraunt groupings for new market analysis.
Retail customer driving time tolerances.
Sales territory areas based on traveling rep drive time allowances.
The hits just keep on coming. Any of these business scenario areas could include demographic data. MapBusinessOnline Pro has several specific features enabling the addition of demographic data to territory analysis and imported business spreadsheets. Read more about MapBusinessOnline Pro here.
Summarize demographic data for multiple center-point radius searches.
Enrich an imported dataset with demographic data.
Import and View Demographic Data by Area-of-Interest
A little experimentation and playing with demographic data on a map may help your business identify existing and new markets. A first step is to import your sales activity by address or latitude/longitude coordinates into the business mapping software.
In MapBusinessOnline Standard or Pro, creating a territory or area of interest provides access to an associated database manager. Create a territory around your sales data using the ZIP code alignment layer. In the lower right of the Data Window view of that territory click on, Choose Columns. Read more about Choose Columns here.
With the Choose Columns function open, you now have a basic database management tool that lets you select data from the left – including demographic data – and move it to the right. You are pulling demographic data from the MapBusinessOnline library and placing it in your specified area-of-interest database view. Each territory created in this saved map will have the same Data Window demographic analysis view. This demographic Data Window view is what we mean by Market Analysis in MapBusinessOnline.
If you sell a consumer-focused product, you probably have a pretty good sense of what demographic categories best represent your typical customers:
| | |
| --- | --- |
| Product | Demographic Categories |
| Lipstick | Female, Female by age, Female by income |
| Child Car Seats | Married couple, Female by age |
| Cat Accessories | Population by age, Single male, Single female |
| Blood Pressure Meds | Population by age |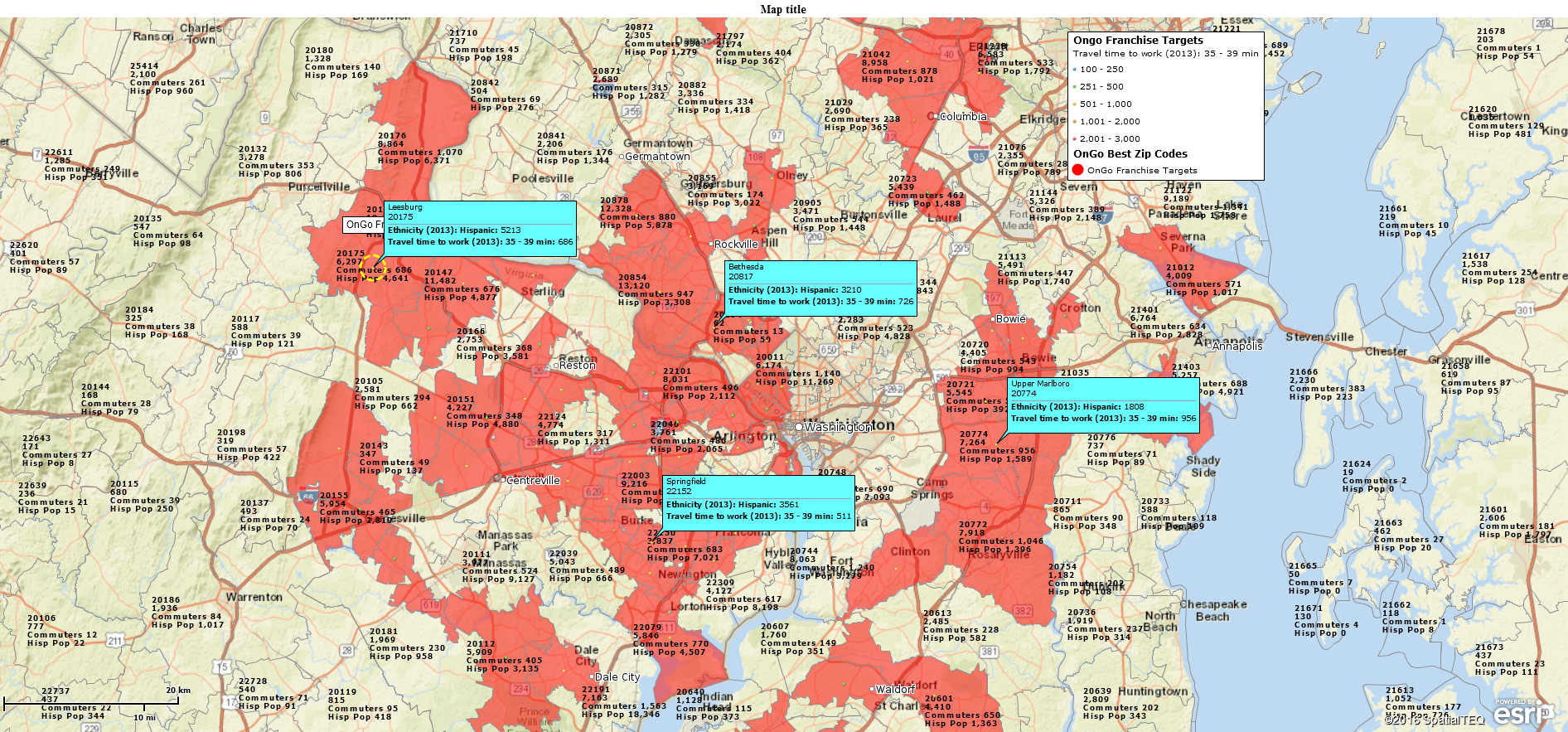 Here's where the experimentation comes in. The map creator views the map to understand where areas of dense sales activity exist. Set up a Choose Columns Data Window analysis or territory in those areas. Import the most apparent demographic categories that match your known customer base.
For instance, for Lipstick sales, consider Consumer Expenditures related to cosmetics.
Always be open to more marketing categories. Look for additional types of demographic data you may not have considered before.  Think this through and do not consider the map a finished project.
Market Analysis
With an array of ZIP codes or City Limits listed in the Analysis view, click on the header of any demographic category to change the ranking order of the data. The application adjusts the analysis view to reflect that demographic from most to least or A to Z. In this way, you can see which ZIP codes or Cities sell many products and seem to correspond to high populations of a particular demographic.  Pay attention to the other product and demographic categories. You may find unexpected patterns.
In many cases, these views are not blatantly illuminating but start to reveal a demographic profile after a process of elimination.  In some instances, the process will expose an obvious pattern. Take your time and relax with the analysis. Have fun with it. Invite your marketing and salespeople into the room to view these patterns and participate in the discussion. Each person viewing the map analysis will have a story to contribute. Personel stories can add up to patterns too.
Let It Grow
Some outcomes of this process could be:
The development of a demographic profile by product.
A decision to hold a series of market studies.
The beginnings of new product ideas.
Strong suggestions for additional marketing areas.
And what it all adds up to is growth potential. Use business mapping software to expose new areas of opportunity. Encourage discussion. Share ideas.
Grow your business.