Amada Senior Care Uses MapBusinessOnline Franchise Maps to Increase Sales
Background
Amada Senior Care is a growth-oriented franchise organization providing home care services to seniors and helping families understand and secure the appropriate home care or assisted living services their loved ones require. The company currently supports a rapidly growing franchise network of senior home care centers across the United States.
The Challenge
Amada Senior Care, as a franchiser, grows sales of Amada Senior Care franchise areas by creating, selling, and assigning large protected operating areas between 200,000 – 400,000 in total population to their prospective franchisees. These operating territories are designed and balanced based on total population and senior citizens' percentage in that entire population. Household income estimates by area of interest are also analyzed.
Amada franchise territories are based on ZIP codes and require regular maintenance as populations shift, and franchisees seek to expand their areas of responsibility. Amada Senior Care needed a business mapping tool capable of accurately describing their relatively complex franchise territories while allowing easy maintenance of each territory system. The tool needed to be easy-to-use yet still provide advanced sales territory mapping software with access to demographic analysis.
The Solution
Amada Senior Care chose MapBusinessOnline (MBO) as their franchise territory mapping system for its ease-of-use, its affordability, and its ability to incorporate the various location-based data layers, critical to Amada's operational systems.
"Map visualizations sell franchises," said Franchise Development Manager Daina Cencebaugh. "Once our territory maps accurately reflected our operational systems by franchise location, franchise selling became a whole lot easier."
Daina uses MapBusinessOnline to create franchise business systems by area. Generally, franchise areas start in central urban ZIP codes where territories are compiled and encompass at least 300,000 of total population. MapBusinessOnline's feature Calculated Data Columns enables the summations and percentage estimates of crucial demographic categories by map layer – in Amada's case, ZIP code and County layers. For example, Calculated Data Columns quickly sums all Census demographic population categories for senior citizens (ages 65 to 69, ages 70 to 74, etc.) into one demographic data layer (ages 65 and up) as a basis for map analysis.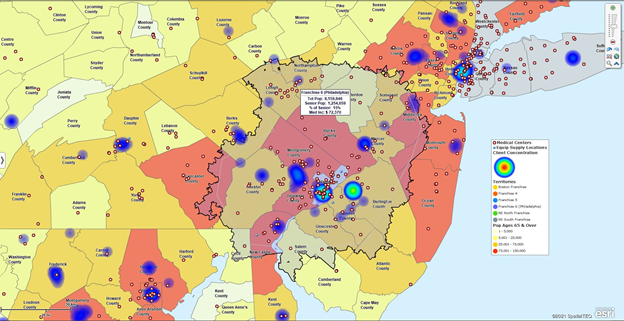 Franchise map created using MapBusinessOnline
Franchise territories display general population totals, % of senior citizens, and household income totals by ZIP code. These Demographic analysis layers balance territories for both franchise geographic extent and compare staff matching capacity to the patient census. The mapping software helps match territory size to organizational capacity. Additions or subtractions to a territory's geographic footprint are easy to make using MapBusinessOnline territory editing tools.
Additionally, Amada franchise territory maps describe the inventory of the regional medical and assistance resources required to support a healthy senior citizen population. These resources include:
Hospitals
VA facilities
Assisted living centers
Home care agencies
Hospice facilities
Skilled nursing facilities
Certified financial advisers for seniors
The resource layers can vary by regional area of operations. For instance, tanning services are rare in the southeast, and exercise gyms are more common in California than in Minnesota. Business mapping easily accommodates these variations. MapBusinessOnline includes access to millions of Business Listings. These plot-able and exportable business listings include contact, sales, and employment data.
MapBusinessOnline territory maps provide several key features that enhance the franchise selling process further:
Shared interactive web map URL's allow territory maps to be shared by email and viewed by prospective franchisees
Exportable map images in JPEG, PNG, or PDF format for embedding images into franchise sell sheets & excel documents for potential Franchisee review of territories and demographic data
Imported data update processes enable easy data updates of both resource and client location datasets
Fast summary demographic map assessments of proposed franchise areas are analyzed before a proposed territory is committed to
About Amada Senior Care
Amada Senior Care is committed to enriching lives by providing nurturing, compassionate senior home care and by guiding families through the many senior housing options available for assisted living. Healthcare professionals and families look to Amada to help them navigate the complexities of the senior care system.