First Chicago Insurance – Exposing Market Gaps using MapBusinessOnline
Business Mapping Used to Define Agent Territories and Identify Underserved Market Areas
Background
Chicago based automobile insurance company, First Chicago Insurance Company (FCIC), has been a MapBusinessOnline customer since January of 2015. Centered around the Chicago, Il region, FCIC has been providing automobile-related insurance coverage for almost a century. During its early years, FCIC provided a wide variety of insurances including general liability and workers compensation. In 1994 the company decided to focus on personal and commercial insurance related to automobiles.
The Challenge
As with most major businesses, First Chicago required a visualization tool that could help define active customer locations, policy placements, and sales agent locations. Managers needed a tool that could reveal at a glance, where sales coverages were lacking for immediate action and a visual representation of sales territories to define accountability.
The MapBusinessOnline Solution
FCIC uses MapBusinessOnline to create sales territories that feature high population ZIP code assignments for both direct sales agents and third-party sales organizations. Areas with higher population counts indicate high counts of automobile ownership and more sales opportunities.
First Chicago typically creates sales territory maps by state, using ZIP codes as the geographic base-unit. The ZIP codes are color-coded by the latest Census Bureau population estimates, included in MapBusinessOnline subscriptions.
The company has a ten-state coverage area, centered around the city of Chicago. The map manager, a product analyst for FCIC, imports overlays of sales agent home locations. These agent locations tell the map viewer where each rep starts their day, against a backdrop of market potential by ZIP code.
The map administrator also imports an address-based list of automobile insurance policies sold across the entire company coverage area.
The market potential is based on the population of a given territory. The greater the population in an area, the more automobile insurance is likely to be sold. Territory maps display color-coded or heat mapped ZIP codes based on population. MapBusinessOnline rolls up ZIP code populations into an aggregated total territory population for each agent. These totals are displayed with territory labels.
The FCIC territory maps are often filtered for views by isolated states, one at a time. This simplifies the map considerations for area managers.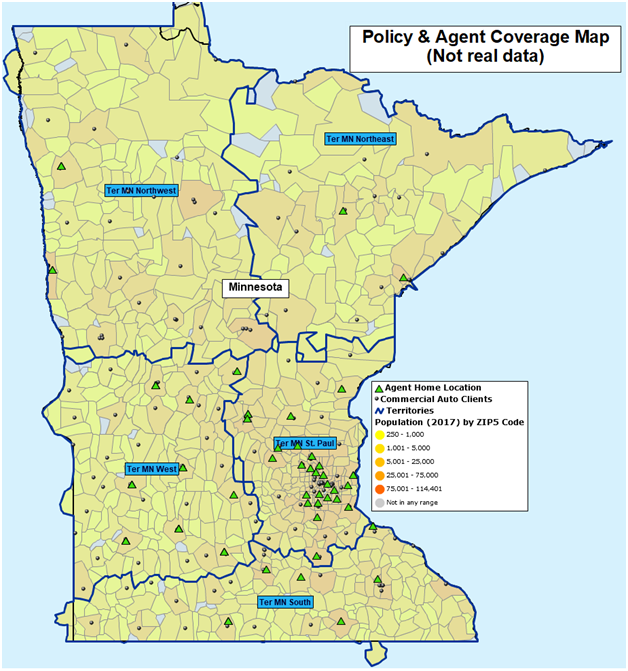 A critical exercise for FCIC map managers is to identify underserved markets. They look for ZIP codes, color-coded to reflect high population areas, that have no agent symbols on the map. These coverage void areas are sent to marketing managers across the territory for immediate rectification through hiring or reassignment.
MapBusinessOnline territory maps can be conveniently shared as interactive web maps or through map image files. Additionally, territory analysis results can be exported as CSV files for data sharing.
MapBusinessOnline calculated data columns are applied to sum demographic population categories into wider age segments. Such demographic segmentation can expose more market opportunities such as groups of young women or men emerging into the driver marketplace. A classic example would be tracking aging Americans by ZIP code, perhaps indicating areas where automobile ownership is likely to decline.
The Results
Like most insurance companies, FCIC has found a variety of business challenges, related to location, that can be solved through the application of business mapping software. First Chicago Insurance is one of a growing number of insurance companies using MapBusinessOnline to:
Create map visualizations that display the locations of sales agents, sales agencies, policies, and claim locations
Identify areas that are void of sales or claims agent coverage
Create and manage insurance claim territories and special projects including disaster mitigation
Visualize policy placements and claim requirements the field
Develop risk management maps that identify high risks by geographic area or demography
MapBusinessOnline provides detailed visualizations that inform insurance users of critical location-based details, while providing both map images and data reporting for case files and claims tracking.