MapBusinessOnline newsletter – January 2021
What's Included with the MapBusinessOnline Map App
Now that we're all accessing MapBusinessOnline through the downloadable Map App, here are some tips on what's included with the Map App.
Once downloaded, the Map App is listed in the Windows Start Menu and the Mac Applications folder. The MapBusinessOnline Map App comes with a list of tools that provide access to the mapping software as well as assistance for updates and troubleshooting. Access these tools to launch the MapBusinessOnline application, share maps, and assure updates to the software.
Launch MapBusinessOnline Map App by clicking the MapBusinessOnline icon. You can drag the icon to your taskbar to set up a one-click launch button
Compatibility Test – On rare occasions, a user may incur a technical problem accessing MapBusinessOnline. Our technicians may request that you run a compatibility test
Map Conversion Tool - For users who have the most recent versions of MapPoint (2011 & 2013) still on their machines. You can convert your MPT map files to MapBusinessOnline maps
MapBusinessOnline Updater – While MapBusinessOnline will always prompt users to update, use this tool to quickly update your MapBusinessOnline in advance
MapBusinessOnline Map Viewer App – This tool is for non-subscriber access to shared maps. Have your map viewing constituents download the Map App. No need for them to register. Share your maps via emailed links. Users click the link and launch MapBusinessOnline. Also, the map consumer can open the Map Viewer App and paste in an emailed link.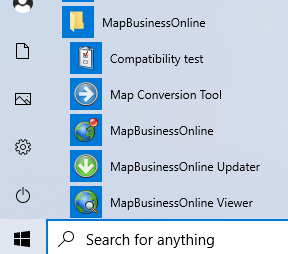 MapBusinessOnline Update - New Case Studies Released!
The MapBusinessOnline.com website user Case Studies section was recently updated to include Imos Pizza's selection of MapBusinessOnline Pro for market analysis supporting expansion planning.
You'll also find case studies describing the use of MapBusinessOnline for health maintenance organizations (HMOs) for location-based patient health insurance as well as agriculture consulting firms using USDA map data to create compelling and informative agricultural map visualizations.
Please contact us if you think your Case Study deserves a place on our website.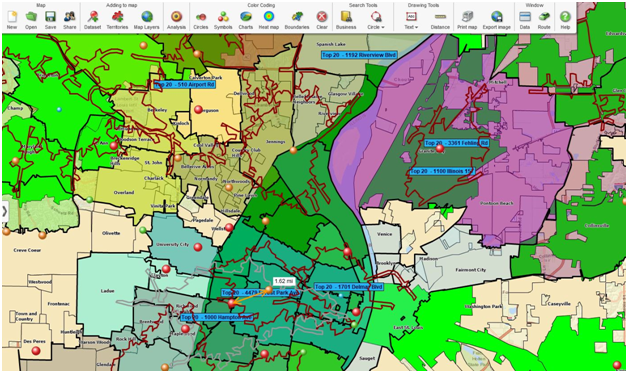 Imos Pizza Coverage Map
MapBusinessOnline Tips & Tricks
Business Listing Industry Code Look-up – Be sure to try our enhanced Industry Code look-up or search tool in the Business Listings search tool. Choose either NAICS codes or SIC code search options and then search by industry subjects such as Pizza, or Castings – just to name a few examples. The search will return a list of industry details you can choose from. Remember it doesn't cost a thing to view the total number of listings per region under a given segment. This is helpful when investigating an industry by polygon, ZIP code, or State.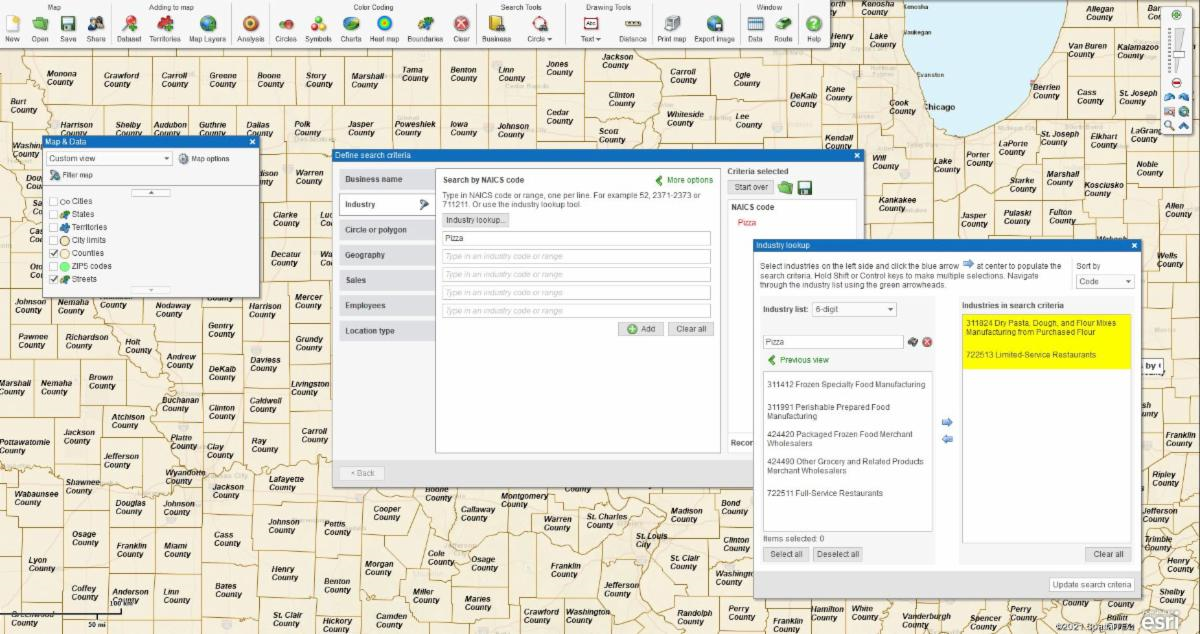 Enhancements to the Business Listing's SIC Industry Code database were included in a December map update.
Salesforce.com Users – Please remember the MapBusinessOnline integration allowing easy import of accounts and contact is included with your subscription. Click the green Get It Now button in the Salesforce.com AppExchange. Other Salesforce.com Map applications do not allow the export of all ZIP codes (point and boundary) within an area or territory. MapBusinessOnline provides an easy and complete ZIP code extraction.