MapBusinessOnline newsletter – March 2019
Prepare for MapBusinessOnline Pro - Coming Soon!
Because map-based business intelligence is critical to the process of sales planning and market analysis, we've listened to our customers and focused our development effort on MapBusinessOnline Pro. Expect an MBO Pro release in the late April/early May time-frame.
MBO Pro will provide advanced business analysis capability with a focus on drive time analysis tools:
Import up to 250,000 location records per map
Conduct advanced market analysis with NEW! multiple drive time analysis queries
Generate driving distances and as-crow-fly distances between multiple point sets
Segment and export drive time analysis results
Flexible start time options for drive time analysis
Conduct driving distance and time paired calculations along the road network
Save up to 400 maps per subscription
Complete region & division support for advanced territory management
Release dates are subject to change. More information will be made available over the coming weeks.
Feature of the Month - Market Analysis Summarize Demographic Data
If you have imported a dataset of location records into MapBusinessOnline, you do have the ability to conduct a simultaneous radius search around the points (up to 200 locations with a drawn circle) and add three categories of demographic data to the process results shown in the Data Window. Click the Market Analysis button, seven buttons in from the left, and then choose the fourth option down. Select the data you'd like to analyze and process your search. The results are exportable.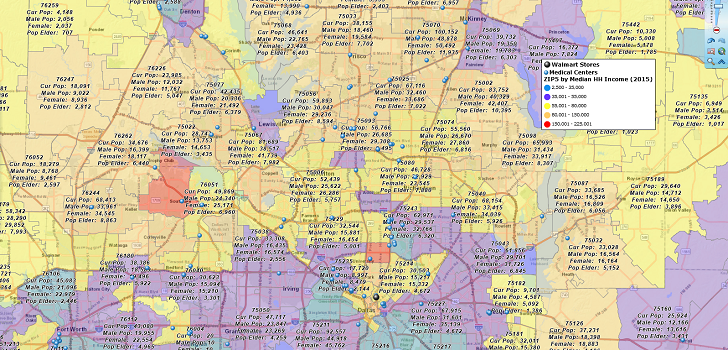 What is a Business Map?
A business map is a useful tool for generating business intelligence, for identifying the strengths and weaknesses of competitors, or for developing a strategic plan for growth. MapBusinessOnline is a tool designed to help run-of-the-mill business users, like you and me, create a map for business use. MapBusinessOnline is a tool built by map makers for map makers. Learn about what goes into a business map. Read more here.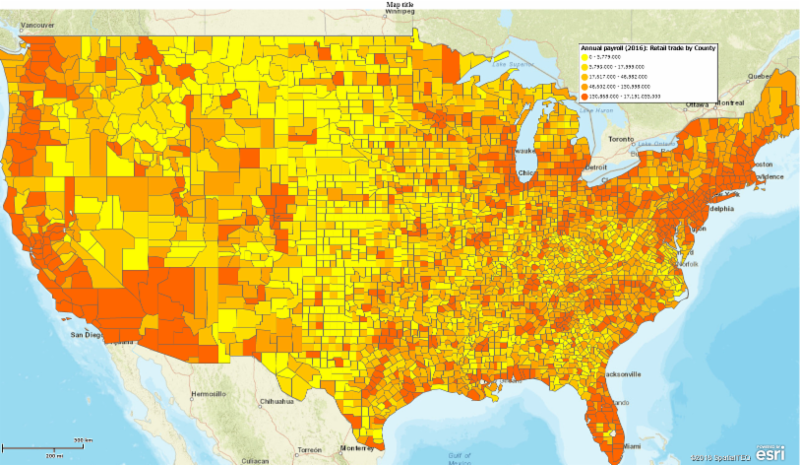 MBO Webinar Recording - Searching for Business Listings
Perhaps you missed the Business Listings Webinar. Attached is a link to the recorded video. Learn about accessing MapBusinessOnline's latest feature access to Business Listings for use in business analysis and lead generation.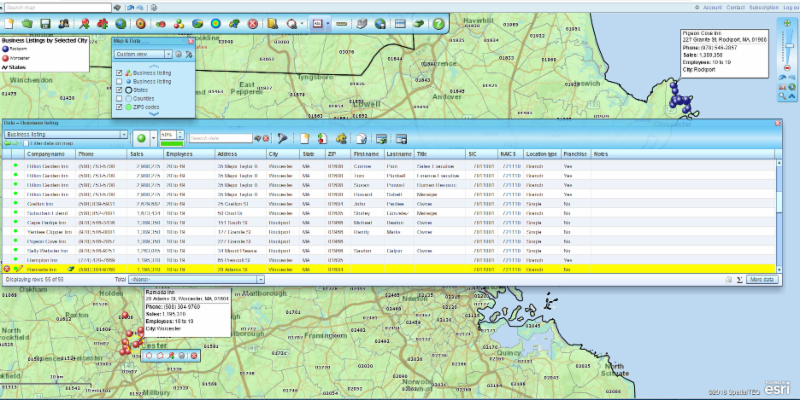 MBO Discussion - The Importance of Sales Territories
It's important to remember that business maps are critical for successful territory alignment. Sales territory management is one of MapBusinessOnline's best features. While most of us are aware and expect the tool to be able to create territories by ZIP code or county we may forget some of the additional aspects of MBO territory management and how these tools help solve major problems for a sales department:
The ability to visualize sales rep home locations against a territory map and begin the process of balancing territories
The ability to import sales information into territory analysis (the Data Window) and overlay demographic data to generate real and accurate analysis by territory (the More Data button)
The ability to identify by color territories that overlap so that overlapping assignments are considered in a general sales discussion
The ability to share comprehensive territory map views with your entire team to encourage goal and process sharing (Public Map Sharing)
Sales territory maps help define and communicate sales goals, encourage successful strategy sharing, and lead to well compensated happy sales teams.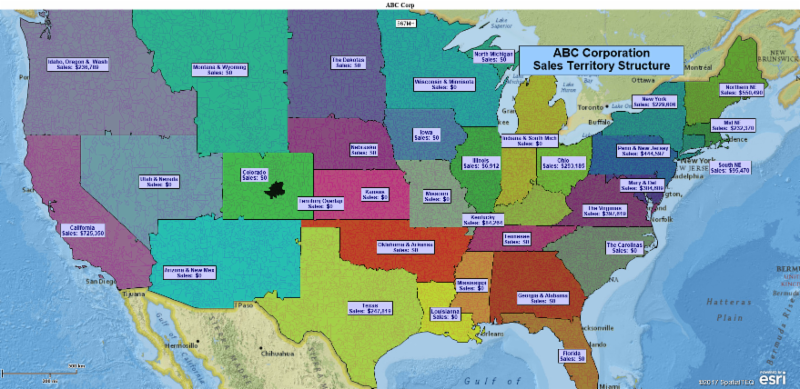 MBO Tips & Tricks
Here's a few more MapBusinessOnline Tips and Tricks to consider:
Quickly Zoom to the USA view – In the upper right corner's Navigation Scroll bar, click on the United States flag icon. This is a fast way to get back to a national view and reorient your map project.
Toggle Imported Data Labels On and Off – Hover over any Map and Data data layer or map layer and Click the Edit Map Properties Gear that pops up. Choose labels along the right side and click Remove all Custom Labels. To turn them back on click Add Custom Labels.
Quickly Edit the Name of Any Data Layer – In the Map and Data Box hover over any layer and click the Edit Map Properties Gear. Next hover your cursor over any layer name area. Click the Pencil icon and Edit the Name. This quick fix is really helpful for clarifying layer names and avoiding a confused map audience.
Bring Data Forward Over a Map Object – A map object like a circle, polygon, or a drive time poly can overlay your imported data layers. To bring that imported data on top of the map object, select the object, click the Edit Gear and choose Change Order. At the bottom of the dialogue select Move Behind Dataset.
Let us Build Your Map for You!
While we focus our development team on making MapBusinessOnline the easiest and most advanced business mapping tool available, we also recognize that some companies with complex sales territories, haven't got the staff to learn, create and maintain their business maps. More and more enterprises are turning their map work over to MBO Business Map for Hire to build territories or map analysis supporting sales, marketing or strategic planning.
Let us review your business map requirement and we'll estimate the project scope which could include supplemental data, test cases, and map generation. Lead times and costs are reasonable. Join the manufacturing, retail, and sales organizations that trust their map requirements to MBO Business Map for Hire. References are available upon request, under a mutual NDA. Contact us!