MapBusinessOnline newsletter – March 2021
Latest Webinar Recording - Adding Value to Your Map
The latest webinar is all about adding layers and business data to your business map. We picked up where we left off on our last webinar and reviewed some of the best ways to add value to a business map:
Adding new Map Layers
Adding relevant demographic information
Adding Business Listings data
Using Calculated Data Columns
Updating your imported business data
Here's a web link to the most recent Webinar
And here is a web link for the previous Webinar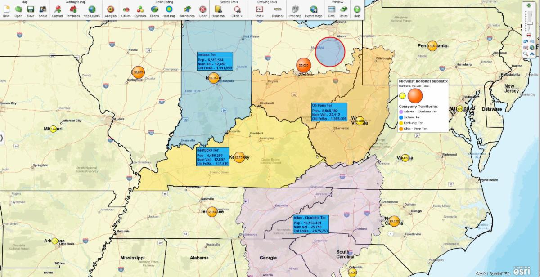 Exporting Map Images Using MapBusinessOnline
MapBusinessOnline includes a button on the toolbar for Exporting Map Images. The button is called "Export image" and it is the fourth button from the right. This tool lets you save a WYSIWYG map image in PNG or JPEG format.
Business map users export map images to:
Support strategic and or business planning presentations
File map status images with franchisee account data records
Support insurance claim records with visual evidence
Provide quick location references for news stories or crime scenes
Maps reflect spatial reality and provide effective visual evidence for business ideas when presented properly and professionally. (See webinar in the first article above.)
JPEGs tend to be smaller files. PNG map files are often preferred files for graphics in newsletters or PowerPoint presentation slides.
Image Export instructions are located here.
Alternatively, MapBusinessOnline map image files can be created using the Microsoft Snipping Tool or its MAC equivalent.
PDF files can also be saved to support large format plotter printing. The tools are located in the Print Button. Please read this article on plotter printing for tips on optimizing PDF map views.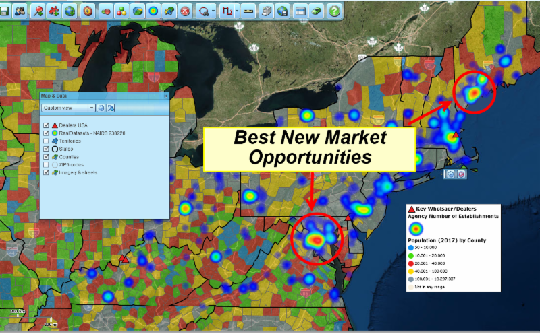 Map Images Support Business Presentations
MapBusinessOnline Tips & Tricks
USA Outline Map - Sometimes a business map user requires a USA Map with minimal details - just an outline of the USA. How is that achieved using MapBusinessOnline?
Start by opening a new USA map. In Map and Data, uncheck all map layers except the State layer. Leave the State layer checked on. Leave the Streets background map unchecked.
Use the Polygon search tool to select the entire contiguous group of states and save that selection as a Territory called the USA or the United States
Delete the Polygon you created
Uncheck the State Layer
In Map and Data, hover over the Territory layer and click the Edit Map Layer Properties button
In the General panel - Uncheck the Fill checkbox. Check the Hide Internal Boundaries check box, and adjust the boundary or line thickness and color to your liking
Edit the name as required, for instance, "USA"
You can also adjust the background color in Map and Data under Map Options. You find the adjustment labeled Background Color in the middle of the panel
MapBusinessOnline includes many tools to achieve a wide variety of map presentations. Explore more business maps in the MapBusinessOnline Map Gallery.