MapBusinessOnline newsletter – May 2018
Webinar: MapBusinessOnline Color Shading Techniques
Explore Best Practices Color Shading to Support Your Map Intent
Choosing the right color shading can make the difference between communicating a concept or simply annoying your audience. Join us on June 7, 2018 at 11:00 EST to explore color shading options. Register here!
Build That Retail map for the Future
For retail businesses, location is everything. Choosing the right location to begin with should include demographic and map visualizations that confirm your target audience is within a half-hour driving distance of your store. A half-hour seems to be the magic number, beyond which traffic falls off. Create drive time areas reflecting key audience drive time windows.
Once established, a retail store can continue to benefit from business map analysis. Competitor store locations, marketing campaigns, and promotional activity can be mapped to explore their placement, versus your own. Big events at local venues may impact your business up or down. Changes in city transportation infrastructure could mean big changes to your business. Staying on top of these municipal changes and local events may save your future as you plan for expansion or a new store location. Create a template map of your business and add location information to it as you run across key events and city changes in your business. Use a business map as your long-term planning tool.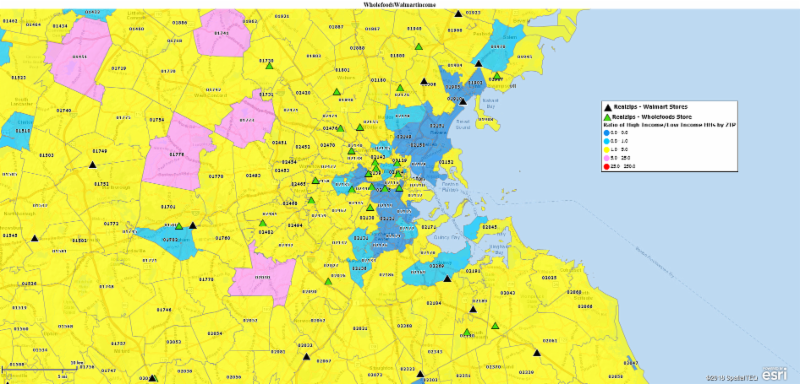 Coming Soon to MapBusinessOnline
Expect a few MBO updates over the next month or so:
A ZIP code boundary update will fix those random Texas ZIPs and a few other issues.
Single Sign-On capability for large enterprise access and subscription management
Login access from Facebook and Google Plus will also be implemented
2016 demographic projection data will be replaced with Census ACS 2016 data
2018 Geolytics demographic projections for the USA will be included
MBO Discussion - Editing Territories
Many users use MapBusinessOnline to create territories. This can be done by selecting a bunch of ZIPs or counties with a search polygon or it can be done as an import of a pre-established territory spreadsheet using the Create Territories button. But editing those territories may seem a mystery to some. It's easy!
The edit tools work the same for all geographies. To add a new ZIP code, select the ZIP code with your mouse cursor. It highlights in yellow. A mini-toolbar appears - click the Blue Puzzle piece and choose the "Add to" option. Then select the territory name and Voila! You've added a ZIP code to a territory. To add more than one hold down the shift key as you select. Or select a group with your polygon search tool. It all works the same way. You'll notice multiple edit options too - Add to, Remove from, Update. Try them. Here's a video.
MBO - Let Us Build Your Business Map
While we focus our development team on making MapBusinessOnline the easiest and most advanced business mapping tool available, we also recognize that some companies with complex sales territories, haven't got the staff to learn, create and maintain their business maps. More and more enterprises have turned their map work over to MBO Business Map for Hire to build territories or map analysis supporting sales, marketing or strategic planning.
Send us your business map requirement and we'll estimate the project scope which could include supplemental data, test cases, and map generation. Lead times and costs are reasonable. Join the OEM, manufacturing, retail, and sales organizations that trust their map requirements to MBO Business Map for Hire. References are available upon request under a mutual NDA.
MBO Tips & Tricks - More Map Please!
Every so often a map needs as much space as you can give it. For whatever reason your map has a lot going on and you want to maximize your published view. Perhaps you're using a Snippet tool to capture an image? So, what can you do to maximize the space your map takes up. You can close almost all aspects of MBO. You probably know you can click close the Data Window, Map & Data layer controls, and the Map Legend. But did you know you can now minimize the upper right-hand navigation tool - see the up arrow on it's lower right corner. And you can also minimize the Master Tool Bar. The master Toolbar minimizer is a tiny little up arrow to the left of the Address Bar. Now, say "Cheese!"

See Red Arrows Pointing to Minimizer Tools
Lightning Video - Reverse or Inverse Spatial Search
This lightning video will walk you through the process of conducting a reverse spatial search. This is a great feature in MBO. A spatial search is simply the process of searching for data within a radius or polygon. A reverse spatial search searches the data outside of that same radius or polygon. Here's your video!
MBO Feature of the Month - The Editable Map Legend
A map legend helps the map reader understand the key elements of the business map. In MapBusinessOnline the map legend is totally editable. Before we discuss the legend editing tools let's make sure your legend is showing. An MBO legend appears when you create a territory or import data. You may close your legend by clicking the X in upper right-hand corner. To re-open the legend, select the Edit Map Properties button in Map & Data. Look to the bottom section of the page and choose Edit Legend. Be sure to select Show Map Legend.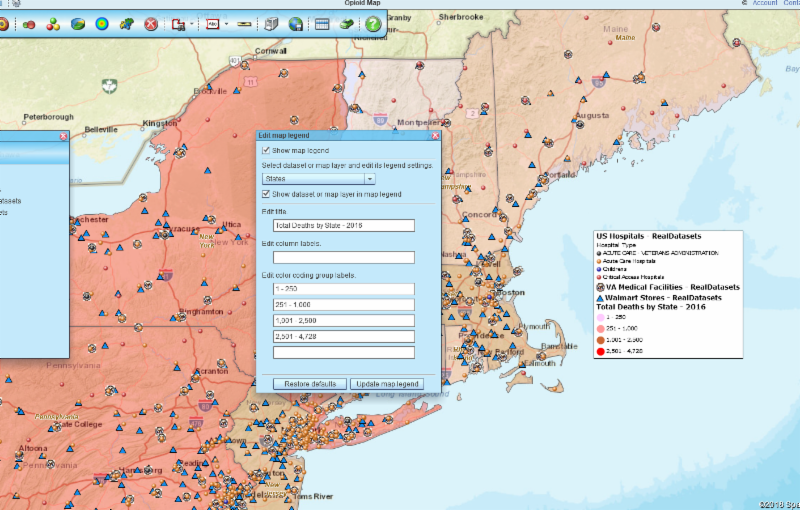 OK. Now back to editing. In the MBO Map Legend you will find a Text Editor rectangle that will allow you to override any dataset or territory name. That text replacement happens only in the legend (it doesn't impact imported data names.) To edit various layers, simply select the layer in the drop-down section. You can also select that check box under the drop-down section to not show the dataset or map layer in the map legend. Once you're done editing click the Update Map Legend button. Remember to tailor your legend text to your map audience.
Share Your Map Story
As always we are interested in ways to make MapBusinessOnline the best mapping software possible. Send us your business mapping software application examples. There are many map users who would like to learn about your application of business mapping.
Referrals
Referrals to friends, relatives or business associates are the highest compliments we receive from our clients. We appreciate your referrals. Please check out our Refer and Get a Gift program.