MapBusinessOnline newsletter – November 2018
MapBusinessOnline 5.3 Update - Easy Team, Easy Import
This month, MapBusinessOnline released version 5.3 which includes the below listed feature enhancements:
Streamlined Team Subscription Sharing - Team Admins can now invite new users to their subscriptions with a one-step invitation process
Informative Start-up and Import Screens - Helpful screens are now in place to help new users or returning users, navigate first time processes and data imports
More Flexible Data Import Processes - More options for easy import of user location data onto the map, including
Easy Copy & Paste Import Option - Quickly copy and paste sections of your business data into the MapBusinessOnline import process - Watch the video!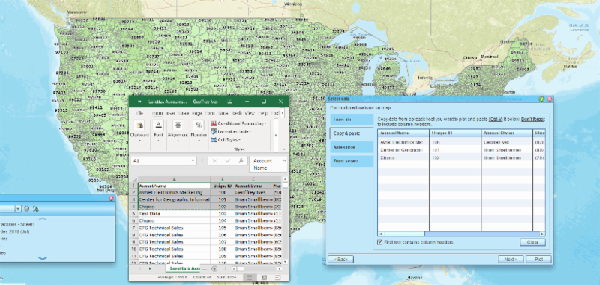 MapBusinessOnline Discussion - MapPoint
It's been four years since Microsoft canceled MapPoint. If you are a MapBusinessOnline user, you've moved on and found better ways to manage your location data and conduct map-based business analysis. But the calls come in everyday from businesses who've been struggling with obsolete MapPoint geographies and outdated business and demographic data layers.
At this point, use of MapPoint undermines any benefit your business may get from its business mapping capabilities. Bad ZIP codes and obsolete functionality becomes a drag on productivity.
If investment is the stumbling block, make sure your boss compares the price of MapBusinessOnline to all the other business mapping services available. It's time to Make Your Mapping Great Again. And that's no lie.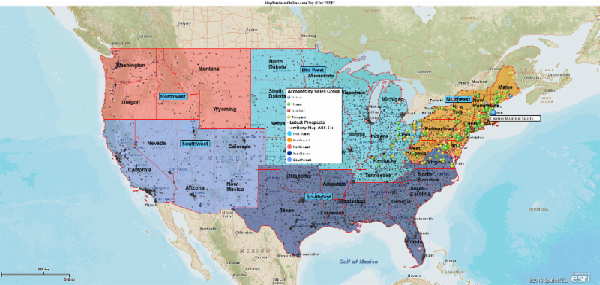 MBO Map Gallery
Be sure to stop by MapBusinessOnline's Map Gallery every so often to view an interactive map of a geospatial scenario. These maps are designed to represent real world situations that translate well into a business map. Feel free to submit requests for a Map Gallery subject. Please include data sources with permissions and perhaps a sense of what the maps purpose should be.
MBO Tips & Tricks - Route Barriers
For those MBO users applying the tool to create optimized multi-stop routes; on occasion you may want to avoid taking certain routes to your destination. Maybe the bridge is out, or perhaps your mother-in-law works at the toll booth. MBO includes Route Barrier options derived from drive time and polygon objects.
Draw the object on the map around where your avoidance object is. Stay very zoomed in. Once the object is complete the associated map object edit window will have a check box to set the object as a Route Barrier. Once that's checked your routes will avoid the intersection selected. Here's a how to video.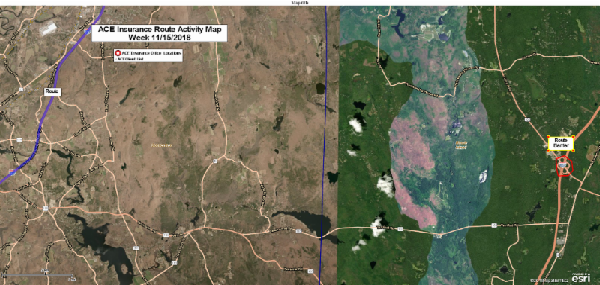 MBO Update - Team Invitation Simplified
Collaborative map editing teams are run by a designated MapBusinessOnline administrator. That person on a map user team controls assess to the subscription. We recently updated MapBusinessOnline to streamline that process. Read more here.
Let us Build Your Map for You!
While we focus our development team on making MapBusinessOnline the easiest and most advanced business mapping tool available, we also recognize that some companies with complex sales territories, haven't got the staff to learn, create and maintain their business maps. More and more enterprises are turning their map work over to MBO Business Map for Hire to build territories or map analysis supporting sales, marketing or strategic planning.
Let us review your business map requirement and we'll estimate the project scope which could include supplemental data, test cases, and map generation. Lead times and costs are reasonable. Join the manufacturing, retail, and sales organizations that trust their map requirements to MBO Business Map for Hire. References are available upon request, under a mutual NDA. Contact us!
MBO Feature of the Month - Import Custom Symbols
MapBusinessOnline users import location data all the time. MBO converts imported data into dots on the map that represent imported locations and allows the users to pick other symbols from a library of symbol options. But beyond that, in fact located directly above the library of symbols, is the ability to import your own symbols.
That's right. If a MapBusinessOnline user prefers to use Game of Thrones symbology and they have access to relatively small jpegs or bitmaps of that data, they can import those symbols into MapBusinessOnline. Read more here.