MapBusinessOnline newsletter – September 2018
Demographic Data - Group Quarters
MBO users accessing the included demographic data layers from within territories or map objects will have noted the population category labeled Group Quarters. A Group Quarters definition was requested by a few users.
A Group Quarter is a housing unit for people requiring specific services. It is not a typical Census defined housing unit like a regular owned home or a rented apartment. "Group Quarters include such places as college residence halls, residential treatment centers, skilled nursing facilities, group homes, military barracks, correctional facilities, and workers' dormitories." Read about demographic data in MBO.
Group Quarter totals represent the estimated number of people living in Group Quarters in your identified area of interest.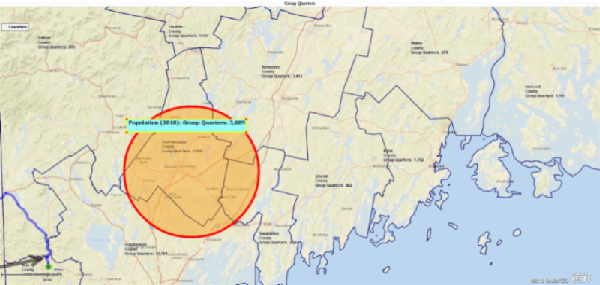 MBO Map Gallery
Be sure to stop by MapBusinessOnline's Map Gallery every so often to view an interactive map of a geospatial scenario. These maps are designed to represent real world situations that translate well into a business map. Feel free to submit requests for a Map Gallery subject. Please include data sources with permissions and perhaps a sense of what the maps purpose should be.
MBO Tips & Tricks - Query ZIPs from County Territories
A customer asked recently about querying a County Based Territory for all contained ZIP codes. Below is noted the process to enable this tricky result. After your county based territories are created:
In the Data Window drop down and select the ZIP code layer.
Click the Yellow Puzzle Piece icon on the Data Window toolbar.
Select the your preferred result options from the choices presented.
View and export the results!
Here's a video of the County-based territory ZIP query process.
Map News from Across the Internet
Here's a few links to a few recent and interesting articles on mapping
Let us Build Your Map for You!
While we focus our development team on making MapBusinessOnline the easiest and most advanced business mapping tool available, we also recognize that some companies with complex sales territories, haven't got the staff to learn, create and maintain their business maps. More and more enterprises are turning their map work over to MBO Business Map for Hire to build territories or map analysis supporting sales, marketing or strategic planning.
Let us review your business map requirement and we'll estimate the project scope which could include supplemental data, test cases, and map generation. Lead times and costs are reasonable. Join the manufacturing, retail, and sales organizations that trust their map requirements to MBO Business Map for Hire. References are available upon request, under a mutual NDA.
MBO Feature of the Month - Map Title
Not every map requires a map title. But important business maps should include a Map Title. There are two naming conventions for maps in MBO. One is the Save As function that occurs when you save any map. The saved file name is a name of sorts and it displays in small text at the top center of the overall map, but there are no text controls over the Save As naming convention.
An actual Map Title function is located in Map & Data under Edit map Properties:
As always, click the Edit Gear.
Under the Map Options tab, third line up from the bottom, on the left side you will notice a check box labeled Show Map Title.
Checking this box places a Map Title text box on the map with a Settings Gear.
Edit the Map Title as required and adjust background color shading too.
Use the Map Title to clearly state the intent of your map. Use it to inform your map audience of your maps intent. Keep it simple and correctly formatted. Adjust the Map Title background color so the title is differentiated from the rest of the map.
Remember there are additional text box options in the draw tools. And you also have Legend editing tools.