MapBusinessOnline newsletter – September 2019
Announcing the Release of MapBusinessOnline Pro!
At last! Access advanced map-based market analysis through MapBusinessOnline Pro. Perfect for business expansion planning, market analysis, or strategic analysis in preparation for end-of-year planning sessions.
Large and Small Retailers - Build Competitor Analysis, conduct Expansion Planning. Based on radius searches around proposed store location center points, analyze competitor stores within five-mile circles. Consider proposed locations with the largest ratio of population to the number of competitor stores.
Growing Service Organizations - Create demographic profiles in support of Expansion Planning. Build comprehensive market analysis maps that quickly generate multiple-city demographic analysis.
Insurance Companies - Conduct Risk Assessments, Enrich multiple policy location data with demographic, geographic and imported data relevant to disaster zones or risk averse areas.
MapBusinessOnline Pro - a selection of advanced geospatial tools to apply to your business analysis:
Search and segment data from multiple center points at one time - search data within a radius or driving time of multiple locations
Batch calculate distance and time across one or two datasets for straight-line, driving distance, and driving time calculations
Find the nearest stores to a group of customers by driving distances or driving times
Create multiple territories based on data search around multiple points
Easily summarize or enrich imported datasets with demographic or geographic data
Count and Aggregate customer data within a proximity of each store location
Import up to 250,000 location records per map
Complete region & division support for advanced territory management
MapBusinessOnline Pro Pricing
(volume discounts of up to 25% are available)
USA Coverage Area
Canada Coverage Area
USA & Canada Coverage
$900 per user per year
$900 per user per year
$1050 per user per year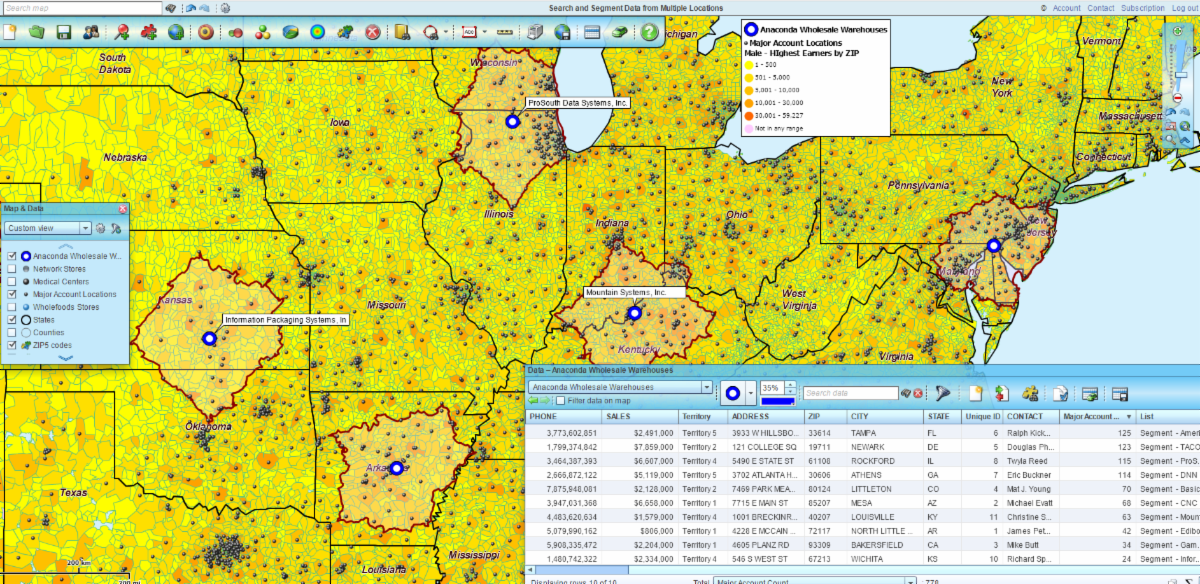 Search multiple drive time polygons simultaneously
MapBusinessOnline Updates for September 2019
2019 Demographic Data Projections Released – The 2019 layer within MapBusinessOnline has the projected estimates, just released.
Within the demographic data library of USA data, the 2017-year options are no longer projections but are now actual Census ACS releases. As always, the two most recent year demographic releases are projections.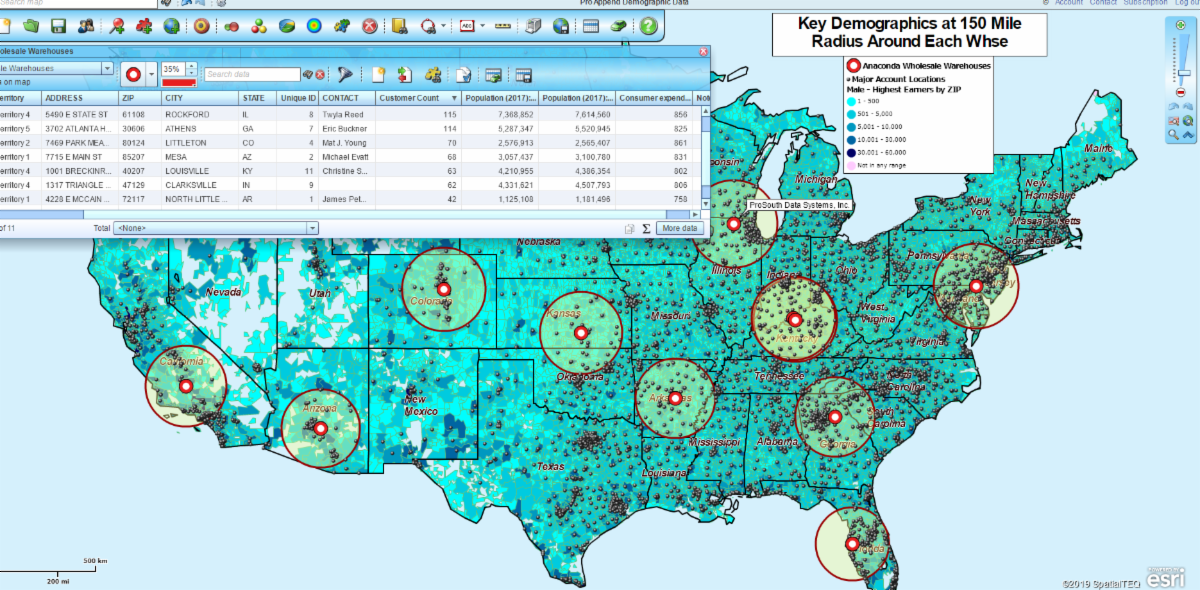 The MapBusinessOnline Apps for Windows & Mac
Have you tried the MapBusinessOnline App for Windows or Mac yet? Do you realize its FREE and included in your subscription?
Download your required version of the App here. Start Mapping in a less cluttered environment today!
Easy one-click map access through a taskbar launch button
Directly links to Excel files for easier imported data updates
IT System Admins appreciate the control over App installs
Avoid Internet browser bugs and issues:

Firefox & Safari – slow to fix conflicts
Chrome – overactive Google controls

Enhanced map clarity and improved image resolution (for certain browser configurations)
App is recommended for creation of the most complex maps not being confined to the limitations of web browser environment
MapBusinessOnline Tips & Tricks - When Using Pro
You will find MapBusinessOnline Pro market analysis functionality in the Market Analysis button on the Master Toolbar. Within Market Analysis, MBO Pro offers an expanded list of map operations - you will see them listed. MapBusinessOnline Pro users will have access to all standard MapBusinessOnline features.
Standard MapBusinessOnline subscriptions will still have access to a Market Analysis function, but the analysis will be limited to Straight Line queries. MapBusinessOnline Pro users will have access to multiple point driving time and driving distance calculations and queries.
Assessing the driving distances between all points, across two locations datasets will be straight forward. Those distance and time query results will be added to a saved marketing lists, as usual. As you get used to using MBO Pro, you may find it valuable to run several different Market Analysis operations on the same set of data to gather the maximum amount of intelligence you require. For instance:
Driving distances and driving times across all points in two datasets
Generating drive time polygons across all points in a dataset for territory creation purposes
Enhancing an imported dataset of multiple business locations with three critical demographic data elements
Think of MapBusinessOnline Pro as a multi-faceted toolkit for conducting market analysis.
Keep us posted on how you use MapBusinessOnline Pro. We'll be very interested in your experience.