Import territories from a file
This article demonstrates how to visualize sales territories by importing a file with existing territory assignments.
In MapBusinessOnline you can build sales territories from various alignment layers including ZIP codes, counties, states, Census tracts, and MSA. Design your sales territories from scratch by following the steps presented in the article: Manually create territories one-by-one. Often our users already have sales territories designed in CRM or a salesforce management system. They use MapBusinessOnline to visualize the territories on a map and optimize them using geographical factors such as drivetime and connectivity.
Note: here we will present steps required to build sales territories from USPS 5-digit ZIP codes. Building territories from other alignment layers is similar.
Preparation steps
Let's first setup whether sales territories are allowed to intersect.
Open "Manage map and data" dialog. Click the gear icon at the top of the main toolbar to open the dialog.
In the dialog select "Territory options" tab and change the intersection settings.

Make sure that ZIP code map layer is visible. Do that by checking visibility box in Map & Data window.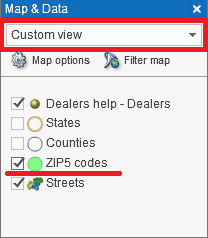 Import your territories
Export existing sales territory assignments to an Excel or comma/tab delimited file. The file shall map a ZIP code into a sales territory like you can see on the picture below.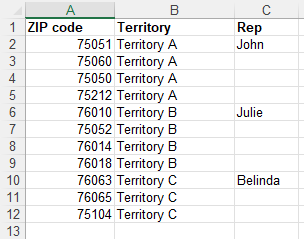 Go to MapBusinessOnline. Click Territories icon on the main toolbar to start "Create territories" wizard.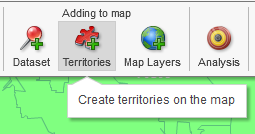 On the first page click "Create territories from dataset" option.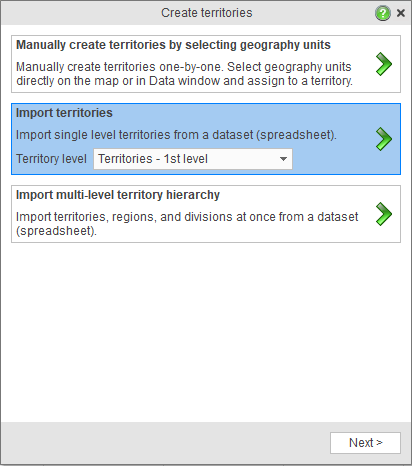 The next page will provide territory assignment file examples; help and video references. Skip the page by clicking "Next to plotting data" button.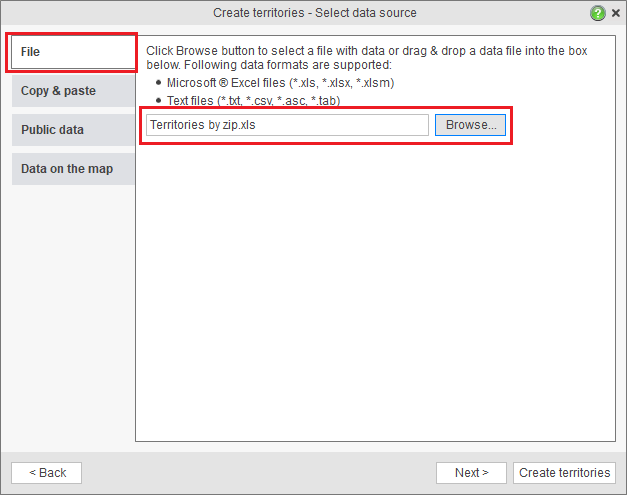 On "Select data" page select "From file" tab and choose your file with territory assignments. Click Browse button to locate the file. Press Next button when ready. You could press Plot button and that would do all the plotting magic for you, but we want to show the plotting experience in full in this article.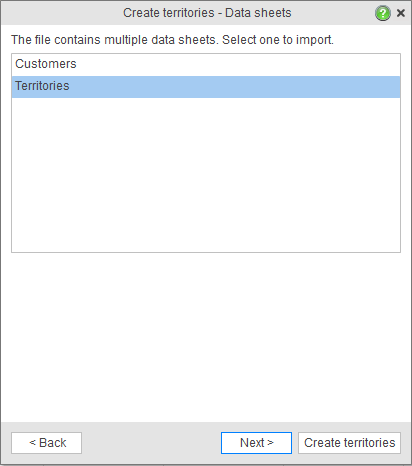 MapBusinessOnline will start uploading the file selected.
Select the worksheet or range to plot the data from, if required. Click Next button.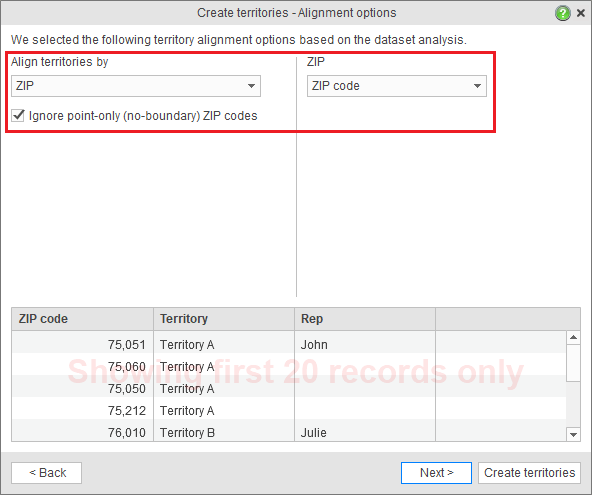 On the next page choose the column that contains ZIP codes. Make sure that the other columns have <None> selected. Usually, MapBusinessOnline automatically makes the choices for you. The callout on the right side shall state that locations will be plotted by ZIP.
Keep the box to ignore point-only ZIP codes checked. Click Next button when ready.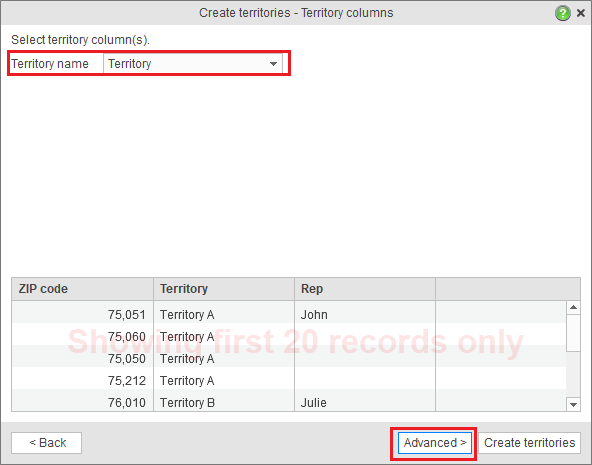 MapBusinessOnline will start plotting ZIP codes on the map. That shall not take long. Once plotting is finished, the following page will pop up showing results. If some ZIP codes are not plotted, you may want to check ZIP codes column in the Excel file for errors. Click "Next to creating territories" button.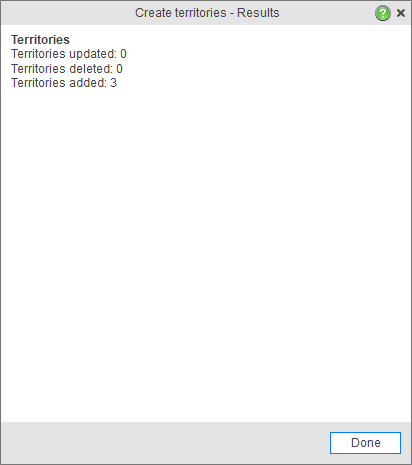 On the following page MapBusinessOnline will make selections for you. Check that it correctly selected the alignment layer and column with territory names. Click "Create territories" button.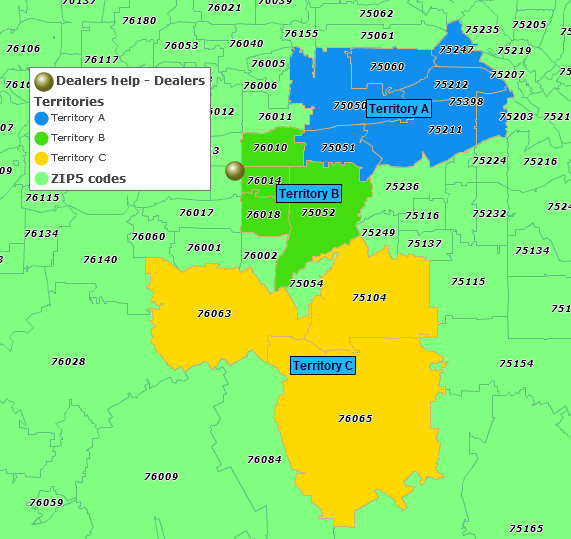 MapBusinessOnline will start importing your sales territories. At the end you will see the following page with the summary. Click Done button to complete the territory import.
You will have the sales territories on the map.
Related articles