Mapping Multiple Locations Is Easy With
MapBusinessOnline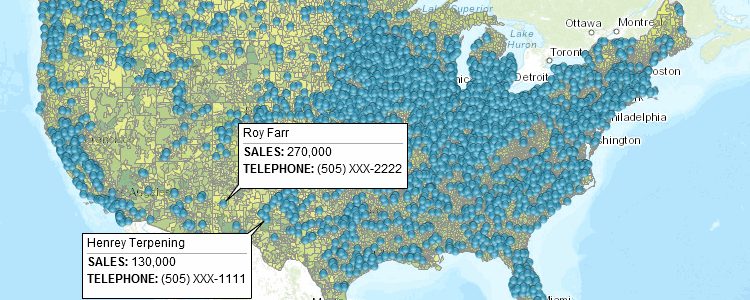 If you're a sales road warrior, you're probably familiar with Web mapping services such as Google Maps. Multiple locations, however, cannot be imported from a spreadsheet in Google Maps, making it of less value to any salesperson required to make multiple stops in the course of a day. The good news is that MapBusinessOnline mapping software allows you to plot multiple destination points at once with ease, enabling optimized, multi-stop vehicle routing that can help you maximize productivity and drive down fuel costs.
Import Your Map List of Addresses from Excel
Microsoft® Excel is an excellent business tool for categorizing data into lists. Our online software tool makes it easy to import lists of addresses and plot them on a map. When you plot locations on a map, you bring the added dimension of business data visualization to the route planning process. You can easily search for customers and prospects within a specified radius, polygon, or drive time and then optimize the sequence of your sales calls. You'll also be able to print out turn-by-turn directions that ensures you will follow an optimized, fuel reducing, route to your customer locations.
Visualize Your Customer Base with Map Points
In addition to mapping multiple locations, our software solution offers a host of valuable tools that allows you to classify customers and prospects within a territory. By using symbols to categorize customers by sales volume, for instance, you can ensure they receive the highest priority during the route planning process. With MapBusinessOnline you can even import your own customized symbol set. You can also create a color-coded area map to target zip codes or other geographic sales territories that you want to develop. Our customers tell us that our software is the easiest sales territory mapping solution available anywhere.
We've Been Providing Effective Business Mapping Solutions Since 1996
When you use our software to plot addresses on a map, you get the benefit of many years of business mapping expertise. We use only the most up-to-date data supplied by the world's leading GIS specialists, allowing you to plan your routes with a high degree of confidence. Our software solutions are backed by world-class customer support, whether you have a basic question or need assistance with a technical issue. And at low price per year, you won't find a more cost-effective mapping software product anywhere.
Take Advantage of Our FREE 1 Month Trial Offer
Discover how easy and effective mapping multiple locations can be by trying our software for 1 month at no cost. You're under no obligation to continue beyond the trial period, so you have nothing to lose. Register with MapBusinessOnline to get your risk-FREE trial today or contact MBO to start mapping multiple locations easily with our business mapping software!
PDF Sponsor: www.mapbusinessonline.com
Affordable business intelligence maps to inform your business, right now.
Author: Geoffrey Ives
Contact: geoffives@spatialteq.com (800) 425-9035