Visualize Your Data with Marketing Mapping Software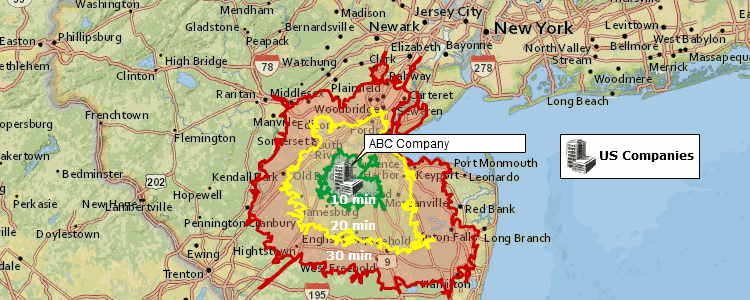 MapBusinessOnline marketing mapping software offers innovative ways to visualize and analyze your business data, so you can apply the power of location analysis to your expansion planning.
MapBusinessOnline adds a visual element to all of your location based business datasets enhancing the business intelligence you can derive from any analytics applied to your growing data sources. MBO's mapping software for marketing supports top CRM platforms and other database uploads, making it easier to determine actionable insights each and every day.
Directly Import New Prospect Data
Lead generation techniques are constantly changing in today's digital world, but MBO provides all the mapping software for marketing that you'll ever need. Simply import your prospect latest database using our straightforward UI for a real-time map of today's best leads.
You can quickly apply administrative district boundaries and demographic layers to maps, so your imported leads can quickly be assessed based on where they fall in your marketing profiles. This means your teams will always have the right information before they head into the field.
Integrate With Salesforce
For Salesforce.com users, your CRM data is never more than a click away from Map Visualizations and Sales Planning.
You can quickly integrate your company's Salesforce account with MBO's marketing mapping software and get a visual impression of your contacts, accounts, and prospects. Salesforce users can create new campaigns from the MBO marketing mapping application, and precisely target your next direct mail or email campaign.
Salesforce users also have access to MBO sales planning and territory creation and management software. Drive accountability and improved productivity into your sales organization with MapBusinessOnline.
Campaign and Drive Time Analysis
MBO's mapping software for marketing is designed with you in mind. You'll find all the tools you need for marketing campaign and customer management. Some MapBusinessOnline benefits include:
Drive time Analysis — Map the locations of your stores or kiosk locations and conduct a fast Drive Time analysis of how far a customer is from your store. Import customers surrounding store locations to see who lives within a half hour drive time of your store. Combine drive time analysis with demographic views to determine your best marketing targets by zip code or county.
Direct Mail Analysis — Add business mapping analysis to your direct mail campaign results analysis, view results by 3-digit zip code regions. If you offer a customer rewards or loyalty program, add another layer to your ROI map by overlaying which zip codes have the largest sales or generated the most traffic based on campaign metrics.
Defined Marketing Areas — Import customer and prospect data into MapBusinessOnline and visualize where customers exist and where they don't. Create real-world demographic map layers that help define your best customer areas by city limits, zip code, or Marketing Statistical Areas. Use these existing optimum geographic areas to help plan areas of potential future growth.
Contact MBO today to learn how your marketing team can take advantage of the best marketing mapping software available.