MapBusinessOnline newsletter – April 2019
MapBusinessOnline Pro - Coming Soon!
Keep your eyes peeled for the release of MapBusinessOnline Pro which is just a few weeks away. Experience the power of map-based business intelligence with MBO Pro:
Analyze multiple-location data-sets – Search for Customers to Store, Patients to Medical Center, Donors to Blood-drives
Create comprehensive proximity searches of multiple center points
NEW! Add drive time or drive distances to your analysis
NEW! Import up to 250,000 location records per map
NEW! Segment and export drive time analysis results
NEW! Flexible start time options for drive time analysis
NEW! Conduct driving distance & time paired calculations along the road network
Append demographic data to data query results
Generate comprehensive and exportable spatial search reports
Save up to 400 maps per subscription
Complete region & division support for advanced territory management
How to: Drop a Point - Draw a Circle - Query Population
Lately we've had quite a few phone calls and chats requesting the fastest way to place a point on a map, draw a circle around that point at a specific radius, and harvest that circle's population data. One, two, Three! Badda Bing, Badda Bing, Badda Bang! Read more here.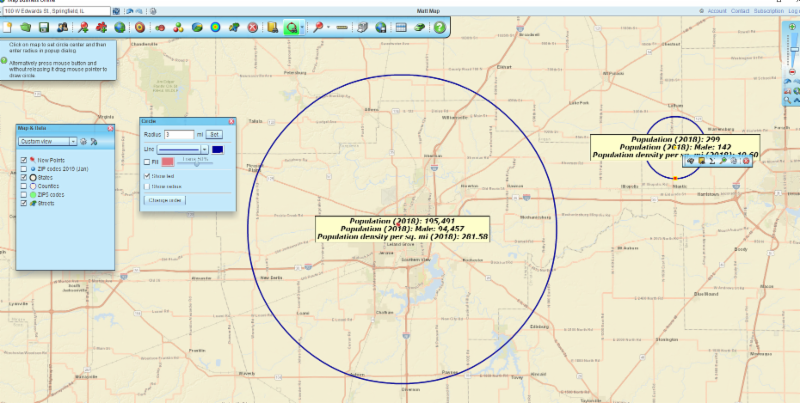 MBO Use Case - B2B Telemarketing Support
This MapBusinessOnline user "fell in love" with the tool's ability to provide an automotive parts company's outbound sales with access to prospect information through accurate and up-to-date map views. The marketing manager set up multiple map views, each map dedicated to one of fifty call center groups for identification "of who and where the best prospects are" located.
Ms. Sidlar, of Performance Exhaust, imported up to 600,000 location points across fifty maps. Each map was publicly shared as an interactive business map that users could easily launch from an internal website.
Each call center rep was able to easily access maps view that included an embedded URL from Google street view and an abundant selection of relevant demographic categories that define the best sales targets for the muffler service marketing offer.
MapBusinessOnline's easy map sharing capability was critical to the success of this B2B marketing application. Changes to the map data or map view were implemented and saved. All remote viewers had to do was refresh their map view to access updates and changes, all shared URLs remain the same.
Ms. Sidlar overall assessment, "Overall, MBO is a brilliant, extremely intuitive, highly functional, and very affordable tool that gives our sales staff insight into who and where the best prospects are. It's helped our company tremendously in visualizing and achieving its potential."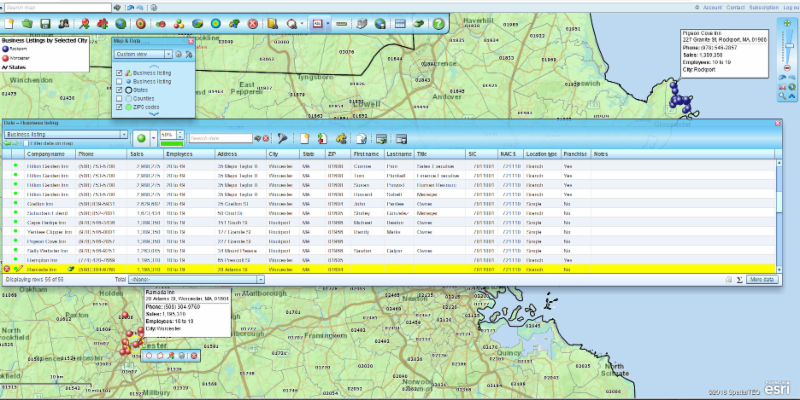 Let us Build Some Market Analysis for You!
MapBusinessOnline offers an array of tools designed to expose new markets for business mapping users. Those tools include:
A comprehensive and growing library of Demographic Data categories
Calculated Data Columns to let you combine and create formulas with demographic data
The Market Analysis tools for point array distance calculations and other data append operations
The More Data analysis management tool mentioned above
Not everyone or every company has time to conduct such detailed analysis. Consider hiring the MapBusinessOnline custom mapping team to review your marketing analysis requirements. References are available upon request, under a mutual NDA. Contact us!