MapBusinessOnline newsletter – May 2019
MBO Discussion - That More Data Button
In the Data Window's tabular view of MapBusinessOnline, down in the lower right corner under the analysis layers, you will find More Data. This little button opens up a world of possibilities.
More Data is the gateway to database management in MapBusinessOnline. The tool lets the user select columns of imported, demographic or calculated data and move them to into your business analysis by layer or territory.
More Data adds value to your map layers:
ZIP Codes - Add demographic categories to determine populations, incomes, and other demographic values by the ZIP code area, subtotal for all ZIP codes or for a filtered ZIP code list
Territories - Access and utilize imported sales data to help balance territories or define goals and objectives. Demographic data is often used to balance or monitor fairness across all territories
Counties - Similar to ZIP codes but covering generally larger areas, county based territories reflect wider audience and offer a broader demographic picture
City Limits - City layer analysis based on high income, real estate values, and population can quickly provide insight as to where the most lucrative markets exist across the country
The More Data button is the key to assessing territory balance, market potential, and an area's demographic profile.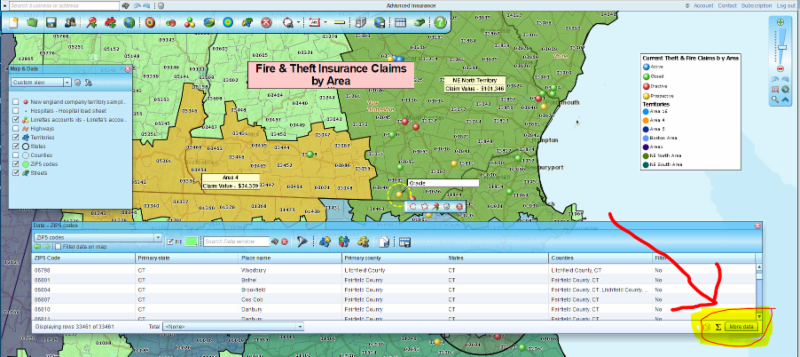 Extracting ZIP Codes from MapBusinessOnline
Since we've launched the MapBusinessOnline Chat capability a few months back, we've noticed a few technical support questions that come up repeatedly. We thought we'd try a new approach to solving these repeat help requests by sending a one page PDF with written instructions and videos embedded in the document.
Examples of the common challenges include:
How to extract ZIP codes from MapBusinessOnline map objects, counties or territories
How to plot address or lat/long data on to a business map
What are the top ten functions a new user will perform in MapBusinessOnline?
If you have a subject you'd like to see covered in a one pager, or if you'd like a PDF copy of one on these help subjects, please email us. Read more about extracting data from MapBusinessOnline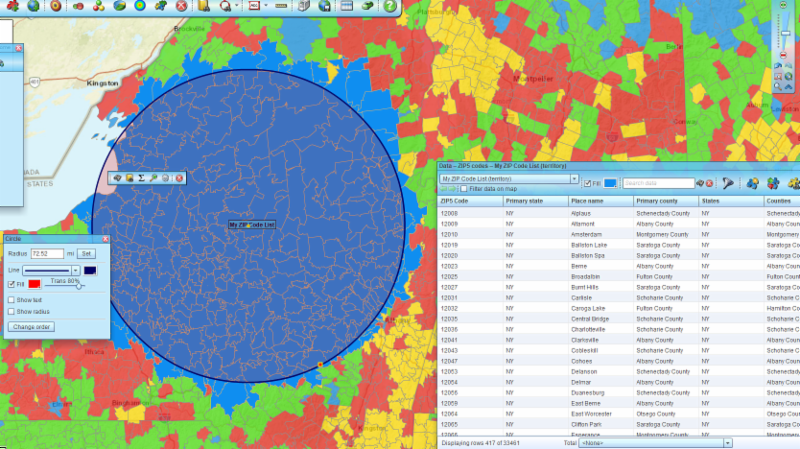 MBO Tips & Tricks - Filter Data on the Map
Here's a key MapBusinessOnline Tip and Trick to mull over:
Filter Data on the Map - Where did my territories go? My map is all wrong now? I can't add a new territory? Nine out of ten times when we get calls or emails like this it is because the MBO user checked the Filter Data on the Map check box in the Data Window in the upper left corner just below the address bar. Users do this to view just one territory at a time or to visualize an isolated set of points on the map.
The phone rings, the boss yells, or maybe the President set a dumpster on fire. Whatever distraction occurs, from time to time we get interrupted and we forget that the last thing we did was filter data on the map in MapBusinessOnline.
A quick way to check for this is in Map & Data. Hover over any data or map layer, as if to edit it. Click the Edit Gear in the window. In the Edit panel you will see a Filter Data on Map check box. If it's checked, that's your problem. Uncheck that box and move on with your life.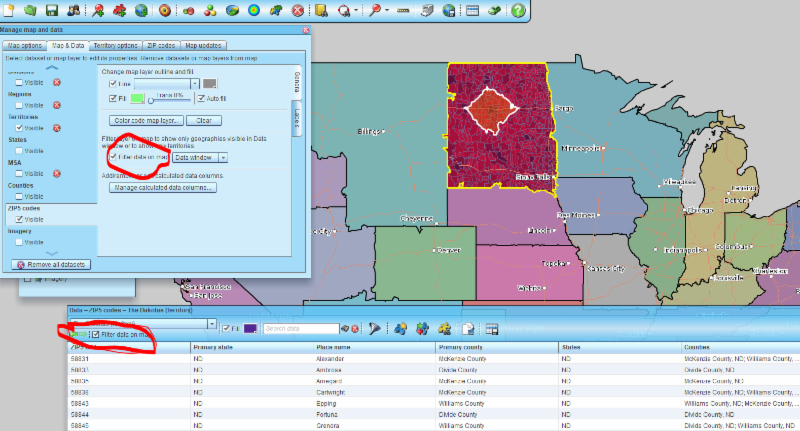 Let us Build Some Market Analysis for You!
MapBusinessOnline offers an array of tools designed to expose new markets for business mapping users. Those tools include:
A comprehensive and growing library of Demographic Data categories
Calculated Data Columns to let you combine and create formulas with demographic data
The Market Analysis tools for point array distance calculations and other data append operations
The More Data analysis management tool mentioned above
Not everyone or every company has time to conduct such detailed analysis. Consider hiring the MapBusinessOnline custom mapping team to review your marketing analysis requirements. References are available upon request, under a mutual NDA. Contact us!