Extracting data from a business map shouldn't be difficult. If it is, call and complain. In Map Business Online, downloadable data is generally viewed in the Data Window. The Data Window is a tabular view of data – your imported business data and our shared geographic map layers and demographic data. They all live happily together in the Data Window.
The Data Window is accessed by clicking the Spreadsheet icon on the master toolbar in Map Business Online.
Think of the Data Window as your map-based spreadsheet. Within the Data Window are many functions including:
The ability to sort data columns – Click the header of any column to shift the sort arrangement
The ability to filter data – Click the Funnel icon on the Data Widow toolbar to filter data column records by modifiers. Filter sales records by dollar volume or customer addresses by sales rep. modifiers include >, <, =, contains – all that good query enhancement stuff
The ability to select from a drop-down any map layer or data layer from the business map. View ZIP codes, imported data, or marketing lists
The ability to add relevant demographic data or imported business data to your map analysis using the More Data tab
The ability to manage, edit or delete territory alignment and territory analysis
The ability to extract ZIP codes from an area of interest or a territory
The ability to total data columns
The ability to copy and paste data rows into third-party applications
The ability to filter map and data views on by map view
The ability to extract data out of Map Business Online as a .CSV file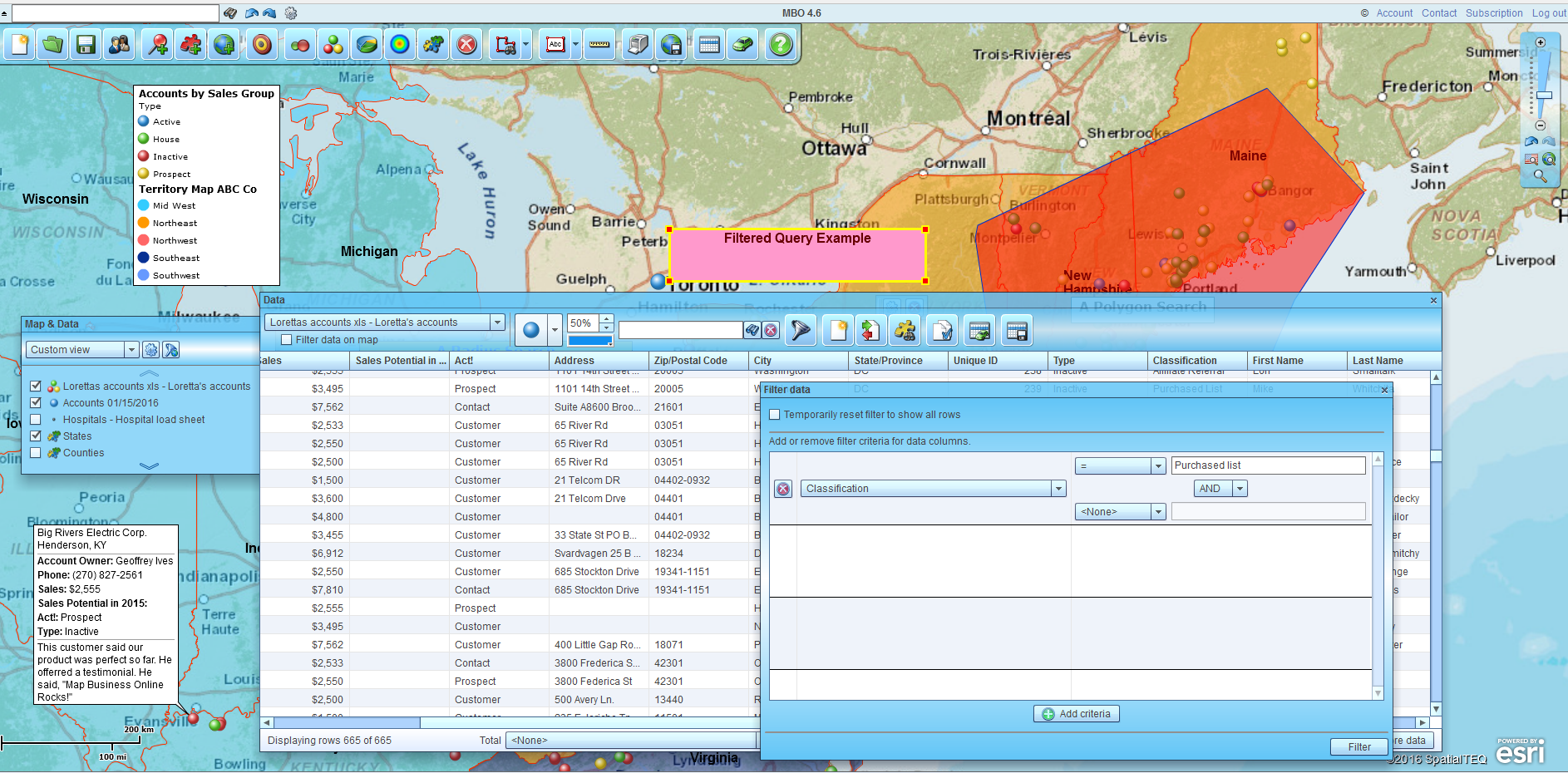 It is the extraction of imported business data or included MBO data that I am interested in discussing in this blog.
Data Extraction
Map Business Online users extract data from the application in a variety of ways. Sometimes the application acts as a search/filter tool for querying imported location-based data. These data results are turned into marketing lists or query results that can be exported as a CSV file using the right-most button on the Data Window Toolbar. Read more about filtering in Map Business Online.
A popular data extraction action in Map Business Online is a ZIP code list defined by an area of interest. That area could be a selected county, a group of counties, a territory or simply a map object, like a circle or a polygon.
ZIP code extraction is complicated by the fact that in business mapping, ZIP codes come in two flavors:
Boundary ZIP Codes – Geographic areas defining a five-digit ZIP code. What most of us think of as ZIP codes
Point ZIP Codes – Large facilities that are a single drop-off point for mail – Hospitals, Universities, etc.
Map Business Online users have two possible paths for ZIP code extraction. One exports all types of ZIP codes: point and boundary ZIPs. The other is more basic and simply extracts boundary ZIP codes. Any sales organization tracking sales will want to extract the Point & Boundary ZIP codes to capture all records
Extracting ZIP Codes by Map Object (Polygon or Circle)
To export just boundary ZIP Codes associated with a map object, follow these steps:
Draw a Map Object and note the Search Data pop-up menu
Select the ZIP5 codes layer (visible or invisible)
Name the ZIP Code list and click Create
Export using the Data Window Toolbar's Export button on the right
Video: Extract Boundary ZIP Codes by Map Object (Polygon or Circle)
To export all point and boundary ZIP Codes within a map object, follow these steps:
Import the complete set of USPS ZIP Code points
Click the Plot Data button
Choose the From Server option
Select Public Data and scroll down and select the most recent ZIP Codes dataset listed
Import the points
Follow the above instructions for Map Object ZIP Code extraction, but select the ZIP codes 2019 layer instead of the ZIP5 codes
Video: Extract Boundary and Point ZIP Codes by Map Object
Demographic Data Extraction
Another popular data extraction exercise among the Map Business Online user base is the demographic data pull. The easiest way to achieve a demographic data extraction is to select an area of interest or a map object (circle, polygon,  a blob) and click the sideways M on the mini-toolbar associated with the area.  That's the summary button.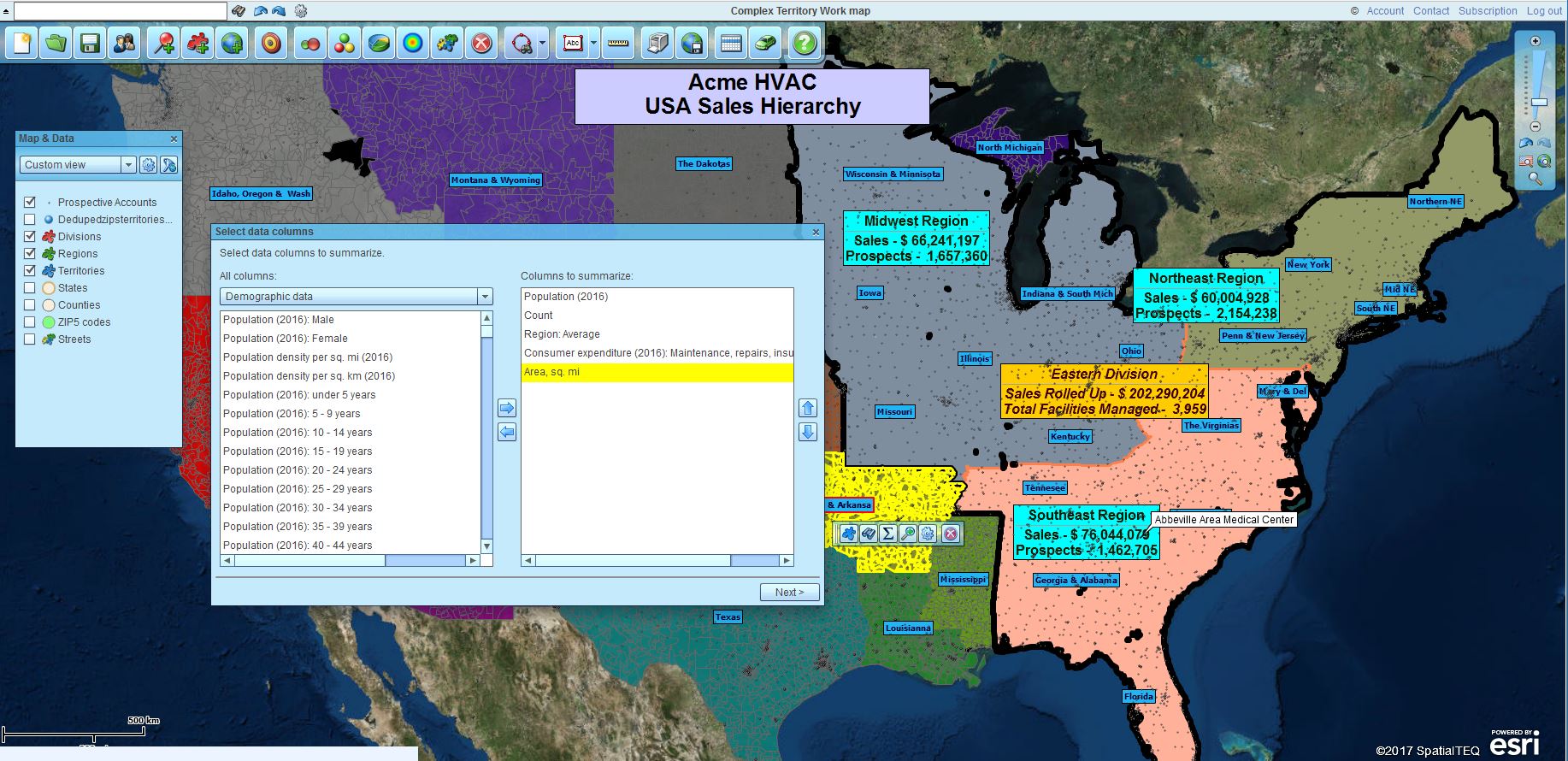 Clicking the summary button opens a dialogue that defaults to our Demographic Library of data layers. Select up to ten categories for your pull.  Move those layers to the right panel, Click Next and save your data.
When conducting territory analysis, the Data Window's More Data button will allow even more demographic layering and more filtering and query options. Once you've derived your demographic  results, export by clicking the right-hand button on the Data Window toolbar.
Data extraction in Map Business Online is easy.  And it beats tooth extraction, that's for sure.
Win a $20 Gift Card! Refer a business associate to Map Business Online in exchange for a $20 Amazon Gift Card!
America's best geo mapping software.
Find out why over 25,000 business users log into www.MapBusinessOnline.com for their business mapping software and advanced sales territory mapping solution. The best replacement for Microsoft MapPoint happens to be the most affordable.  Discover Map Business Online – tools for making maps by map makers.
Contact: Geoffrey Ives geoffives@spatialteq.com or Jason Henderson jhenderson@spatialteq.com