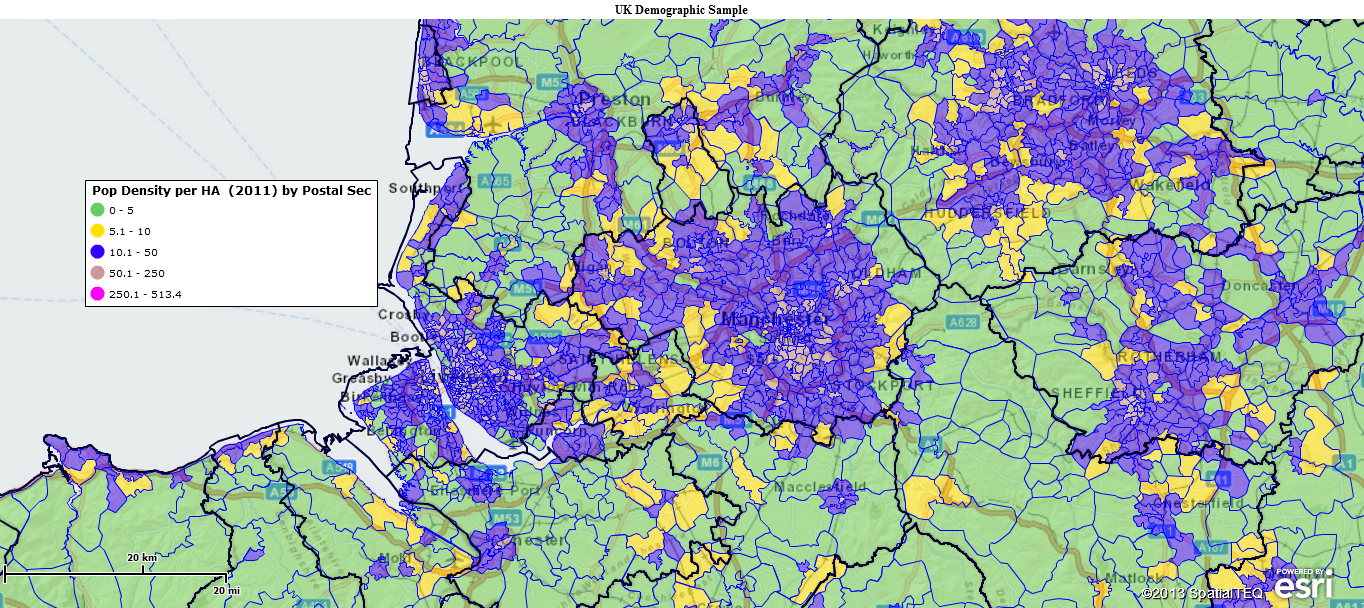 NEWBURYPORT, MA (January 31, 2014) — Map Publishers Lovell Johns and SpatialTEQ Inc. today announced a partnership designed to provide United Kingdom businesses with access to easy-to-use and affordable business mapping software. The two companies recognize a distinct need for accessible business mapping tools in the UK. SpatialTEQ's popular business mapping software, MapBusinessOnline.com has been modified to accommodate UK geographies with its latest version Map Business Online 4.1 released in December, 2013.
Lovell Johns, based in Whitney, Oxfordshire, UK offers a variety of map related products and services for GIS and business map users world-wide. Lovell Johns Sales and Marketing Director Liz Murray commented, "We're targeting the general business market in the UK with this product release. We see a definite requirement for business mapping services like customer visualization, sales territory mapping, drive time analysis, and optimized routing among successful businesses of all sizes. We're excited to approach a non-GIS business market with Map Business Online, an established business mapping software." Lovell Johns' version of Map Business Online can be accessed here: http://www.businessmapcentre.com/online-mapping-tool.php
SpatialTEQ Vice President of Sales Geoffrey Ives said, "This partnership builds on our success here in the U.S.A. and provides access to a major international market through a partnership with a well respected local mapping expert. We're very excited to be working closely with Lovell Johns."
Both companies are members of the Esri Business Partner Network. MapBusinessOnline.com is one of the fastest growing business mapping software offerings in the U.S.A. and has been providing location based marketing and sales services to large and small businesses since 2010. Lovell Johns is the premier GIS services and map maker expert in the UK. "This partnership was the perfect solution for SpatialTEQ and Map Business Online as we begin to expand our product footprint beyond North America," said Ives.
About Lovell Johns
Lovell Johns has 25 full time staff, of which 17 are production staff. The company has a very low rate of staff turnover and has a reputation for high quality work amongst its clients in many market sectors. The company is owned by South African media group Times Media Group, giving strong financial backing and access to additional cost effective development resources within the group that can be drawn upon at times of peak demand. Lovell Johns is an Ordnance Survey Licensed Partner and a member of the Esri Partner Network. They also work with other data and software platforms on an international scale, which positions them well to provide independent advice and guidance to our clients. Lovell Johns will be marketing the software through their business to business brand businessmapcentre.com.
About Map Business Online
Brought to you by the creators of BusinessMAP, www.MapBusinessOnline.com has been providing sales & marketing professionals with affordable and intuitive solutions to geographic challenges since 2010. Create, edit, and share maps that reflect your business. Access optimized multi-stop routes to drive down travel costs. No other map software solves so much for so little.
Contact: Geoffrey Ives geoffives@spatialteq.com (800) 425-9035, (207) 939-6866