This month Map Business Online was upgraded to include enhanced routing features. (Updates like this occur automatically in a Cloud-base software service.) Although Map Business Online has included 100 stop optimized routing for years, with the demise of Microsoft MapPoint in late 2014, many customers were asking for a more robust replacement routing functionality to supplement their business mapping requirements.
As of this month Map Business Online includes:
Support for time windows – Schedule stops based on preplanned arrival times, estimate stop duration times, and estimate total route times with all travel and stop times included
Create and export route files for sharing – Save and export route files in .pdf, .html, .csv, .gpx, and .itn formats. This lets user move route files from Map Business Online to navigation devices.
Create No Drive Areas or route barriers based on your aware of route usability. Users can define where the bridge is out or the off ramp is closed and consider that in route calculations
Historic and real-time traffic patterns are considered in route estimations
MapPoint gave a way a lot of functionality for $300.00. For that reason, users who used the tool for fleet tracking and advanced route planning applications, like multi-vehicle management and more than 100 stops per route, will be forced to find alternative vendors like Telogis at prices an order of magnitude higher than MapPoint's required investment.
However, for basic business mapping users, supplementing their market analysis and territory mapping, with optimized route creation, Map Business Online enhanced routing may be just the trick.
The traveling sales person can now view their territory coverage areas, assign customers to a route plan and include appointment times and visit durations in their route estimates. This means your whole day can be planned with more accuracy. Sure, cancellations may still occur but you'll know exactly how much time that leaves you to fill in with a substitute prospect account.
Some sales planning users use Map Business Online as a contact planning tool, storing key contact information in map tags or the data window. Remember – you can even take notes into your location database through the map point callout tags.
Field Service
We supply business mapping services to many field service operations. From hospice and home care, to fuel delivery, ATM management, physical therapy services and appliance repair technicians – all these business types benefit from the application of business mapping software.
Medical clinicians and aides require a time window schedule for the delivery of their services. When they arrive at a home to find a patient is not there their entire day could be thrown off.  They may have traveled hours to get to that service point. Time windows allow the route user to confirm the appointment time and reroute as necessary – rescheduling in the event of a cancellation or accommodate additional appointments.
Product delivery services need to track their efficiencies as closely as possible. Delivery schedules need to be adhered to. Truck issues and traffic conditions can affect schedules or drive up costs while lowering productivity. Map Business Online time windows helps maintain order in the chaos of every day travel for work.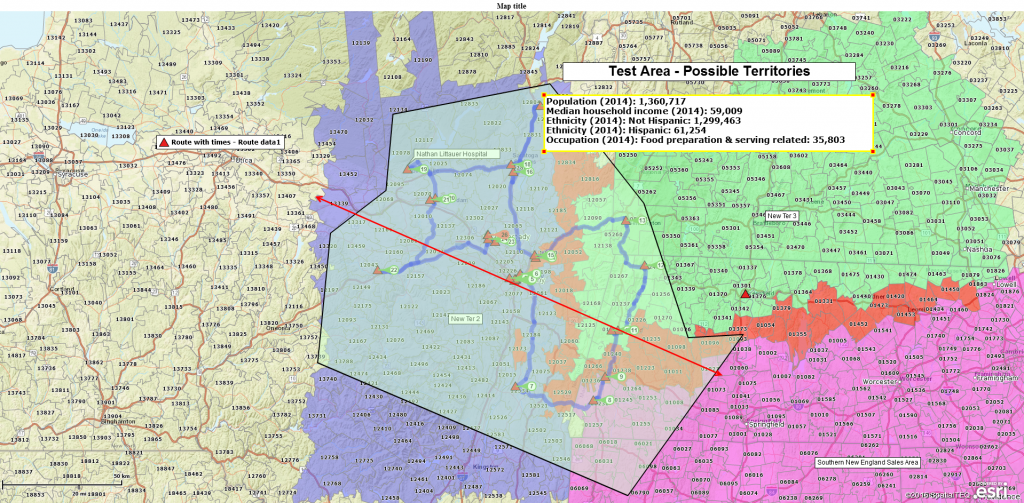 Repair Technicians
Now you can use Map Business Online to preplan lunch and work breaks during the day. Estimated stop times can be built into your daily plan based on the planned jobs for the month, week, or day. Develop time estimate templates for typical repairs. Refrigerator repairs, furnace cleanings, dog grooming, geriatric PT, and even pizza oven adjustments can all be categorized, symbolized on the map and tracked by route file for accurate future planning for your business.
Field managers now have the ability within Map Business Online to generate a route for new field technicians and export that route as a GPX or ITN file for use within their Portable Navigation Device. This is the best way to get newbies up to speed and on the road in short order. Perfect for retail display services.
MapShare Routing for FREE!
And remember, Map Business Online includes MapShare – the ability to share interactive web maps of your business coverage maps with your field people AT NO CHARGE – up to 100 web sessions per month, 1200 per year for free.   In addition to being able to pan and zoom all over the map, click on points, view tabular Data Window views of shared data, query data and export results, your users can generate their own multiple stop routes – free of charge.  You will not find this capability available for free in other mapping applications.
So – Remember and compare – Map Business Online Routing with Time Windows:
100 multi-stop optimized routes now with Time Windows
Share route files
Create route barriers
MapShare free viewing with routing
Standard Map Business Online business map features like: Market analysis, Territory mapping, Customer visualization
Map Business Online – Easy, affordable, advanced and we'll help.
Find out why over 25,000 business users log into www.MapBusinessOnline.com
Contact: Geoffrey Ives geoffives@spatialteq.com or Jason Henderson jhenderson@spatialteq.com (800) 425-9035, (207) 939-6866
MapPoint users – please consider www.MapBusinessOnline.com as your MapPoint Replacement.
Please read customer reviews or review us at Capterra, or at the Salesforce.com AppExchange.