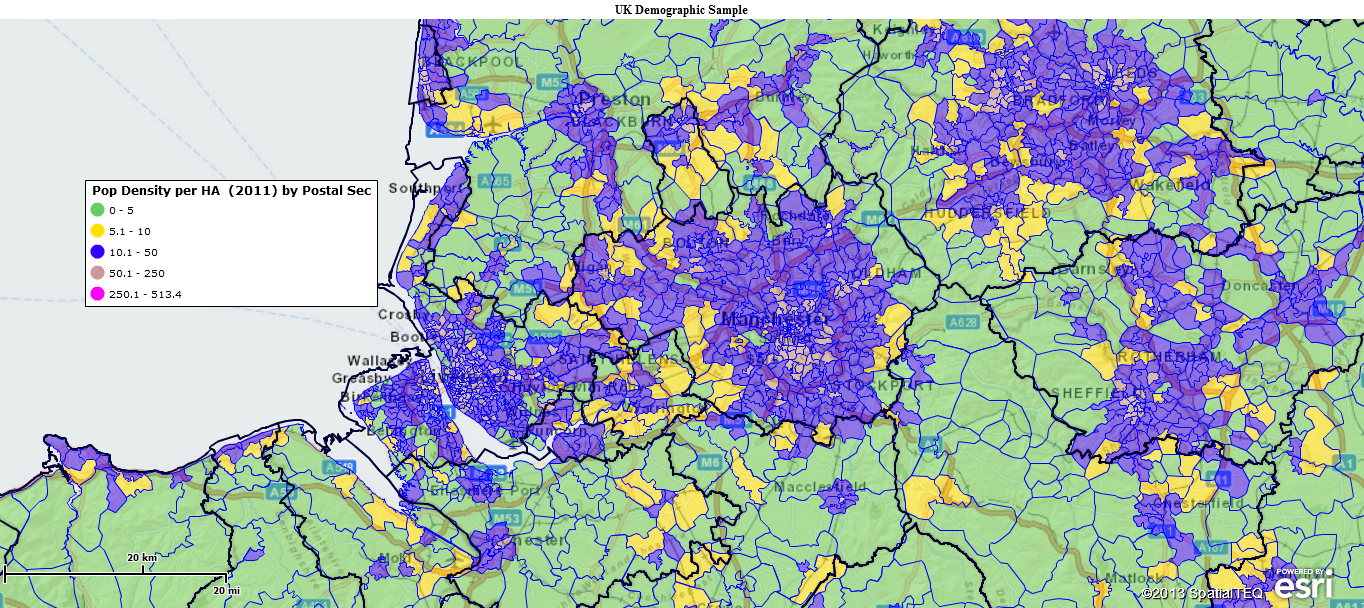 NEWBURYPORT, MA (December 9, 2013) – Map publisher SpatialTEQ Inc., the leader in affordable and easy-to-use business mapping software, today announced the release of Map Business Online 4.1, advanced yet affordable business maps for finance, health care, sales and marketing professionals in the U.S.A. and United Kingdom, now with drive time analysis and on-map data editing.
With the 4.1 release, Map Business Online expands its geographic coverage area to include the United Kingdom. Map Business Online UK coverage includes detailed street maps of the U.K., pertinent administrative district layers (county and postal layers) and key census demographic data to support business planning, territory and demographic analysis through accurate and compelling map views.
New with Map Business Online 4.1 is a powerful array of on-map data editing capabilities enabling user edits to existing Map Business Online business data layers. Users can now import their business data, create map views, and later amend their imported data layers on Map Business Online incrementally.
The far reaching capabilities of Map Business Online 4.1 address a variety of large and small business customer requests like drive time analysis, multiple ring analysis, and a host of additional features.
New! Drive Time and Ring Marketing Analysis
Business users may now create drive time maps that display marketing areas as color-coded drive time zones. Map Business Online 4.1 drive time provides enhanced market analysis, in depth marketing campaign assessment, and more efficient call planning. Drive time estimates are based on the most direct vehicle routes across a road network considering speed limits, turn restrictions, and one-way/two-way road statuses. Map Business Online 4.1 provides the ability to conduct concentric ring market analysis around location points. This feature creates circular areas of varying radii around a point. Both drive times and concentric ring analysis are used to estimate customer proximity to new store locations, or to define multiple store operating areas. Drive time can also be used for public safety planning and delivery time estimates.
Ability to Edit and Update Imported Business Data
• Users may create a list of location data points within Map Business Online – No need to import a spreadsheet to create points on a map
• Map Business Online 4.1 now allows the addition to or deletion of imported business data points within map data layers – No need to re-import updated business data
• Users may add new columns to imported data layers for improved data classification and color-coding
• Map Business Online 4.1 allows manual assignment of symbols and colors to map points to accentuate specific data points
New! QuickBooks Integration
Map Business Online now interfaces directly with QuickBooks. QuickBooks Map Business Online Direct Connect allows direct import of up to 10,000 QuickBooks location-based records at one time.
New! Perform Calculation Operations in the Data Window
• Users may now calculate total sums on imported data columns. This means quick summations of sales records or the ability to balance accounts across sales territories
• Map users can conduct multiply and divide operations on data as required
• In Map Business Online 4.1 summations and calculations can be applied to demographic data
• Users may now calculate population and income totals by region within the Data Window
• Market penetration can now be displayed by region based on customer/population ratios
Additional Map Business Online 4.1 New Features
• CRM Contact notes are now savable and exportable as CSV and Excel files
• Map Business Online 4.1 boasts an increased map viewing area and a consolidated tool bar
• Now Map Business Online provides easy-to-use Undo and Redo buttons
• Optional tool bar minimization provides cleaner presentation graphics
• Enhanced MapShare viewer support includes distance measurement and Data Window enhancements
Map Business Online offers accurate and up-to-date map layers, an intuitive user interface to sales and marketing professionals for market analysis, sales territory management, resource planning, and business intelligence development.
About Map Business Online
Brought to you by the creators of BusinessMAP, www.MapBusinessOnline.com has been providing sales & marketing professionals with affordable and intuitive solutions to geographic challenges since 2010. Create, edit, and share maps that reflect your business. Plan optimized multi-stop routes to drive down travel costs. No other map software solves so much for so little.
Contact: Geoffrey Ives geoffives@spatialteq.com (800) 425-9035, (207) 939-6866