Sometimes your business requires latitude and longitude points to get some work done. I know this happens because customers call and ask for lat/lon support.
Our top mapping software development expert, who designs our online business mapping, recently suggested this work flow which I thought would be nice to share with users.
There are two aspects to this latitude longitude generation work flow. The first involves importing a list of addresses and converting them to lat/lon coordinates. The second is building your own data from scratch in Map Business Online. I'm going to show you how to conduct both processes on one imported address spreadsheet.
Append Your Imported Address Spreadsheet with Lat/Lons
First, create and import a spreadsheet of addresses. Make sure your address spreadsheet includes a column for latitude and a column longitude.
To convert your addresses to lat/lon coordinates open the MBO Data Window view and select your imported data. Find a target record in your data. On the far-left side, hover your cursor over the colored dot (Green or Yellow) of the first record with an address. A Pencil icon pops up. Choose Edit Address and Location.
In the Map dialogue that opens you'll see your address location represented by a Red MapPoint. Place your cursor at the base of the Red MapPoint. In the left Address Box you should now see a Lat/Lon listed. Check the box to Update address data. Click Save New Location.
Your data should now show a Latitude and Longitude record instead of an address record in the Data Window view of your imported data.
Add Additional Lat/Lon to Your Imported Address Spreadsheet
Another way to derive lat/lon coordinates in Map Business Online is to "drop a point on the map." For this approach, we use the Draw Tools on the Master Toolbar. Draw tools are currently located at 16 buttons from the far left. Usually the Text Button (ABC) is displaying, until you choose another button in the dropdown.
In the Draw Tool Drop Down choose the bottom option to place a MapPoint. Click anywhere on the map where you want the MapPoint to be located.  Just click.  If you want to move it click again. Wicked easy. A select dataset dialogue will popup.
In the Select Dataset dialogue choose your address spreadsheet. (Here you also have the option to start a new dataset. That's the way to go to create a Lat/lon dataset from scratch.)
Click Add Location to add your data to the imported address spreadsheet. Be sure to name your location.
Save and exit.
As always you can export your data using the Export button on the far right of the Data Window toolbar.
Applications for Lat/Lon Collection
Users want latitude and longitude coordinates for a variety of reasons. For one, those coordinates never change postal addresses change sometimes. I've seen many organizations label their assets and facilities with lat/lon coordinates. This is common in public safety and government work flows.
Coordinate location maps are perfect for planning or documenting a hiking expedition. So that's a fun application. Remember Walter White (Breaking Bad) buried all his cash in the desert and took coordinates to share where the secret hiding place was. He was having so much fun.
Marketing groups use lat/lons to define billboard locations. Banks locate ATMs based on exact coordinates. Field assets are often located based on tracked Latitude and Longitude coordinates.
Latitude and Longitude has multiple formats, which MBO should support.  We recently added degrees, minute, seconds support. Examples might be: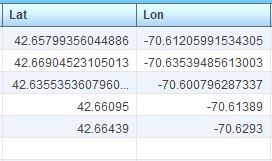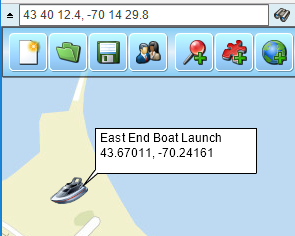 Working with latitude and longitude coordinates may be intimidating at first. Relax and try it. Soon, with the help of Map Business Online you'll feel a little like Columbus or Magellan navigating your way across the seas. At least you'll know exactly where you buried your cash.
Find out why over 25,000 business users log into www.MapBusinessOnline.com for their business mapping software and advanced sales territory mapping solution.
Contact: Geoffrey Ives geoffives@spatialteq.com or Jason Henderson jhenderson@spatialteq.com (800) 425-9035
MapPoint users please consider www.MapBusinessOnline.com as your MapPoint Replacement.
Please read customer reviews or review us at Capterra, G2Crowd (LinkedIn connected), or at the Salesforce.com AppExchange.