Every week new users try map Business Online as a possible routing software replacement for Microsoft MapPoint. MapPoint gave away a lot of routing functionality for $350 per seat.  The cancellation of MapPoint means there are many companies around North America that used MapPoint real-time tracking looking for an affordable MapPoint replacement that just isn't out there for less than $5000.
We've enhanced the MBO routing offering to benefit MapPoint users seeking a routing solution. Those business mapping enhancements include:
Increased the stops per route allowance to 150
Fully optimized routing that determines that fastest route from beginning to end
An enhanced Software Development Kit that includes the ability to automate route generation
The ability to generate MBO route files for route sharing and file storage
MBO routing is user friendly. The user imports a list or creates address locations on the map. From there a user may create routes through incremental stop selection or by building spatial queries and filters to create routable lists. There is a convenient one click button to route to all stops from a list in the Data Window.
MBO users apply Map Business Online routing to a variety of business operations:
Sales Planning – Managers, administrators and individual sales people alike use the MBO routing tools to plan trips, calculate expenses, set-up call lists and manage their sales territories
Field Services Management – Managing field services and delivery operations requires more than just optimized routing. Manager need to know how much time is expected at each stop and where their mobile teams might be from hour to hour.
Home Care Staffing – In addition to basic route planning and staff scheduling, clinician managers need to accommodate emergency situations and unplanned medical emergencies. Allowable patient information details can be very helpful – like, "The dog doesn't bite."
Retail Display Management – Specialists travel from store to store on a schedule setting up and refilling retail displays.
Here is a list of key questions that come up as customers consider MBO routing capabilities:
Does MBO allow the user to route around or avoid specific areas or cities?
You bet. Select the polygon draw tool and zoom into your particular avoid area Create a line drawn barrier around that intersection, exit ramp, or city.  In the polygon toolbox select the Set as Route Barrier check box. Now your route will avoid that area.
Does MBO include a repeat stop-off option I can easily insert into my route?
We got you covered. The next time you enter that repeat stop-off address in the route window, hold your mouse cursor over the right side of the stop and chose the Star Icon to make it a favorite route stop option. Your repeat stop will now be available for future route work.
How can I set up a subset list of selected route stop-offs from an overall imported list of addresses? For example, a route bus address list includes all kids on the route, but the driver only stops at one pickup/drop-off location per neighborhood.
Tricky. Make sure your overall bus address list includes a column for designated Stop Locations. Import your overall list.  Next, filter the list based on Stop Locations only.  Once that view is in the data window, click the Add All Rows from Data Window to Route button.
Can I create multiple route lists? For example, bus routes or service routes that might change by day.
Yes. Import your overall routing system with addresses. Next, filter your overall list of stops in the data window based on a day of the week column and add that list to the Route function using the Add All Rows button. Keep in mind each MBO user is currently limited to one active route view at a time.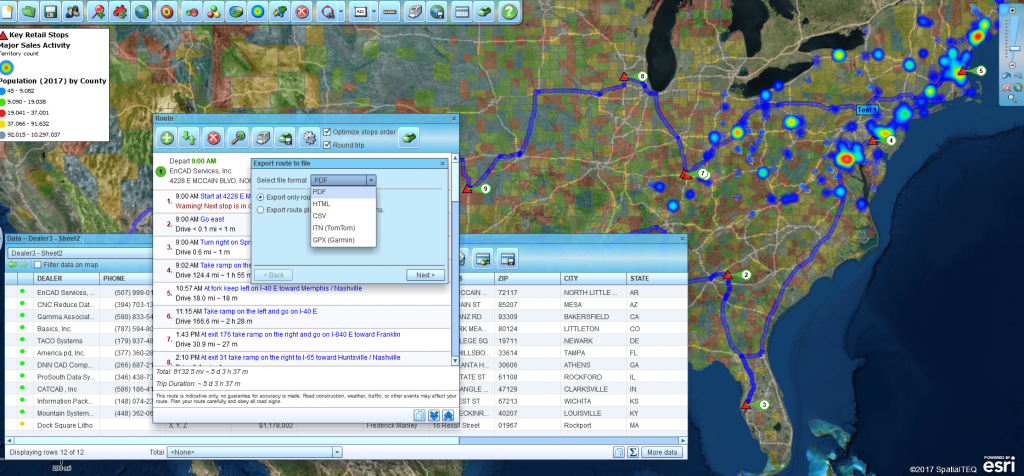 Can I use my GPS device to find my real-time location on the MBO map?
Unfortunately, no.  So, use your cell phone map application to get that data. That said, MBO routes can be exported to PND's and other devices by choosing the file format options that match your device – ITN, GPX, PDF, SCV and HTML.
Does MBO support time windows?
Yes. In the route window you will notice that stop durations are user defined. Any imported data with a column for time durations can be used to establish stop times. The routing window also supports adding a route stop's time of day. Read more.
What does "Optimized Route" really mean?
MBO routing allows the user to choose an optimized route instead of a standard route based on the data sheet stop order.  An optimized route takes into consideration the road network details to provide the fastest or most direct route from start to finish.  The application considers turn restrictions, speed limits and road classifications, and historical traffic information, in its calculation.
Does MBO provide time estimates for each route?
After the stops source has been determined and the route button is pressed, MBO returns a set of turn-by-turn directions. At the bottom of the turn-by-turn directions is a route time and distance estimation.
How many addresses can I import into Map Business Online and how many stops are allowed per route?
A 90-day subscription ($99.95 per user) allows import of up to 5,000 locations records per map. An annual subscription ($299.95 per user per year) and team subscriptions allow up to an industry leading 100,000 records per map. Both subscriptions enable up to 150 stops per route.
Is it true the MBO shared interactive web maps include routing capabilities?
Oh yeah. MBO subscribers are able to share interactive web maps with constituents at really low cost – free for the most part.  And your constituents are able to edit shared routes or create their own route.
The Wrap Up
MBO is not a fleet tracking software or a GPS navigation tool. But it is a business route management tool.  MBO pulls your team's field routing activities into an overall business or territory map making it possible to connect business system address data like a CRM, to day-to-day planning.
NEW! Refer a business associate to Map Business Online in exchange for a $20 Amazon Gift Card!
Find out why over 25,000 business users log into www.MapBusinessOnline.com for their business mapping software and advanced sales territory mapping solution.
Contact: Geoffrey Ives geoffives@spatialteq.com or Jason Henderson jhenderson@spatialteq.com (800) 425-9035
MapPoint users please consider www.MapBusinessOnline.com as your MapPoint Replacement.