Business mapping software comes with a background map upon which you can build your businessmap analysis. This is extremely convenient. Imagine if you had to compile your own base-map for your business analysis.  That's why Napoleon had a whole department of cartographers. You can't afford that, nor do you have the time to compile accurate maps to support your mapping needs.
Fortunately Map Business Online provides a Streets base map which conveniently lays out a detailed street network of roads and highways that covers the whole world.  Our base map, compiled from the world's best data sources by GIS industry leader www.Esri.com, provides street level detail complete with urban area building footprints. Updates occur automatically at regular intervals each year. No more pounding your desk raging about MapPoint's obsolete data. "If I ever get that Gates guy in a room I'm gonna!" Oh wait, that's me raging about unsolicited Microsoft updates on my Windows 10 machine. Never mind.
Map Business Online offers Street map background alternatives too.  You have multiple topographic maps to choose from – both USGS quad maps and National Geographic base maps.  Or take advantage of satellite/aerial imagery choices with the option to include a layer of street, should you desire that particular imagery view with roads.
Dump the Background Map
So yeah, our background base-map is amazing and accurate and updated and all that, but maybe your map doesn't require a background map? Think about your map presentation. Do you need all that information staring your boss down? She's got a lot on her mind. What if you just turned on the state layer and turned off the base map?  There's a chance that one administrative district layer communicates all the geographic background your analysis requires. Seriously.
It's no great shake to turn off the background Streets data. Just uncheck it. Sometimes to communicate a concept or two on a map, less is more. The way Miles Davis held his players back on the award-winning album Kind of Blue, insisting his players leave space: https://www.youtube.com/watch?v=PoPL7BExSQU.
Your business maps may suffer from too much data.  It's easy to end up with busy maps.  You might think, "The background map is part of the tool I paid for, why not use it?"  Well, because your map may not require all that noise. You paid for a mapping tool that enables a certain amount of customization. Map your message, avoid turning your map into a mess.
If you're presenting demographic trends by zip code do you really require highway names and city names? Probably not. Demographic maps are for analysis and require focus. For a presentation of sales concentrations by metro area rivers, streams, and mountain ranges are just not necessary. Find a background map layer that supports your map's intent and doesn't distract.
Beware of the Boss
I often hear customers explain that their boss has a vision of all the things he or she can solve with the business map application. "My boss wants me to add more layers. He's convinced this map will solve all our problems."
While Map Business Online will solve many problems, it won't solve very many at all if the map is too cluttered for users to understand it. Push back on pushy bosses. Use terms like, "Cool your jets!" or "Take a pill, Boss Man.  You'll get your maps," or "The Boss institute just called and they want their over-sized ego back."  Well, maybe don't venture that far.  Just make sure the boss knows you're on it and he's going to get some very productive maps.
Know the Options
Become familiar with the various map background layers that might work for your map presentation. We mentioned the State layer, which is my go to layer for USA wide presentations. Usually state labels can be turned off unless you really need to identify specific states for your audience. The people who don't know where Ohio is will be too embarrassed to admit it. (Insert smiley emoji.)
If your map focus is zoomed further in to more local regions, you could consider leaving out the base map and turning on State and County layers. Edit the Map & Data options so the boundaries or color fill provide clear boundary distinctions for both layers. Sometimes this means unchecking the fill or turning on transparency for the broader state layer, to let the counties show through. Try different approaches to get the look you want.
And for full year subscribers you have access to the premium map layers. These premium layers include three-digit Zip Codes (Zip3) and the Census Bureau's Metropolitan Statistical Areas(MSA). See if your business uses these districts in any way.
Cities and City Limits are also included as additional map layers. For many business map users, sales and marketing activities focus on major metropolitan areas. Additional map layers related to metro areas can add tremendous value to your business map.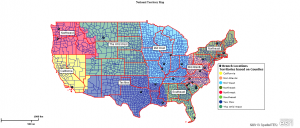 MSA's mentioned about provide Census defined market areas around cities. This can be a nice way to color code your major markets for analysis. Each market area can contain several cities in close proximity. Your coloring scheme could be based on population, median income or other common Census categories included in your mapping application for demographic map views.
City Limits lets you color code, and create demographic analysis by city areas. This data set of cities includes their boundaries and areas. The more you drill in the more cities you see until you're viewing all the towns as well.
The City dataset is more of a labeled point data set for reference only. But this could be valuable on top of a plain State layer background.  Cities provide reference points, especially if your company manages sales activity by major metro areas.
Background map layers are part of your style as a geographer. Apply them with a little thought and your geospatial reputation will be enhanced and you just might turn out to be the droid they are looking for after all.
Check out a variety of map background on the Map Business Online map gallery page.
Find out why over 25,000 business users log into MapBusinessOnline.com
Contact: Geoffrey Ives geoffives@spatialteq.com (800) 425-9035, (207) 939-6866
MapPoint users – please consider www.MapBusinessOnline.com as your MapPoint Replacement.
Please read customer reviews or review us at Capterra, or g2crowd