As you've probably realized by now, Map Business Online got a major upgrade in late December which included access to business listings from with the business mapping application.
These business listings are accessed for a fee. Map Business Online subscribers can buy credits through the Subscription option, under the Upgrade Existing Subscription Tab. It's the third check box option as you scroll down the page.
Each Map Business Online subscription, including the FREE Trial, has free business listing credits included, so that users can test the tool. One credit is equivalent to one business listings.  Pricing starts at $0.15 per listing and comes own with volume.
These business listings are created and managed by a major USA provider of business intelligence data. All records are verified and updated on a regular basis. The business data includes company name, key company contacts, information about sales and employee counts. These business listings do not include emails at this time.
You can read the press release we just published about Business Listings here.  I would paste the content into this blog, but the ever present Google Robot that monitors all websites, despises duplicate content.
You can also review our the Map Business Online page dedicated to business listings here.
In general, business listings has been a popular feature request from the Map Business Online community.  Use business listings for the following purposes:
To enhance business intelligence through accurate address, contact, sales, and employee size information
To build more complete competitor analysis maps
To explore potential markets for your products and services
To add prospect contacts to CRM systems or create leads for sales and marketing campaigns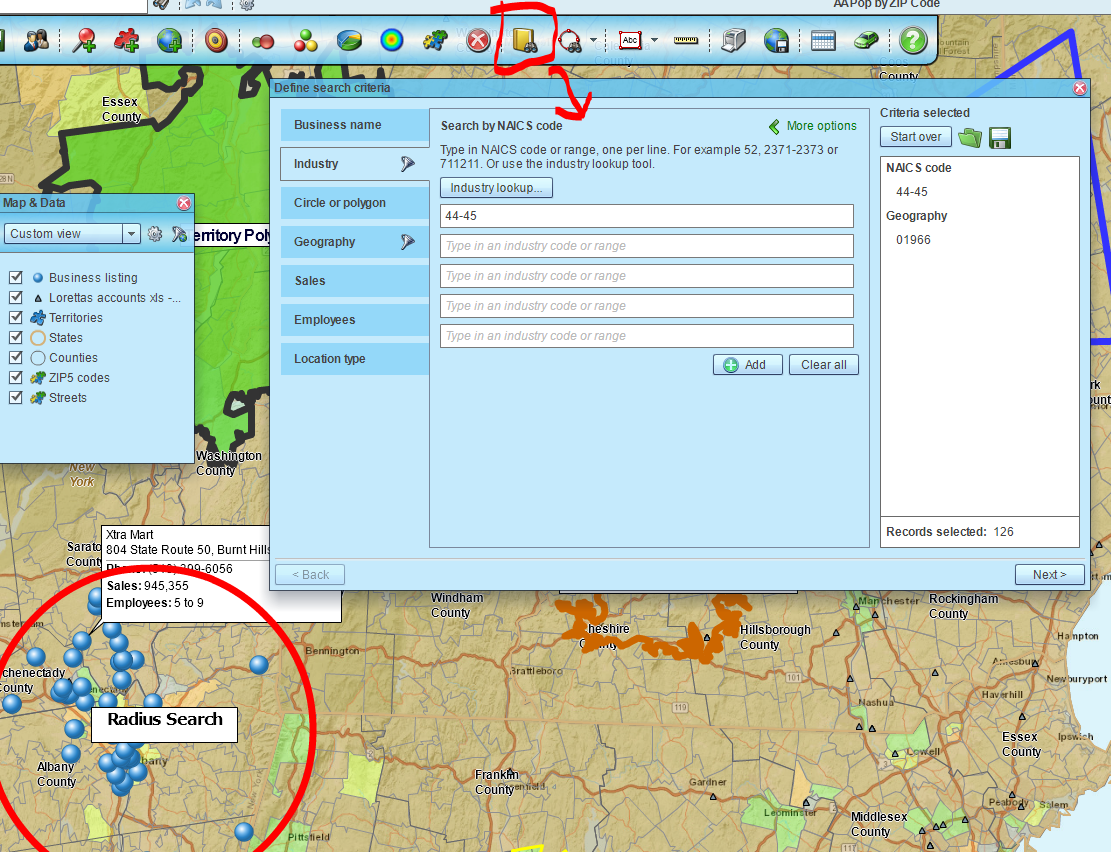 We'd also like to hear about how you apply Map Business Online business listings.  Please let us know.  Customer using Map Business Online business listing utilize the data to explore new markets for their products and services. The data is especially useful for developing and sharing prospective customer lists across a sales territory.
Map Business Online Sales Territory Management tools establish the areas each sales representative is held accountable for.  Any purchased prospect list of Map Business Online business listings, ould show up as an additional data layer in a user's business map. Map Business Online purchased business listings are easily symbolized and color coded. Prospects can be assigned based on territory, or sales representative. Reps can take notes on prospects actions and report to management via map generated reports.
Another application of Map Business Online business listings is intelligence gathering. Any company is likely to develop interest in expanding or perhaps developing a better understanding of competition in a market area.  Business listings provide a valuable market intelligence starting point for competitive analysis. By searching for business locations in the industries that compete with your business, your company can determine the best opportunities to expand into or the areas to avoid.
Here's a link to our Business Listings Webinar Presentation recorded on January 24, 2019.
Win a $20 Gift Card! Refer a business associate to Map Business Online in exchange for a $20 Amazon Gift Card!
Find out why over 25,000 business users log into www.MapBusinessOnline.com for their business mapping software and advanced sales territory mapping solution. The best replacement for Microsoft MapPoint happens to be the most affordable.
Contact: Geoffrey Ives geoffives@spatialteq.com or Jason Henderson jhenderson@spatialteq.com