2015 was a growth year for Map Business Online as many Microsoft MapPoint users, seeking an alternative to MapPoint, converted to a Map Business Online market analysis mapping software, sales planning and sales territory alignment.
MapPoint Replacement
Ex-MapPoint users are always sure to ask about data updates and territory tools. During a territory mapping web-demo I gave today, a MapPoint refugee exclaimed. "This is way better than MapPoint. It's exactly what we need." We're glad to be able help MapPoint refugees relax a little. As a web-based application, data updates happen automatically. No waiting for years, wondering if there will ever be another update. Those days are over.
Let's Get Physical
We found an uptick in certain customer categories during 2015, like physical therapy organizations. Physical therapy (PT) organizations seem to be springing up all over the country. And boy do they love maps, probably because many of these PT experts travel to visit patients. I don't think a week went by without speaking with a physical therapy organization. Another baby boomer business model that is keeping America growing.
Franchise Zips
Franchise companies of all kinds also seem to adore Map Business Online for it's easy access to up-to-date zip code data. Each franchise organization applies their own mapping spin but many use zip code territory mapping software to define territories or market areas of interest. Some like to append territory data with Map Business Online's included demographic map options, depending on their sales focus. Territory overlap controls, the ability to export data affiliated with territories, and the fast territory management learning curve, are commonly cited reasons why franchise organizations are choosing Map Business Online.
I'm going to call the most popular feature contest for 2015 a dead tie between sales territory management and customer and prospect visualizations. In many cases customers want to do both, and they do fit together nicely. Business mapping software allows users to view multiple data layers of workers in the field – customers, salespeople, clinicians, donors – against a color shaded map of territories. Such views inform map viewers quickly, answering questions about proximity, value, and specific capabilities.
2015 saw many additional features added to Map Business Online. Just one example is the ability to color shade national park areas in your territory maps. The attached video demonstrates this functionality. We're always looking for ways to enhance the product, so make sure to let us know if you see a feature that is missing.
It all depends on what's important to your business, but viewing customer locations against a map seems to be of endless value to our user base – across all industries and business sizes.
I believe the most valuable aspect of map Business Online is that it provides easy adjustments to map and data labels putting the user in control of how their map communicates. The ability to quickly edit a map legend and map labels so that your business map reflects your business' vernacular is all-powerful. It takes a dreaded map project and turns it into a career enhancing opportunity. And, to top it all off, Map Business Online is fun. Seriously, would you rather play with a mapping application to maybe create a demographic map of your business coverage area, or would you rather update data records in Oracle that IT messed up? That's right. I said it.
CRM Integrations
2015 saw Map Business Online integrations with www.Salesforce.com and Act!. Users of both CRM applications can access Map Business Online from within their CRM dashboards. For Salesforce users, Map Business Online allows direct import from contact and account databases. Act! users can actually push contacts and selected contacts to Map Business Online. Once your contacts are moved over to Map Business Online, CRM users get access to all the Map Business Online goodness – sales territory management, customer visualizations, and market analysis. By conducting spatial queries or data filtering in the map application, CRM users can then export their resulting lists back into CRM for campaign management.
Leveraging geography towards your business' sales and marketing processes provides focus for key market areas, demographic awareness of your customers, and operational opportunities to control costs.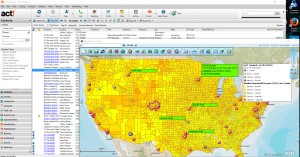 Situational Awareness
So in 2016 think geographically. That boring list of customer addresses is much more powerful than you thought possible. An accurate point on a map can lead to a greater awareness of your surrounding business reality. Use that awareness to develop strategy. Take it to the bank.
Map Business Online provides advanced functionality to customers who desire to share their maps for collaborative editing purposes. By creating teams of map editors, situational awareness is expanded beyond individual departments. Suddenly multiple groups within your organization are sharing the same tool and working the same problem from different perspectives. I sincerely believe this approach to problem solving is ground breaking. Cross functional problem solving creates new perspectives in departments that typically work in isolation. Discover why we created a team edition of Map Business Online.
Find out why over 25,000 business users log into www.MapBusinessOnline.com
Contact: Geoffrey Ives geoffives@spatialteq.com (800) 425-9035, (207) 939-6866
MapPoint users – please consider www.MapBusinessOnline.com as your MapPoint Replacement.
Please read customer reviews or review us at Capterra, or at Crowd Reviews.