MapBusinessOnline business mapping software lets the subscriber create map analysis, map visualizations, and territories that reflect and evaluate their operations. While MapBusinessOnline mapping tools are crucial to the software's performance, the service's real value is the user data overlaid on top of business maps.
A subscriber to cloud-based business mapping software, like MapBusinessOnline, should find and catalog the location data they currently have on hand that may add value to their business mapping projects. I often use the example of customer locations, which are generally easily accessed, but let's look at other location data and analysis accessed or generated using business mapping tools.
Learn More About Location Data
Can a business mapping software support a business that depends on distribution centers to supply regional or national markets? I answer 'yes' to that question.
Inventory managers must maintain stock levels with proper turn-and-earn ratios to support a marketplace effectively and profitably.  Market areas are often defined by ZIP codes, counties, or City and Town boundaries.  These market areas of interest require various commercial products to be stored at adequate levels to thrive. Maintaining supply levels is the raison d'etre for a distributorship. (Tish – you spoke French.) It is why distribution centers exist.
Driving time and distance maps can be used to define coverage areas for distribution centers.  Inevitably those coverage areas will be challenged as the customer lists expand over time. Sooner or later, the need for a new distribution center will arise, and business map analysis will reveal:
Areas of no coverage
Areas with excess inventory
Product demand by city or distribution center
Read more about warehousing and storage mapping.
Territory maps and coverage areas will naturally define deliverability polygons – areas where standard deliveries work and places where special delivery accommodations will be necessary. At some point, when enough 'special' deliveries occur in a region, additional warehousing will be seriously considered. Alternatively, the better idea may be to move the existing warehouse to a new location. Business maps are used to  determine which path makes the most sense.
Maps can  describe product trials by distribution center, human resource activities by distribution center. or employee home locations by drive time area. A ZIP code demographic profile map could identify the best ZIP codes for hiring warehouse labor.
Assisted Living Facilities
While assisted living facilities are not home care agencies with mobile-medical and caretaker staff, there are still plenty of location elements impacting their operations. Many assisted living facility maps include layers for local resources. Especially as we've moved through the Pandemic, local resources are critical to congregate home success or failure.
Local resources for assisted living are eminently map-able:
Medical services – hospitals, ambulance, pharmacies, dentists, and other critical care services, must be easily reached. Imported resource datasets help visualize how close resources are. Drive times can be vital to decision processes in an emergency. A review of drive time estimates  to critical resources should be required in calculating emergency response-times
Food services – Restaurants, grocery stores, convenience stores, pet stores are essential services. Home delivery services in a COVID world are now crucial to a healthy congregate home. Where are these facilities located? Do they support wearing masks, eating outside, and other safety protocols? What are the tipping requirements? We live in a brave new world, and advice is helpful.
Van pick-up and delivery services – Many assisted living facilities struggle with pick-up and delivery requirements for residents. Scheduling is one thing; drive time maps can help define pick-up and drop-off points and monitor route timing. Publishing and monitoring bus locations can be critical to the health of residents who must maintain their regular medical appointments. Business mapping tools can publish maps that reflect an accurate map schedule in the face of a changing world.
In-Home Services – Pet services are a thing. Pool cleaning is a thing. Lawn maintenance is a big thing. Any service must determine how to price out its services. Inner-city dog training services may warrant a higher price point than training in rural service areas. Demographic maps in conjunction with radius or driving distance queries can help to define areas related to pricing.
MapBusinessOnline can be used to define both pricing services and delivery services based on driving time polygons or simple concentric circle maps.  Service pricing levels are sometimes assigned to radius circle doughnuts. In other cases, drive time/distance polygons, covering specific ZIP codes, are used to reflect a delivery price by area. Much depends on the population density and traffic patterns of the coverage area.
Service businesses also use MapBusinessOnline to publish coverage areas or territories.  Field service staff assignments often reflect ZIP codes within a certain proximity to a technician's start-of-day location. Clear territory assignments lower travel expenses, clarify accountability and generate more facetime with clients.
Manufacturing & Retail
Manufacturing concerns utilize sales territory mapping to establish regional or national sales networks. The power of sales territory mapping helps direct salespeople or manufacturing sales representative firms, whose job it is to find the most appropriate sales channels to market.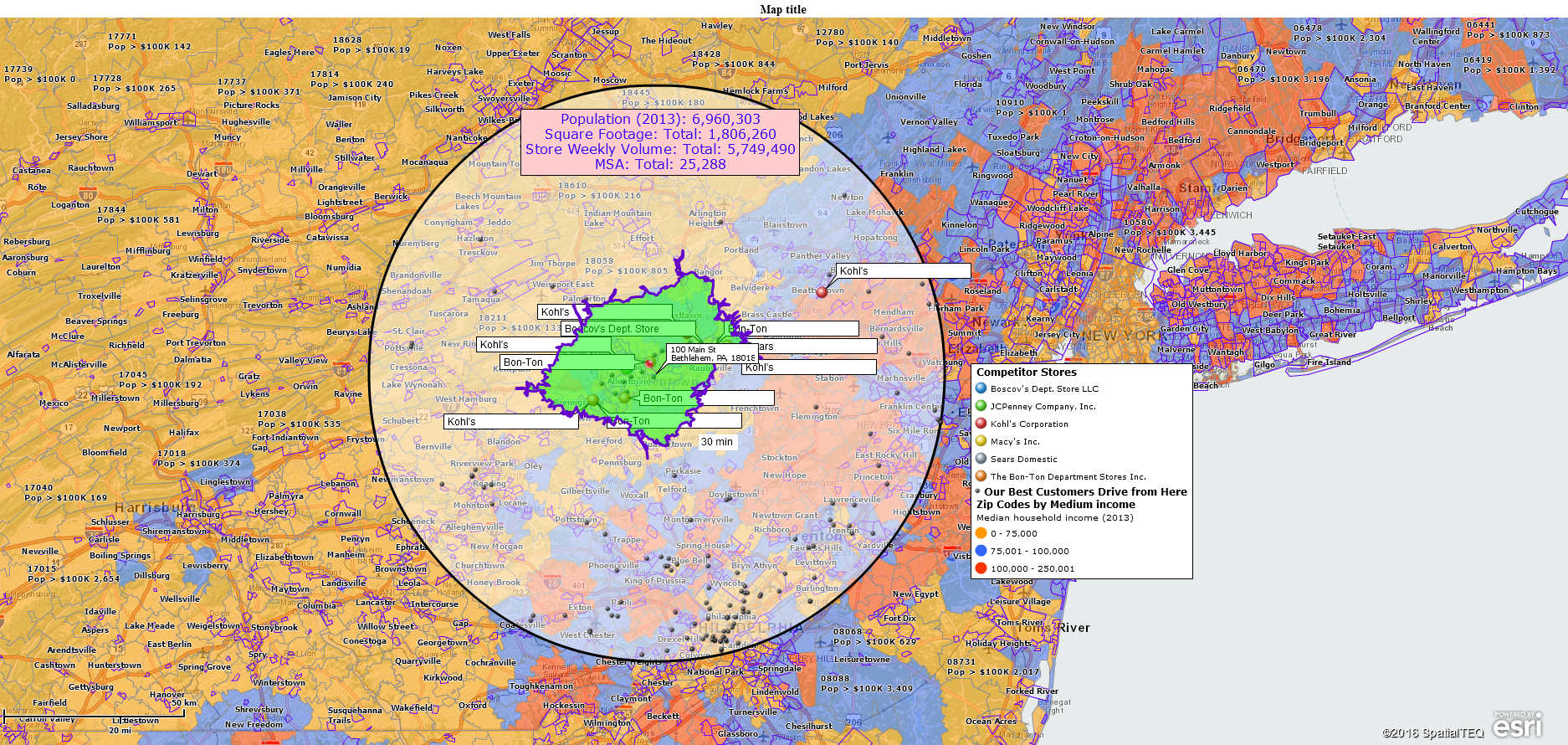 Those manufacturing sales channels may demand parts for bigger ticket items. Think automotive or aerospace industries. Or those channels may be retail sales channels that manufacturers from all over the world compete to play in. Think 'The Mall' and the myriad of stores surrounding any significant national-chain outlets.
Retailers use business maps too. They use maps for a wide variety of location-based analysis:
Define store market areas (territories) by customer drive time tolerance or by local demographic characteristics. Stock and price product accordingly
Visualize and track store marketing outreach through newspaper advertisements and insert offers – typically, a marketing campaign tracked by ZIP code response rates
Retail store expansion planning maps analyze new store site selection by market demand and competitor placements
Retail store site selection maps expose the best locations for new stores
Competitor maps reveal where competitive stores exist and where they do not exist
My point is that any industry will use, generate, or require location data. Cloud-based business mapping software can generate, leverage, and expand upon those location datasets in ways that enhance business analysis.
Any business can benefit from business mapping. Innovative businesses leverage business mapping to expand and prosper in an ever more competitive world that never fails to surprise us.
_______________________________________________
Find out why over 25,000 business users log into www.MapBusinessOnline.com for their business mapping software and advanced sales territory mapping solution. The best replacement for Microsoft MapPoint happens to be the most affordable.
To access MapBusinessOnline, please register and then download the Map App from the website – https://www.mapbusinessonline.com/App-Download.aspx.
After installing the Map App, the MapBusinessOnline launch button will be in the Windows' Start Menu or Mac Application folder. Find the MapBusinessOnline folder in the Start Menu scrollbar. Click the folder's dropdown arrow and choose the MapBusinessOnline option.
The Map App includes the Map Viewer app for free non-subscriber map sharing.
Please read customer reviews or review us at Capterra, or g2crowd
Contact: Geoffrey Ives geoffives@spatialteq.com or Jason Henderson jhenderson@spatialteq.com