Once again, a business mapping customer inquiry led me to a new application for Map Business Online. Recently I've been dancing around this particular solution with a couple of retail chain customers. Let's imagine you've launched a new fast food restaurant in a city where you live and the whole concept has legs.
Your fast food restaurant sells affordable organic sandwiches and light meals in a drive through setting. You're going to franchise the concept and call it OnGo Organics.  To market your franchise concept, you need to develop a zip code based profile that points to the areas around the USA that are most likely to successfully support a new OnGo Organics restaurant location. This is retail demographic mapping or simply demographic analysis.
Here at home, with the help of a survey, you've decided there are certain factors that seemed to make your premier store a success.  You feel you've done well with customers whose household incomes are $95,000 per year or more. And your pretty sure a zip code with a population of 20,000 people is a minimum level sweet spot for optimum customer activity.
In Map Business Online we can establish baseline data to support your map analysis by importing demographic data layers for population and household income into your map view. In the Map Business Online Data Window we choose the Zip Code layer. We click the More Data button in the lower left and create our demographic market analysis view from our All Columns Data options, Demographic Data – Population (2013), Medium Income (2013), and a calculated sum of incomes over $99,000 – the closest Census category to $95,000.  You could conduct the same analysis using Census Tracts, States or County jurisdictions.
Still in the Data Window and on the overall zip code layer, I click the Filter Button. I added two criteria for a total of three filter criteria with arithmetic modifiers applied. Remember, the analysis is being conducted at the Zip Code level.  I set them like this:
Criteria 1 – General, Zip Codes, Modifier > 0
Criteria 2 – Demographic Data, Population (2013), Modifier  > 20,000
Criteria 3 – Demographic Data, Median Income (2013) Mod > $99,000
The filter result is a report showing the 358 zip codes around the nation that are a best fit for OnGo Organics franchises. I then clicked the Create a New Territory button on the Data Window tool bar, and created a business territory map of zip codes across the county. I selected the OnGo Franchise Targets territory (so named) and colored the zip codes Red for easy viewing.
I also exported the OnGo Territory data out of Map Business Online as a CSV file for reimport as a city listing. I imported that list and made city target points on the map. One reason I did this was to turn on the city labels which make it easier to quickly see which cities we've set as premium franchise targets. This city view with labels turned on can become cluttered in places like Manhattan. Always consider map clutter before turning on all labels. The user can always associate critical data with each zip code label or point label.  Here I included extra data like, Commuters Traveling more than 35 minutes, and high % Hispanic population. Two positive factors driving customers based on our study.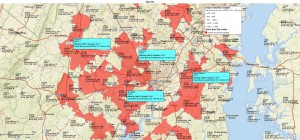 In the end I opted for turning off the imported City labels and simply turned on the City layer from Map Business Online Premium Layer. Hovering over a city point will reveal the key info I require.
I now have a first pass Franchise development plan as a zip code map for business based on the demographic zip code profile of one successful store location. This map can be shared as an interactive web map to solicit feedback from constituents.
You can also export a CSV file report of demographic data by jurisdiction and include static images of regional or street level map views. Map Business Online, a geo mapping software designed to make your business quickly and affordably location-aware.
Find out why over 25,000 business users log into www.MapBusinessOnline.com
Contact: Geoffrey Ives geoffives@spatialteq.com (800) 425-9035, (207) 939-6866
MapPoint users – please consider www.MapBusinessOnline.com as your MapPoint Replacement.
Please read customer reviews or review us at Capterra, or at Crowd Reviews.