MapBusinessOnline is a very versatile tool. You may not realize just how versatile if you came to MapBusinessOnline seeking a specific geospatial solution and quickly satisfied your requirement.
Many new business map users are unfamiliar with online business mapping software altogether. Such users often come to MapBusinessOnline for a particular feature among the many offered. Perhaps one of these:
Sales territory mapping
Sales planning tools
Optimized vehicle routing
Customer visualizations
Map visualizations
Radius maps
ZIP code maps
New business map users are generally successful at achieving their goals with MapBusinessOnline. Many users achieve their objectives without requiring assistance.  Others find our chat, email, or phone support helpful in getting things moving.
Once you've achieved your goals by applying a particular business mapping feature, remember to consider MapBusinessOnline for other uses. No, we can't potty-train the puppy or fix the dishwasher, but MapBusinessOnline may help solve additional business problems.
By using the My Templates dropdown option in the Save Map dialogue, as opposed to the My Map option, your business map work becomes available for fast and accurate repurposing. My Template maps are a great way to protect important map work and provide access to those maps for other uses. That complex territory map holds a lot of data that could be pertinent to additional business needs across the organization, such as:
Strategic Planning – The C-suite team may want to use your sales territory map as a base map for strategic planning for next year. Open that saved map template and add a few critical text boxes and perhaps a couple of new datasets. Now your company's strategic plan meeting could include a map visualization session focusing on what's possible over the next few years
Full-Featured Market Analysis – Based on your experience creating a sales territory map, your business can now quickly access market analysis maps of potential new markets for existing or future products. Those same tools used to analyze a territory are perfect for new Market Analysis. Just change how you look at territory maps. Call them area of interest maps and overlay demographic data, business listings, imported customer data, and any other location-based resources. Maps of territories are maps of specific markets
Fielded-Staff Planning – Where do your field staff of clinicians and/or technicians start their day? Where are all your customers or patients located? Import the address datasets containing home locations for all your customers and traveling reps. These map visualizations represent your organization's area of activity. Coverage area maps, overlaid with a list of daily tech visits by address, can open your eyes as to how efficient and effective your mobile team is and could someday become
From Outlier to Company-Wide
Some companies start small. Like when a single salesperson decides to use MapBusinessOnline to organize his or her daily schedule. We've got lots of independent Sales Reps using the tool to manage their customer calls:
Customer Maps – Import address-based spreadsheets of customer locations and sales activity exported from the company CRM software
Territory Maps – Single-use sales reps often create maps of their territory assignments using MapBusinessOnline
Optimized Routing – Generate efficient sales call route maps to organize day-to-day travel while controlling company expenses
Eventually, they share a map with a work associate and the news spreads that maps are a great way to expand the use of a CRM and to organize day-to-day travel activity.  Customer maps and territory maps become part of the company sales process. And even folks who leave the company remember MapBusinessOnline at their next place of business. We get these calls all the time, "I used to be a MapBusinessOnline user at a previous employer. I want to bring the same functionality to my new company."  (And keep in mind, MapBusinessOnline does reward referrals that lead to orders.)
Other business mapping application your company could find useful:
Concentric circle maps – Concentric circles – circles within circles – can be used to define delivery and service radii for your customer base. Concentric circles display the demographic makeup of drive time areas of interest created at a specified distance from a central point. These drive time areas could represent store delivery areas, medical-facility patient served areas, or workplace commute zones
Coverage area maps – Define and display the service areas your business will support as an overall ZIP code, city limit, or county map
Demographic analysis maps – Compare your organization's collective business acumen with the demographic realities of where you do your best business. The chances are, this information will inform future business decisions as your company seeks to grow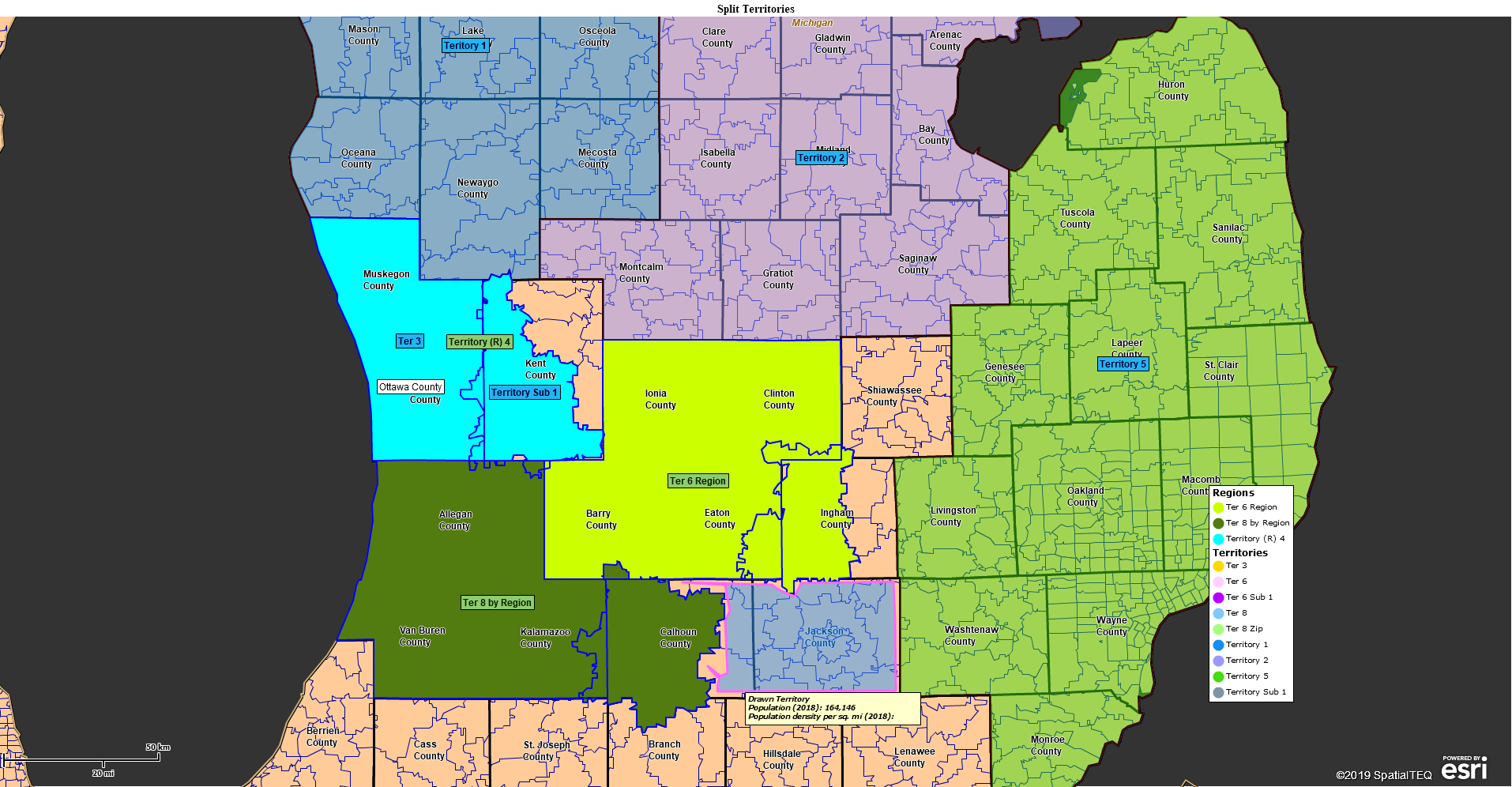 Don't limit your understanding of business to just spreadsheets and expensive 'experts.'  Import your business location data into a business mapping application today and start understanding the where and why of your business reality.
If you've got data with addresses or lat/long coordinates – you can map it.
If you are aware of a general area where you do business – you can map it.
If your people have a sense of who buys your product – you can look for those customers on a map.
Use your first business map as a jumping-off point to expanding your location-based intelligence. Who knows, your use case could turn out to be a whole new category of business mapping.
_______________________________________________________
Replace Microsoft MapPoint with MapBusinessOnline Standard. The industry's best MapPoint Replacement.  Try MapBusinessOnline – business mapping software for PC or Mac.
_______________________________________________
Find out why over 25,000 business users log into www.MapBusinessOnline.com for their business mapping software and advanced sales territory mapping solution. The best replacement for Microsoft MapPoint happens to be the most affordable.
To access MapBusinessOnline, please register and then download the Map App from the website – https://www.mapbusinessonline.com/App-Download.aspx.
After installing the Map App, the MapBusinessOnline launch button will be in the Windows' Start Menu or Mac Application folder. Find the MapBusinessOnline folder in the Start Menu scrollbar. Click the folder's dropdown arrow and choose the MapBusinessOnline option.
The Map App includes the Map Viewer app for free non-subscriber map sharing.
Please read customer reviews and review us at Capterra, or g2crowd
Contact: Geoffrey Ives geoffives@spatialteq.com or Jason Henderson jhenderson@spatialteq.com