Excel is one of the most widely used business spreadsheet programs. However, the raw data in an Excel spreadsheet can only tell you so much. Tools such as MapBusinessOnline make it easy to translate Excel documents into a visual format to help you identify emerging trends and make impactful presentations. With Excel and MapBusinessOnline, you can:
Overlay your sales data with current demographic information to better understand who your customers are.
Create heat maps that show you where your busiest regions are.
Analyze sales data and create custom territories that can define your team's areas of responsibility.
Export spatial query results as CSV files that can open in Excel.
On this page, you'll learn how to create an Excel map with Map Business Online and look closely at some of this feature's potential applications.
Working With Excel in Map Business Online
MapBusinessOnline works with Excel 97-2003 (*.xls) and Excel 2007 or later (*.xlsx) files. If you use a supported CRM such as Salesforce, click the "Plot data on map" toolbar icon and follow the instructions. You can also import.TXT files.
You can access MapBusinessOnline's full suite of potent symbolization and color shading tools to create customized maps and other visual aids from your spreadsheet. You'll have the chance to select the file, worksheet, or spreadsheet you want imported. The tool will help you define naming conventions and labeling through the import process. Create customized maps and other visual aids from your spreadsheet.
In some cases, achieving optimal results may require reorganizing your data sheets if you work with an unsupported format. The critical prep work is ensuring your address components are in separate columns – Name – Address – City – State – ZIP. The MapBusinessOnline website contains resources that can help you prepare an Excel file for mapping. Customers also have access to world-class one-on-one support, which puts assistance for any plotting or importing issue just a Chat away – or an email.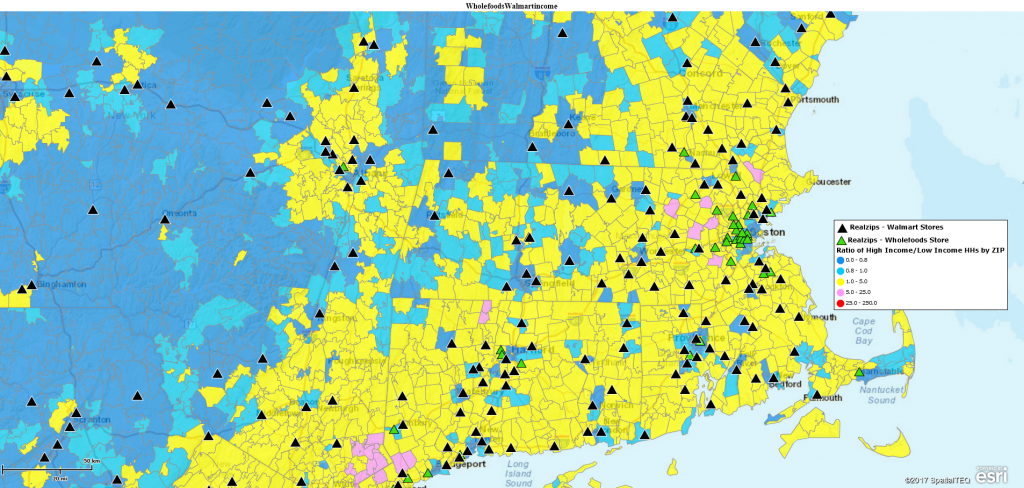 Who Can Benefit?
MapBusinessOnline is a versatile platform that offers a variety of location-based benefits to any business or organization. Using it to plot data on a map from an Excel document can be helpful for:
Businesses that rely on an inside or outside sales organization. MapBusinessOnline can help you track trends over time, identify underserved territories, and make the best use of your sales team and other resources by leveraging your existing Excel sales data.
ZIP Code Mapping Software – Excel spreadsheets loaded with customers and prospects can be overlaid on a business map to expose ZIP code or county opportunities.
Franchises or multi-location businesses. Use Map Business Online to create heat maps from Excel data showing which locations perform best and where improvement may be needed. You can also use Map Business Online to identify areas with strong sales potential and plan the future of your business accordingly.
Nonprofits and government agencies. Utility companies, contractors, and social service providers can use Map Business Online to translate Excel data into a visual format. Show who you serve and your impact on your community — whether you're pitching to funders or trying to streamline your operations, Map Business Online helps you do more with your data.
Healthcare agencies managing a staff of field clinicians. Map Business Online will enable organized views showing patient locations and available staff work or home locations, color-coded by skill set.
Marketing departments will import campaign-related spreadsheets for location analysis by demographics and to organize geographic segmentation of campaign lists. Tracking results by the campaign will help determine where future campaigns will be tried.
Insurance claims adjusters and underwriters will import a variety of datasets to assess risk and claim veracity and generally plan responses for individual claims and extensive disaster processing.
Companies that have been using Microsoft MapPoint.  Eight years ago, Microsoft canceled the powerful MapPoint business mapping software. But today, there are plenty of MapPoint replacements, including MapBusinessOnline.  Check out MapBusinessOnline sales territory alignment, Map Business Online multi-stop optimized routing, or MapBusinessOnline market analysis tools as replacements for your MapPoint capabilities.
Use MapBusinessOnline to map sales data, customer addresses, business units, competitor locations, or any other information. Try this versatile, intuitive platform by signing up for a free one-month trial today.
_______________________________________________
Discover why over 25,000 business users log into www.MapBusinessOnline.com for their business mapping software and advanced sales territory mapping solution. The best replacement for Microsoft MapPoint happens to be the most affordable.
To access MapBusinessOnline, please register and download the Map App from the website – https://www.mapbusinessonline.com/App-Download.aspx.
After installing the Map App, the MapBusinessOnline launch button will be in the Windows Start Menu or Mac Application folder. Find the MapBusinessOnline folder in the Start Menu scrollbar. Click the folder's dropdown arrow and choose the MapBusinessOnline option.
The Map App includes the Map Viewer app for free non-subscriber map sharing.
Please read customer reviews or review us at Capterra or g2crowd.
Contact: Geoffrey Ives at geoffives@spatialteq.com or Jason Henderson at jhenderson@spatialteq.com.