Map Business Online is a generous and inexpensive mapping solution. Map Business Online is also a cloud service, as opposed to an installed desktop application, and brings the advantages of cloud services such as automatic software and data updates, and Microsoft Azure's added security tools. (Map Business Online does include a non-browser based application version for use at your discretion.)
There's a lot of functionality packed into Map Business Online for $299.95 – the typically purchased option. Microsoft MapPoint, a desktop application canceled in 2014, included similar mapping and routing functionality for about the same price. We discuss replacing MapPoint a lot in our blog posts.
But what are the limits to Map Business Online functionality?  Let's explore a list of limits tied to the features of Map Business Online.
Importing Address Data
Users enjoy quickly importing address databases (.XLS, .CSV and other database files) into Map Business Online. For the one-year subscription, that limit is up to 100,000 location points per map. We do cap the total amount of records imported into your entire one-year subscription at 1 million.  Most people never reach anywhere near that total limit.  We cap this capability because geocoding web services can get expensive and geocoding a million records could be an indication that you need help.
Map Business Online is a business mapping software, not a subscription or database management service. If you reach the cap, it's time to talk. We'll want to understand exactly why you require so many geocodes. Not that we'll call Robert Mueller or anything. It's just that that's a lot of data. Often people are neglecting to dedupe their data, which can help reduce geocodes.
Imported Data Sets per Map
Import up to a dozen datasets totaling up to 100,000 total address records per map.  You may get away with more data sets per map but eventually, the application will stop displaying the map if there are too many data sets checked on in Map & Data. We advise consolidating similar data into one dataset where ever possible.
If you plot one location record at a time on the map, Map Business Online will ask you to save it to a dataset. If you do this over and over and do not consolidate data into a few datasets you will reach your limit of datasets quickly. Consolidate those data points where ever possible.
Stored Maps
Standard subscriptions get 200 maps while team subscriptions get 400 maps. Rarely do we get people asking for more storage than this, but if you require it let us know. You can always delete old maps to refresh your limit.
A full year subscription allows up to 1,000 territories per map. That is a lot of territories. If you have more than 1,00 territories let us know. We'll give you an award.
Stops per Route
Map Business Online includes vehicle routing functionality. This allows the routing user to route one route at a time, up to 150 stops per route. It's an adequate solution for most standard businesses, but it is not a solution for route focused businesses with thousands of stops per route and requiring multiple route views on a map at one time. MapPoint sold incredible routing automation capability for a song. There are other route focused businesses we can recommend that can replace MapPoint if your needs are beyond the capabilities of Map Business Online.
Routes, Drive Time Calculations
Routes and drivetime related functions all use the same route engine. The limit on route calculations is 1200 per full year subscription. The user can purchase additional routes and drive time calculations at reasonable costs.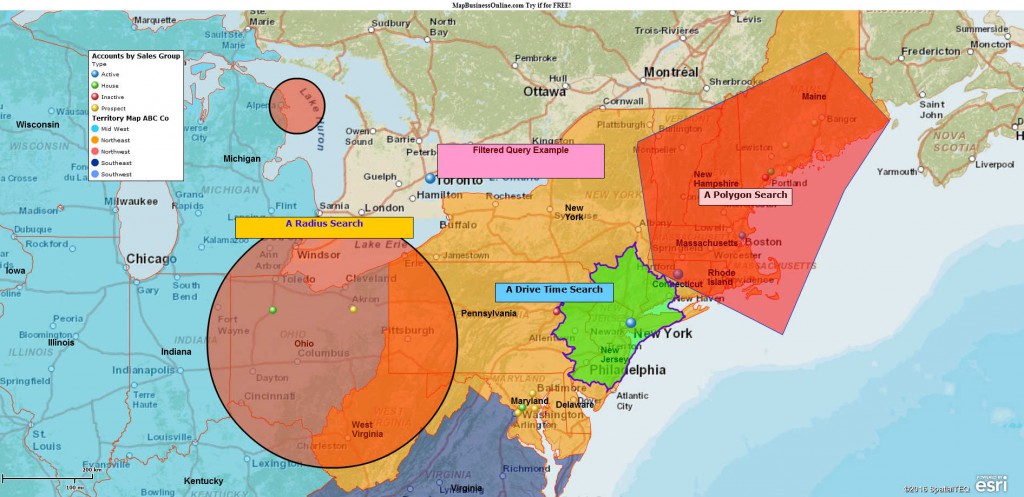 MapShare – Shared Interactive Web Maps
Map Business Online allows subscribers to share interactive web maps, up to 100 sessions per month, at no charge.  This is a great way to share map messages with your constituents. Your MapShare viewers will be able to:
View the data window (what you import is what you share) and query data records
Edit shared routes and create new routes
Export queries data results
Conduct radius and polygon searches
Measure straight line segments
Print maps
Save map image files (PNG and Jpeg)
This free viewer capability is both powerful and an amazing deal.
Market Analysis Searches
Map Business Online includes a market analysis tool. The market analysis tool is used to compare two datasets, derive distances between points, search multiple radii, and append demographic data to imported data. Its limits are:
Search up to 30,000 center locations with no visible circles
Search up to 200 center locations with visible circles
Conduct market profiles on up to 1,000 store locations
Summarize demographic data on up to 1,000 center locations with no visible circles
Summarize demographic data on up to 200 center locations with visible circles
Free Trial Limits
Map Business Online offers a free 30-day trial.  The trial will allow the user to import up to 1,000 locations per map, 5,000 total locations – which means you'd be deleting previous imports. The user may save two maps and generate three territories per subscription. The trial will provide up to ten multi-stop routes and drive time calculations and route on up to five stops per route. Large format map PDF printouts are restricted to five and will include watermarks on all printed maps.
Collaborative Shared Map Editing – Team Subscriptions
Team subscriptions are used to set-up groups of collaborators for shared map editing.  Pricing discounts kick in at five or more users. Allowances for stored maps, routes, shared maps are aggregated across the subscription, which is a nice benefit for Team subscribers.
Legal and Security Stuff
When you consider a new mapping application you may have to direct your legal and IT departments to information they'll be interested in.  You'll find four links that will get them where they need to be:
The Pricing page officially outlines prices considerations by subscription option and includes restrictions.
Legal and Privacy links are at the bottom of any of the MapBusinessOnline.com web pages.
Legal includes the software Terms of Use language, always popular with the legal people. Copyright allowances are found there as well.
And security is discussed at the Map Business Online security page. We're always willing to dive into security and privacy in detail when appropriate and required.
As always, if you have questions about pricing, security, software use, or limits on features please ask us via email or by calling.
Win a $20 Gift Card! Refer a business associate to Map Business Online in exchange for a $20 Amazon Gift Card!
Find out why over 25,000 business users log into www.MapBusinessOnline.com for their business mapping software and advanced sales territory mapping solution. The best replacement for Microsoft MapPoint happens to be the most affordable.
Contact: Geoffrey Ives geoffives@spatialteq.com or Jason Henderson jhenderson@spatialteq.com